In the previous article about "The history behind" the game, we showed the inspirations behind the mechs and how we ended up with the mechletes design we have now. In this post, we want to share with you more details about the mechs, and the customization details.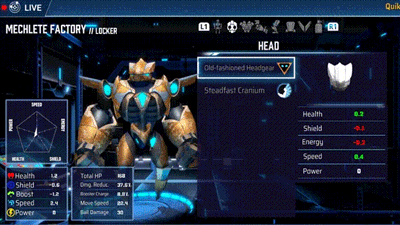 Smash Ball: Customization
When you start the game you get 2 slots with 1 mech each. There are 4 mech slots in total and you can only get the next slots after reaching level # and #.
Each mech starts off with baseline statistics of a regular frame without changed parts. The statistics are based on 5 categories, Health, Shield, Boost, Speed, and Power. Under health, it shows the total HP of the mech. Under the shield, it shows how much damage can be reduced. Under boost/energy is the booster charge. Under speed, we have move speed and lastly under Power is Ball damage. Stats may vary depending on which frame you choose.
The Sonic frame is our smallest frame but don't let that fool you. If you got a need for speed then this zippy little guy is the mech you want. Sonic parts tend to focus on speed and energy, which means more movement speed and booster charge. This can come in handy when dodging Nukkageddon and getting to the ball quicker.
The Assault frame is quite the muscle mech. Hitting hard and being aggressive is this mech's specialty. Assault parts have greater power and energy stats, which means it has more ball damage and booster charge. This can help you with dealing more damage to opponents.
The Bastion frame is a tech giant who isn't phased by anything. Tired of getting hit in the face, well this frame can take hits and keep on kicking. Bastion parts rely heavily on health and shield. This can help you defend yourself against opponents and less likely to be smashed quickly.
Everything on the mechletes is interchangeable from their heads to legs. All parts have stats You can purchase all parts from the buy and sell the shop. You can use currency from matches and prize bots to buy parts.
Prices for parts are different for each team the parts come from. As well as the parts are ranked on type by colour, going from common(grey), rare(green), very rare(silver), epic (purple) and legendary(gold).
What will you Mechlete look like? Will you choose the small but speedy sonic frame, the strong and might Assault frame or the unphased giant bastion frame? Let me know in the comments section below👇
If you want to know more posts like this, follow us, we'll keep our news updated.
You can download the demo and wishlist us here:
Join our Discord, to get exclusive closed beta multiplayer keys: