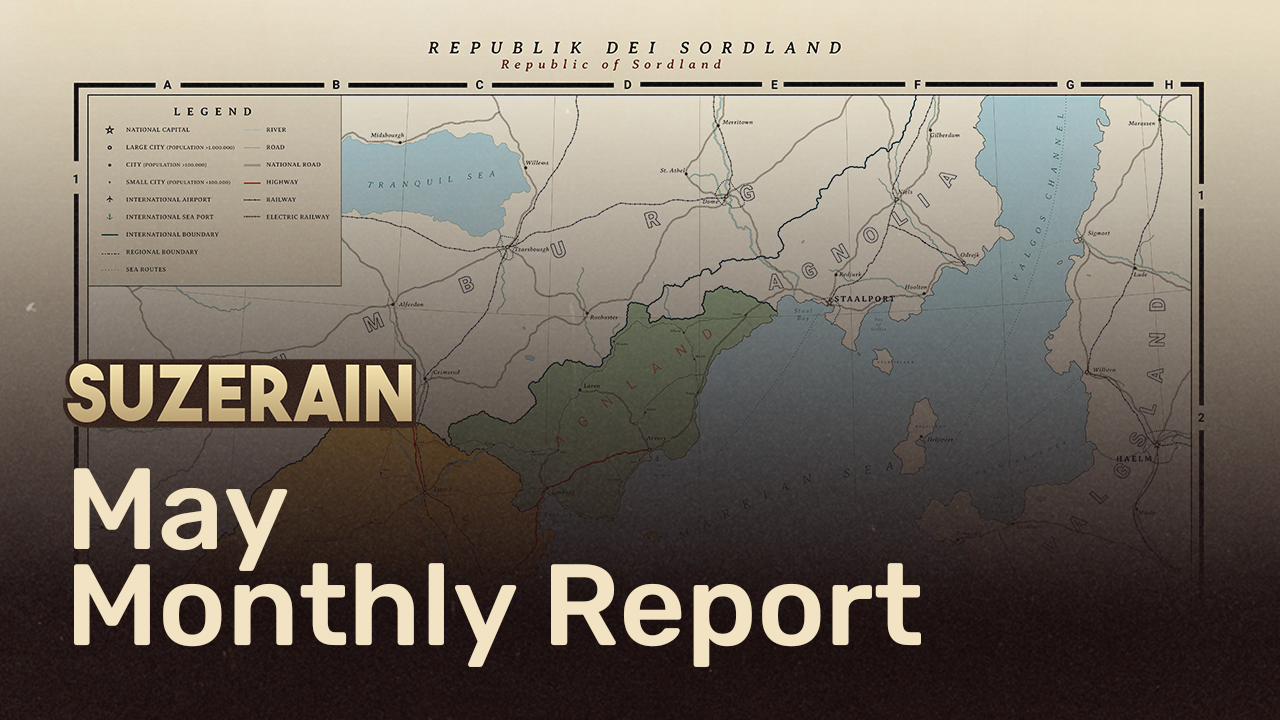 There's some good news coming the way of our followers who didn't have the chance to check out the demo at LudoNarraCon because we are making an updated version of the demo available at the Steam Summer Festival starting on June 16! More info on what will happen during the event will come very soon.

It is also a good time to mention that we going to be present at the Guerilla Collective event on June 13 - 15 during the Indie Montage to spread the word to the masses. So visit the Twitch and Steam pages for that if you want to see us and all types of other cool indie games.

Settle in and get ready for the improvements and updates that were made after our LNC demo.

Most of Suzerain's content is delivered through our conversation window which we internally call scenes. The engagement with dozens of characters and a slow unravelling of events or decisions make this our primary delivery tool for the story. However, there are certain subjects and content that we want to include in the game that don't necessitate scenes and also help simulate the political situation.

In comes bills and decisions!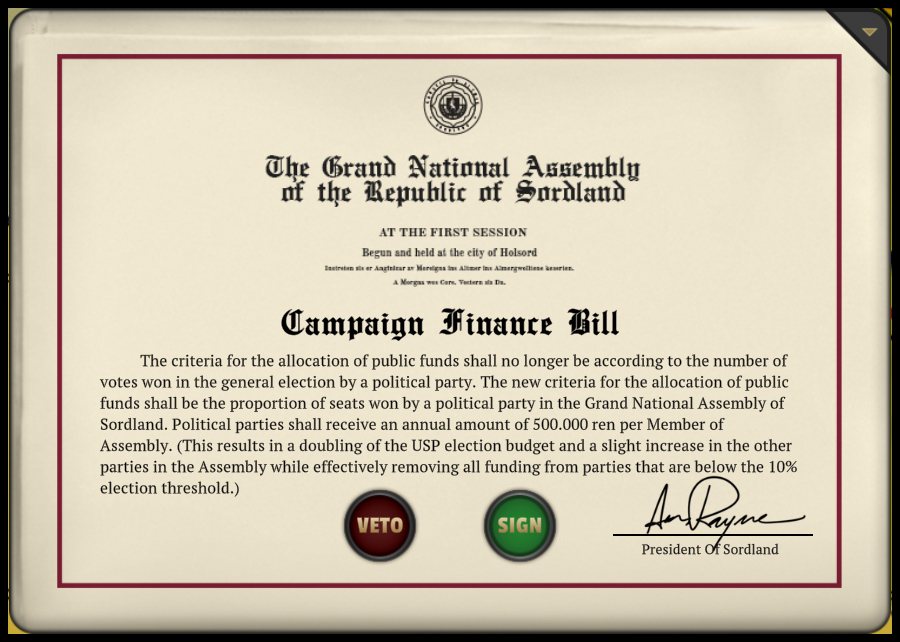 Bills are what you would expect, the government presents these drafts to be signed or vetoed by the President. Since all laws must be approved by the President you have a lot of authority over what passes. Bills allow us to express the overall opinion of the Assembly, let the player have an expression on certain subjects and also help us simulate the Presidential Republic government type as an experience.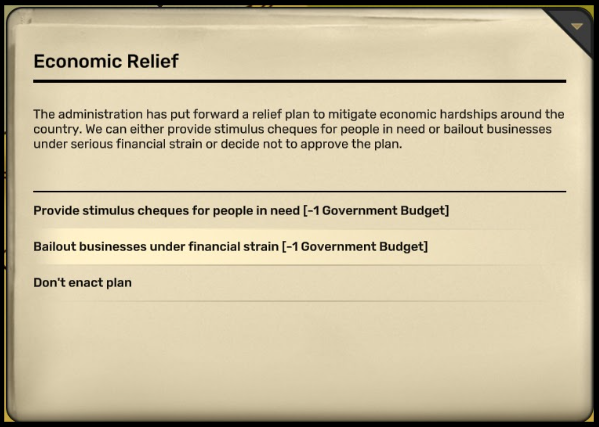 The second addition are decisions which are broader and don't necessarily have to be related to the political process. These allow us to add more direct player expression and make some content in the game optional. We still use this for some political questions, for example, the one above about making an economic relief package to dampen the effects of the recession.

One of the subjects we noticed was that the news section had a lower UI/UX priority in comparison to reports. We use the news to give clear opinions and feedback according to the events that develop in Sordland. This meant that they actually should have a higher priority inside the interface. Our designer Ilke created a fantastic visual design with each news organisation receiving its own font and logo that differentiated them. Now you can read several articles from a single newspaper giving each of them a distinct feel.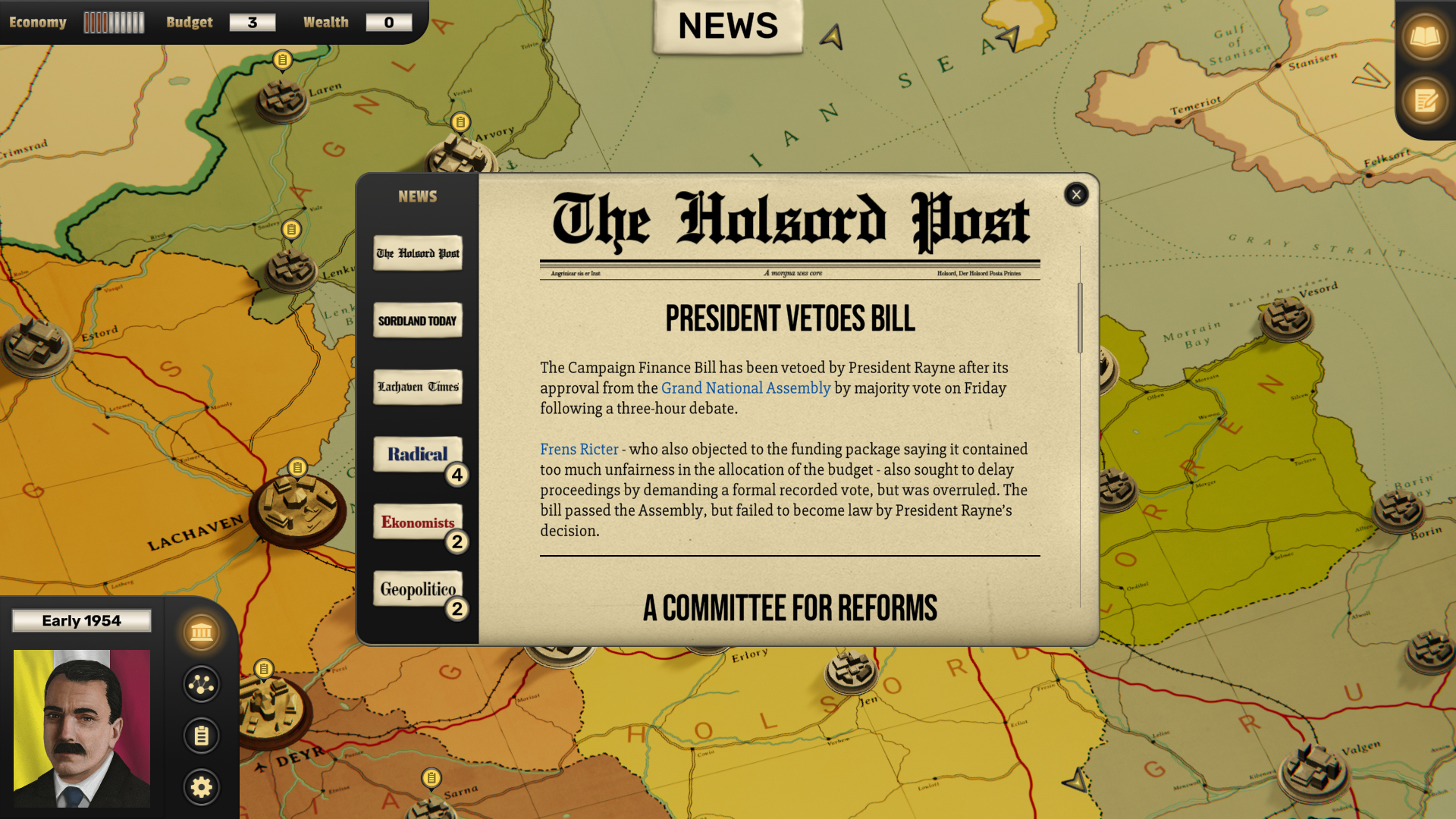 This felt like a more pleasant way to check up on what is happening in the country. Pretty sure you will figure out the overall opinions of each and see some differences in them according to developments. Looking forward to hearing what news organisation you like the most!

Another visual improvement we made was to the reports UI. These reports are meant to be state communications not available to the general public, and therefore needed to feel like a confidential government report.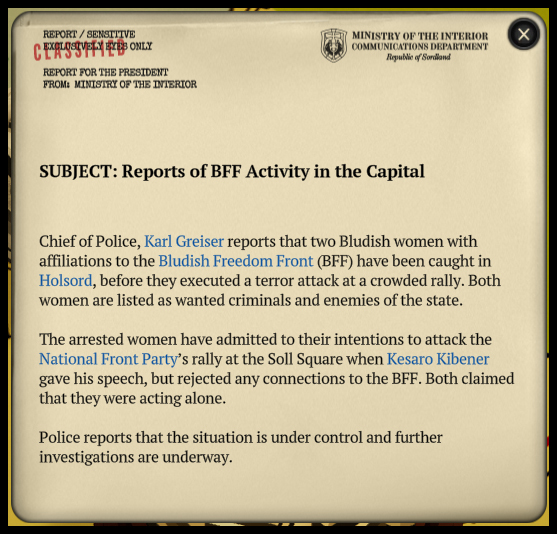 The hundreds of different comments and feedback helped us iterate and improve on several sections and now we feel much more confident about where we are in regards to our player experience. One of the most common constructive criticisms was regarding how our music was used. So, we switched to a dynamic music system that ensures the soundtrack better matches a scene. This also meant that we added a suspense track for more tense scenes that are clearly different from the atmosphere that usually exists.

Furthermore, there were other small additions to help the player better understand the polit ical situation in the country from small writing improvements to design refinements regarding promises. We tried clearing several elements that caused confusion due to a lack of context that existed in the demo.

Want to keep a closer eye on the development? Sign-up to our newsletter to get the latest breaking news for Suzerain.


Share this game with your friends and head over to our Steam page to wishlist Suzerain.

Thank you and see you next time citizen, Glory to Sordland!