Christmas is almost here and Santa already noticed how naughty you've been this year... that's why he's looking for your help, because… well.. he's had enough of Christmas!

We've developed something new and fresh for this year's Christmas Event. We are releasing a completely new feature called 'Training' with this Event. That should add additional ways and options of playing, but also help you complete the whole mission of the Event faster!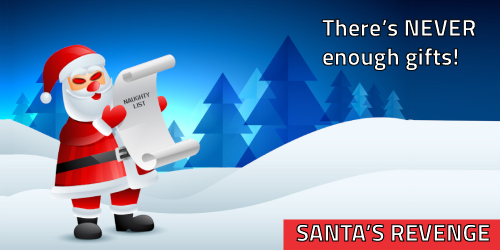 Here's the story of this Event:

Santa is trying to De-Christmasize as many territories as possible, so he won't have to do as much work anymore. He wants YOU to be in charge of managing his resources and seeing his evil plan become a reality– you'll have to buy factories that produce various fake gifts – these can be sold for cash and used by Santa's crew to deliver them to all Territories and disappoint as many people as possible. Muahaha!
There are plenty of different types of factories and Crew members at your disposal to get the job done, it's just up to you to make the most of it!
Santa's scouts report that the first few territories have almost no Christmas spirit left, but as you visit more you'll be met with resistance - Adults don't care much, but kids... They seem to return any bad gifts they receive, ruining our efforts. So you will have to deliver more Gifts Per Second (GPS) than they can return to overwhelm them. The more you outmatch it, the faster you'll see Christmas spirit gone from that territory.

Note: You are managing your resources from a distance so both factories and your crew will continue working/pushing forward even while you are away!

As you De-Christmasize territories you will also receive various rewards and grinch points, which you will be able to use for some huge bonuses down the line.

Last but not least, Santa's asked a ton of other soldiers to help him, you are not alone. Those who manage to De-Christmasize the most powerful country will be given huge reward at the end of the event. So make sure to check out the Event Rankings and see how you are doing compared to other players and try to outperform them – we know you can!

By producing the resources and boosters you'll generate money for your Santa Crew needs and wishes! Build strong Santa Crew team and De-Christmasize at least 400 Territories!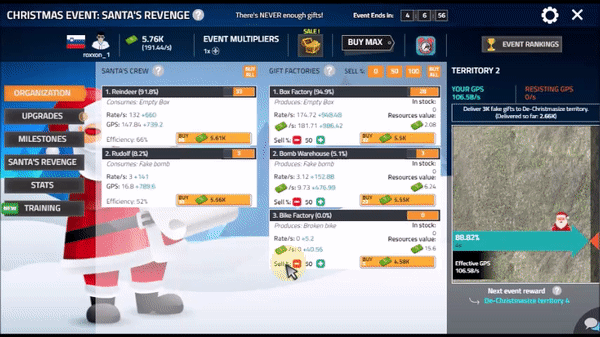 Santa Gif: Manage the resources and the Santa's Crew properly to de-Christmasize the territories in front of you (Quick Tip: Use the 'Santa's Revenge' option to boost your powers!)
Competition

There are different ''managers' of Santa's Crew around the globe, so you won't be alone competing in this short and unique Event. Join the Event as fast as you can to get the best chances to overrun the others. In case you'd like to have additional fun during this Holiday, invite your friends and family to join and compete against you! That'll boost the fun to the max. possible! 😉
Rewards
- Earn forever lasting User Trophies!

(TOP 10 players who invade the hardest Territory) will be given a special and unique User Trophy!
Santa's naughty helper
Dasher ''the troll''
Dancer ''the cream''
Prancer ''machinegun''
Naughty vixen
Comet ''da fire''
Cupid stupid
Doner Kebab
Blitzen ''the lightening''
Crazy Rudolf

- Earn Tier Rewards
According to your event rankings we will distribute additional Production boost rewards to TOP 1000 players of this event

- Territory Rewards
De-Christmasize as many territories you can to earn yourself a max. amount of rewards
(400 territories reached should be your focus to complete and all rewards are yours!)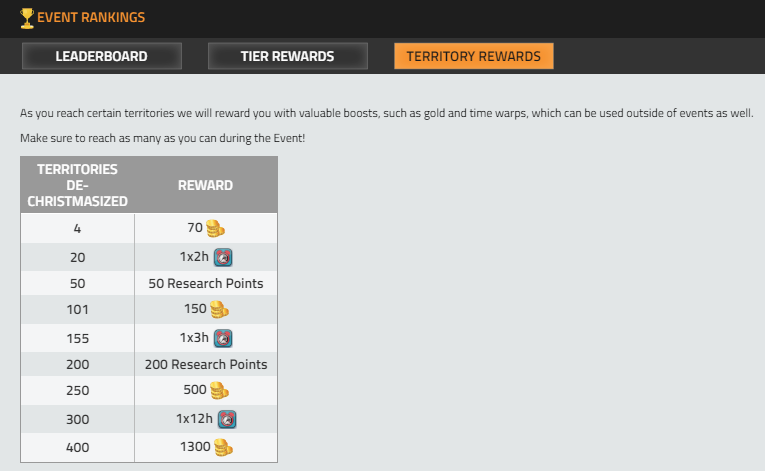 Time-limited content!

*Events are time-limited content and once an event is over it can't be replayed. Any Time Warps used within it or Event Multipliers will not carry over to the next event.

So, make sure to start playing the event before it ends (December 28th, 13:00 GMT).
''Training part'' – Fresh and New mechanics released!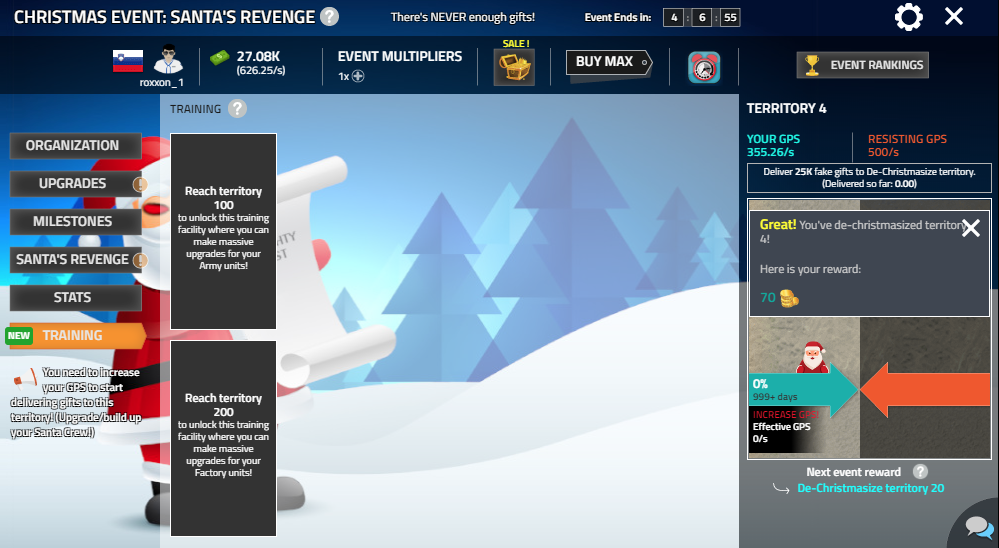 When unlocked, Training facilities provide you with a way to upgrade your army and factories to push and produce more than you ever thought possible!
To ensure quality training, only one unit per facility can be trained at any one time. But you can easily queue several units to be trained, once one has been finished.
Army units will be taught how to use up more resources faster, each level increasing their GPS and consumption rate by 3x!
Factories will be optimizing their production, each level increasing their production rate by 2x!
Training facilities will increase experience of currently trained unit by 1 per second. It is easy to train units to a new level when starting, and each next evel requires more experience to be trained.
To gain the first level it will require a unit to have 10 total experience, second 20, third 40, and so on (experience requirements multiplied by x2 for each level)
You can always change how you queue the training of your units, as stopping/removing a training task will still keep any experience gained for a unit. Training queues are also affected while idling or using Time Warps!
Where to Enter the Event?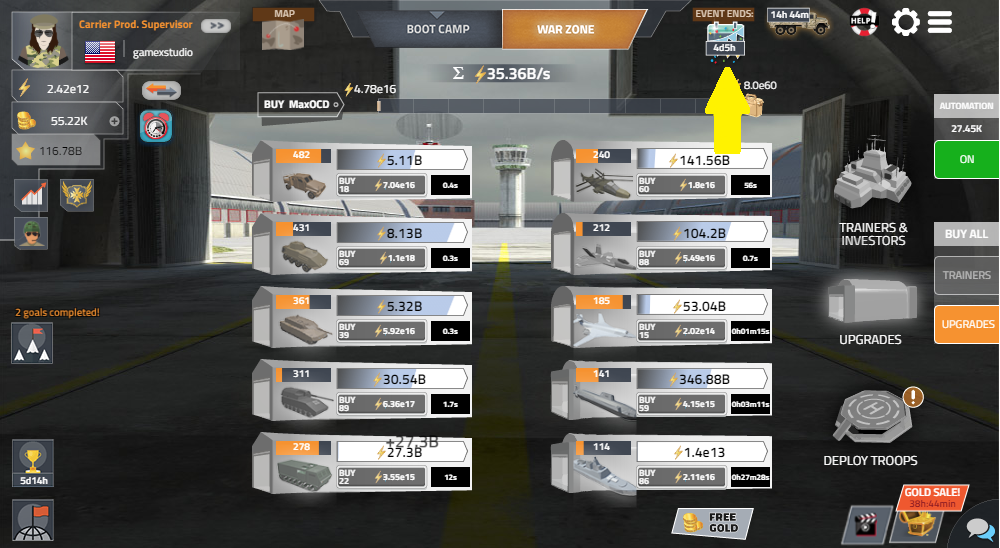 Note: Produce at least 1 Jeep in Boot Camp (req.: 1 sec of playing) to be able to Enter the Events
Christmas Sale


As the Santa has been really generous this year, he is giving out extra 50% on all Regular Gold Packages….and on top of all this, he wanted to share the Christmas spirit also with those needed the Gold the most – so he's also giving an extra 25% Gold on the Crazy Gold Drop pack!
That is an enormous sale that will be running through Christmas time, starting today, Dec 24th (0:00 GMT) and will be available for 2 whole days!
During every Event you also have the chance to get a special Event Kit, which offers one of the best deals, so if you haven't yet, make sure to check it within the shop (2nd tab -> Gold packages).

We love to have you around on War Clicks and thanks for all the support! We can't wait to continue improving the game in 2020!

Happy Holidays! :)

War Clicks Dev Team
_________________________________________________________
Play the game and the Christmas Event/ Santa's Revenge on:
Official game website
Kongregate
ArmorGames

More about the game:
GameDev Blog
Press Materials

Join us on chat:
Discord

Let us know your thoughts:
Facebook
Reddit
Twitter