Masterspace v1.8 has been released, introducing a lot of new mobs. There is now a substantial amount of both hostile and friendly creatures that inhabit the different planets. The creatures all have specific behaviours and may either attack the player on sight or be more cautious in their approach. Some of them may even be friendly, unless attacked. A gallery of the new creatures is presented below:
On the earth-like planets, there are also familiar animal species, such as sheep, cows and pigs. Some of them may be used for production of different goods. For example, the wool of sheep may be used to produce carpets at the loom:
This version also includes a complete overhaul of the textures in the game. A lot of new materials have been added and others have been updated with higher quality textures. An overview of all material currently in the game is shown below: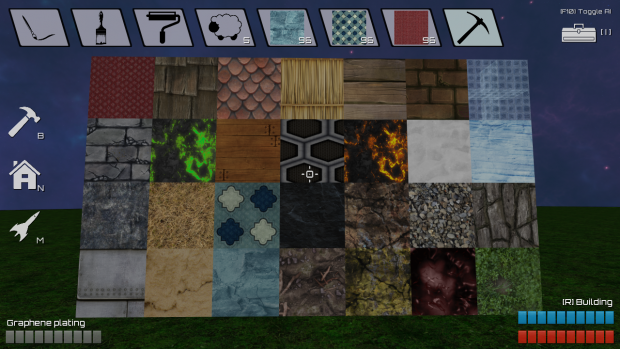 Some of the objects in the game has also been updated with new and better models. Among them are the container, anvil and lamp post. Also, a 3D preview has been added to the construction screen and an object placement marker has been added:
Additionally, it is now possible to construct complete buildings and spaceships from a database of saved presets. This allows for rapid replication of existing constructions and allow players to share creations with each other. This will also allow for the population of planets with random buildings and space with player-created ships, as soon as the database is of a substantial size.
Finally, a LOD system has been implemented for the planets and the view distance may now be limited, which allows for much larger planet sizes. As usual, some bugs and crashes have also been fixed. For a complete changelog, please see below.
Download the free version here:

To upgrade to the full version, download and install this unlocker. Please note that you need to apply this unlocker even if you have unlocked a previous version, as the unlockers are version specific.
Changelog
New features:
Loading of spaceships and buildings presets from database
3D preview added in construction menu
New editor mode with free placement of blocks and objects
New land mobs: Golem, Babya, Dragonbug, Small goblin, Goblin and Snake
New flying mobs: Batdragon and Watcher
New animals: Cow, Pig, Sheep, Snow wolf
New object: Loom for fabricating carpets from wool
New materials: Carpet1, Carpet2, Dry grass, Large wood boards, Sandstone bricks, Roof tiles, Wood roof tiles
New resources: Wool, bacon and milk
Settings for fog and view distance added
LOD levels for planets implemented
Settings for mouse sensitivity and invert mouse added
Support for asymmetrical planet sizes
Object placement marker
Changes:
Updated textures for crystal, dirt, grass, glass, ice, indestructium, leaves, snow, steel, stone, stone bricks, wood and wood boards
New models for anvil, container and lamppost
Standard planet radius is now twice as large (8x4x8 instead of 4x4x4)
Added 3x3x1 block placement mode for quick wall construction
Multimachine split into stone cutter and sawmill
Bug fixes:
Fixed memory leak in volume loading
Cubic planet surface extraction is now working again
Fixed a bug causing the player to fall through the spaceship floor in space