There are many indie game developers out there trying to bring awareness to their games! How does an indie game studio manage to advertise with limited to no budget? It's very difficult to compete with AAA game companies who have the resources to advertise their games on various media, but you can still compete. The cheapest technique to market your game is to use social media sites like Twitter, Facebook, Tumblr, and reddit. These sources require continuous activity and communication with followers, which is time consuming, but free. It is also crucial for you to have a website for your game, with a press link.
In order to be successful, you should be very active and continuously post your progress on social media sites.
Twitter can be your number one advertising tool. In order to thrive on Twitter you must use the proper Hashtags. You can find trending and popular ones at hashtagify.com. Some important ones to use on a weekly basis are:
The game engine you are using for example #unity3d, or #cocos2d.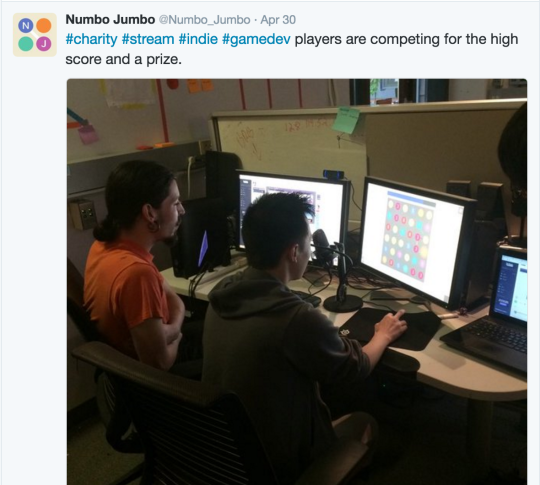 These are just a few of the many that can be useful. If you have the budget and want to increase your marketing opportunities with twitter you can also advertise with twitter ads. Twitter has a number of campaign objectives to choose from:
Tweet engagement (reach more people and drive conversation)
Website clicks or conversions (send people to your site to purchase, sign up, etc.)
App install or app re-engagements (get people to reinstall or re-engage with your mobile apps)
Video views (get people to watch your videos using Twitter's native video player)
Followers (build your community on Twitter)
Leads on Twitter (collect emails from people who express interest in your offer)
It's important to keep in contact with your followers by turning on your notifications, replying to their DM's, downloading their games, and subscribing on their other social media platforms, so you can support them as they will do the same for you.
Facebook is another good resource for marketing and offers paid advertising similar to Twitter. Facebook is good to update family and friends on your game, but Twitter helps you capture a broader audience.
Tumblr is a blog site; post on topics such as: introducing your dev team, your game, art work, game mechanics, particle effects, soundtracks, sound effects, interesting data structures or algorithms used in your game, and challenges you encounter during your development.
Reddit is very useful to get feedback on your game, website, art style, soundtracks, and daily discussions in the subreddit r/gamedev. You can find weekly threads at the very bottom right of the r/gamedev page. These threads consist of:
Feedback Friday
Screenshot Saturday
Soundtrack Sunday
Marketing Monday
Daily Discussions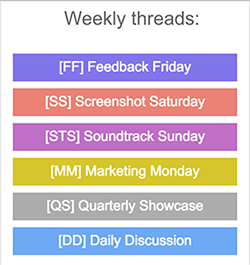 Keep in mind that you need to be active on the site by providing feedback to other posts, and being an active participant on reddit.
Website
A good web site for your game goes a long way. I would suggest looking at popular games in the same genre to seek out inspiration for your site. There are many free templates out there that you can use; Bootstrap offers a variety of free and paid templates. The important thing to keep in mind when designing your web site is to use a consistent theme that follows your game's theme. The first thing people see when they visit your site is the landing page, so you should invest a good amount of time creating an engaging one.
Presskit is a press page; used by the press to learn everything there is to know about your game, all stored on one page with images, videos, contact info, social media links, etc. It is crucial to remember that this page is not for a popular audience, it is specifically for journalists. There are strong conventions with presskit pages; do your best to follow them as closely as you can. Remember, the point of all this is to allow a journalist to get important details quickly. All the material on this page has to be very polished and fascinating in order to motivate the press to write about your game. To learn more about presskit check out my post on how to set one up.
Next you need to create a press release document, which is used when approaching press about your game. A press release template perfect for indie game developers can be found here.
Once you have your press release document, then you need to get in touch with the press to bring awareness to your game. The best way to get in touch with press is to attend gaming festivals or tradeshows, learn more here. If meeting with the press face to face is a challenge for you, you can also reach out to bloggers directly. Make sure you do some research on who they are and what they like to write about: don't approach an FPS commentator to write about your mobile puzzle game.
A great game doesn't become successful on its own; developers need to invest their time to create an audience prior to releasing their game so it doesn't get buried amongst the thousands of games that are released for iOS, Android, and Steam on a daily basis. A great icon, header, tagline, unique selling point, elevator pitch, presskit, website, and social media are your tools for success, so make them count.