For those that are just joining in, here's a quick introduction to the game's concept:
Gameplay: An Alternate Reality Game (ARG)
Mark Lane's Logs: Project H.U.M.A.N. introduces a new game format. We would call this a Forensic Alternate Reality Game (FARG). It's a mix between CSI's forensic investigator activities with a traditional mystery ARG like Alt-Minds or the created to announce Valve's Portal 2.Imagine that something had happened. Something big. Traces of that event have been left on the Internet, by people and organizations that were involved. Text, codes, photos, documents, chat logs, clues, riddles. Anywhere on the Internet.
Playing the role of a forensic investigator, you go out to cyberspace looking for clues that will help you solve the case. Your challenge is to find the truth. And the truth is somewhere out there, on the Internet. All you have is your own device (computer, laptop, tablet or phone), and an initial clue. You must set your research methods, work at your pace, choose whatever software tools you have within reach to help on the investigation.
It's a kind of 21st century treasure hunt, but much more complex, mixed with cryptography, problem-solving, forensic work, intertwined with a strong narrative featuring a Hollywood-style plot.
CIA's OIG FIB Site
Contrary to a traditional Alternate Reality Game, you get scored and ranked in Mark Lane's Logs: Project H.U.M.A.N.. For that you need to log to OIG FIB's site. You collaborate with this entity as an external investigator.
CIA's Office of the Inspector General (OIG) is the entity that oversees CIA's activities. You can learn more about the real CIA OIG here [cia.gov].
In the game, the Office of the Inspector General has recently created the Forensic Investigation Bureau (FIB). This bureau lets the general public help OIG's efforts by collaborating on the investigation of existing cases. This collaboration is fully supported by electronic means, through OIG FIB's website: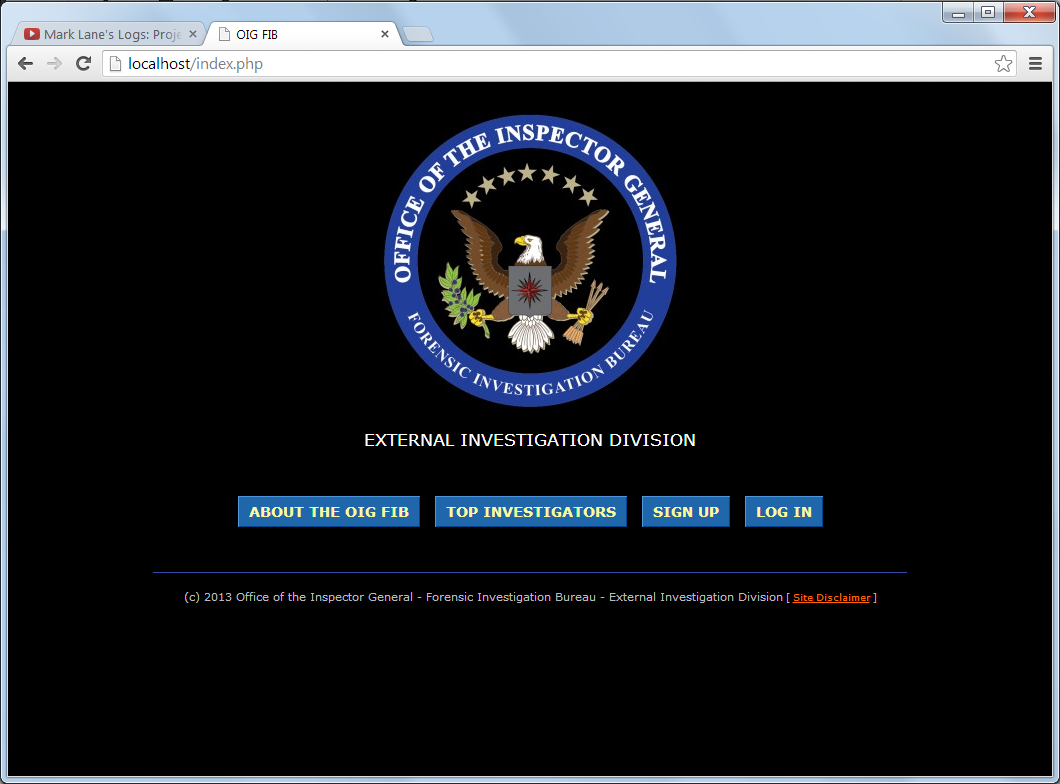 After signing up, you'll have a reserved space on the OIG FIB where you manage your contributions to Mark Lane's case:
You'll have your own private mailbox and a document vault. Besides having a score and a rank, you'll also earn badges for several milestones you reach in your investigation.Your investigation will be scored in two ways: a global numerical score and a completeness score. The global score is calculated according to several factors, including the type of collected evidence and the time taken to find it. Harder-to-find evidence is scored higher. The completeness score is a percentage that represents how far you have progressed in the game. Earning badges will also increase your score.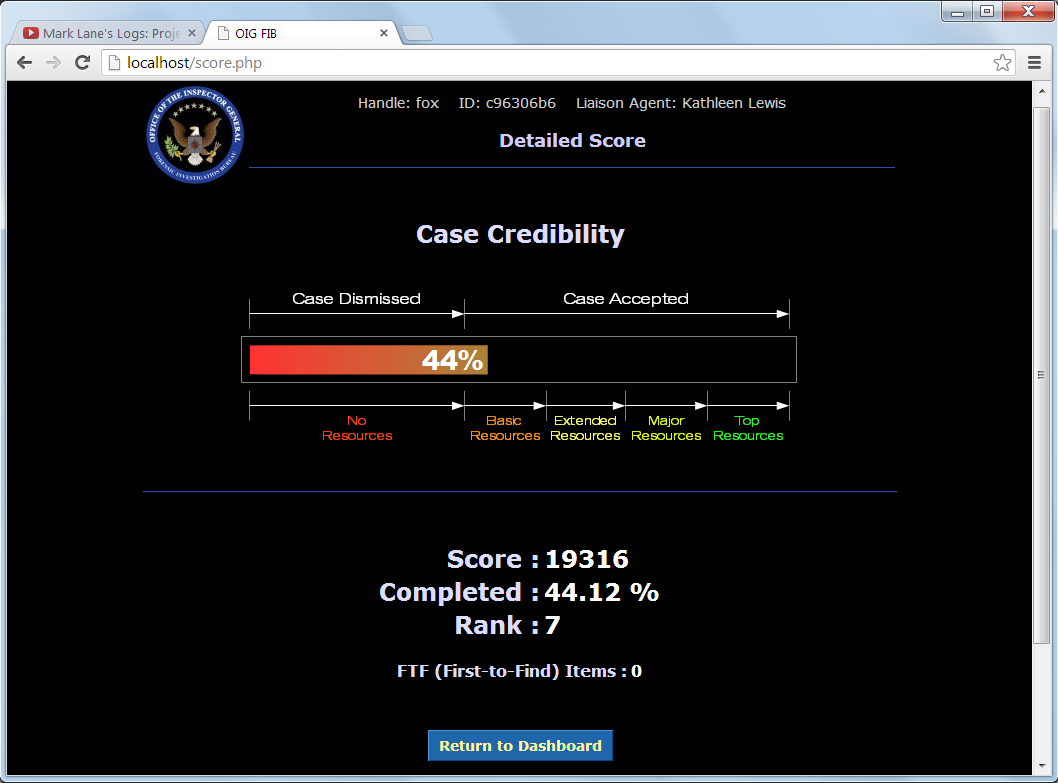 As you progress in the game, you'll collect many files that make up the case's evidence. You should then report what you collected to the OIG FIB. The more you collect, the stronger the case becomes and the possibility of the Inspector General picking up your case for a formal investigation increases. You can follow this on the score page.
You'll also have to locate all the places Mark have been. The closer you can get, the higher you will score.
The Story
Mark Lane, retired CIA agent, is forced to carry out one last mission: dismantle an elusive terrorist organization, infiltrated in the American military, and the CIA. A swarm-type device is being developed, right under DoD's nose. An attack on US soil is imminent. Mark carries out a solo worldwide intelligence mission to eliminate this threat. However, he finds more than he expected. He finds a secret society. He finds himself in the middle of a federal conspiracy to steal the Pentagon's ultimate weapon. He is betrayed by those he trusted and is set to die as a traitor to the USA. He dodges his destiny by escaping, but is fiercely hunted down. He has nowhere to go. You're Mark's last hope. He left a trail of evidence that you must uncover. Find out what happened, collect enough evidence, and bring the case to justice.
This is the tip of the story. As you progress you'll find, like Mark did, that he was living a fabricated reality, being a puppet of hidden forces. The story has enough twists to keep you going for more.
The game's official site is : Zorean.com