On November 3rd, 2020 Clarus Victoria's new release Marble Age: Remastered became available on Steam. What makes the new version better, than the original? We'll tell you about the main differences between the two versions!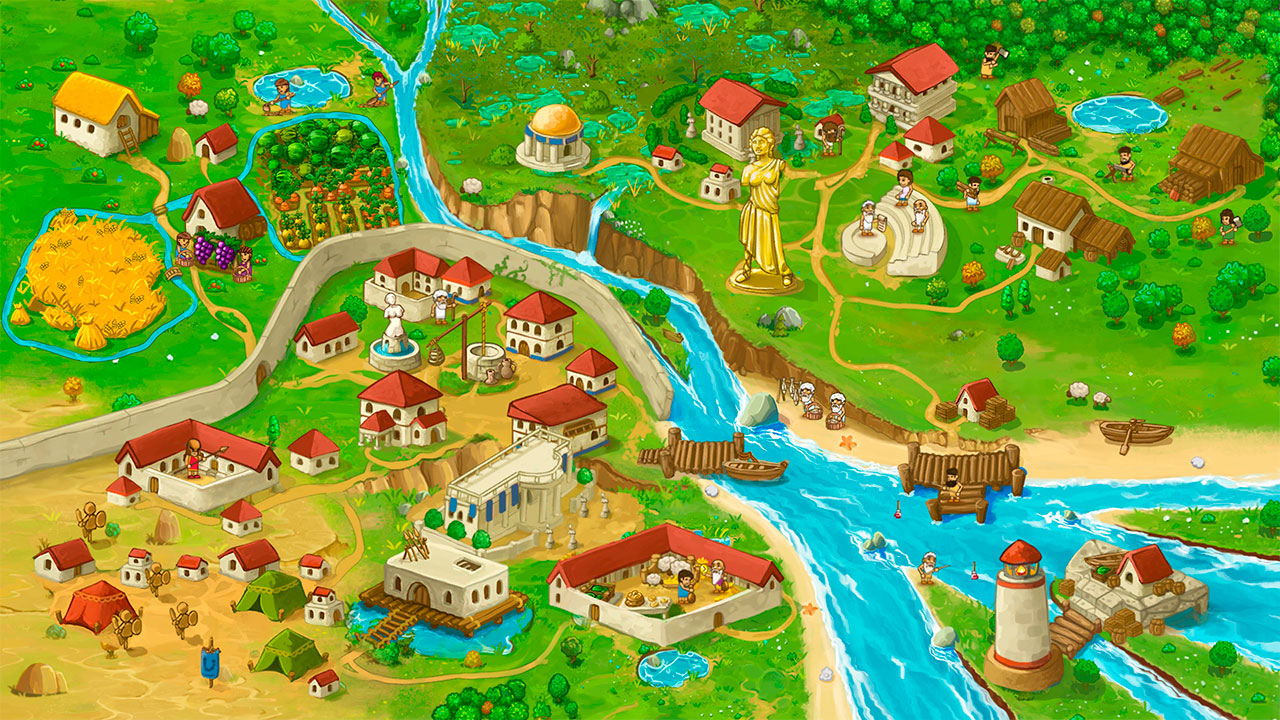 The original Marble Age came out in 2014, developed by the founding members of Clarus Victoria - Mikhail Vasilyev and Ilya Terentyev. It was their third project after two mini Flash games Stone Age and Bronze Age. Marble Age was the last project made on Flash. Visually it looked much better than the previous games, its gameplay became deeper and complex. The game was warmly received by the audience and continue to receive positive feedback even when Clarus Victoria switched to Unity and began working on the games about Ancient Egypt. The original Marble Age was released in Russian and translated to English, German and Spanish languages.
When the games about Ancient Egypt came out, the studio started to receive requests to add other languages for Marble Age. Unfortunately, by that time Flash technology was outdated, and we weren't able to update the old games. That's when we decided to transfer the old games to Unity. The first victims of this experiment were Stone Age and Bronze Age, which were reborn as "Bronze Age - HD Edition". And in February 2020 we began to work on porting Marble Age to Unity.
Updated Graphics
In the original Marble Age, Ilya was responsible for the graphics. As a non-professional artist and developer, he did a great job!
In the Marble Age: Remastered, our artist Maxim Yakovenko was responsible for graphic decisions. We wanted to upgrade the visuals, but not to change it completely, the connection to the original game should still be noticeable. In the end, this is how it came out:
In the original game, all cities had the same map and layout. In Marble Age: Remastered each city has its map, which reflects their historical geographic location.
New content - Corinth.
Small studious sometimes have to compromise between a huge amount of ideas and the absence of means to realize it. That's why in the original game we only managed to make 2 cities, Athens and Sparta, even though we wanted to add more.
In the remaster we made this dream come true and added a new city! We were torn between 4 options: Troy, Pella, Thebes, and Corinth. In the end, we chose Corinth. This city was one of the richest and most luxurious cities in Greece due to its location on the intersection of the major trading paths of Peloponnese. For this reason, in the game, he received the trading specialization.
From the very beginning of the game Corinth can build its fleet and trade, but it doesn't make the gameplay much easier. ;)
New functions of specialists.
To develop your city, it's important to make sure that you get enough specialists. We use this word as an umbrella term for explorers, settlers, traders, generals, and envoys. In the original game explorers discovered new territories, settlers founded colonies, traders traded. Generals were necessary to raid and attack, and also could be turned into envoys when necessary. Envoys needed to manage the relationships with neighbors and to turn them into allies.
In Marble Age: Remastered diplomacy menu changed a lot, and the specialists' functionality improved.
We will still need settlers to improve your relationships with other cities, but now we also can ask them for help if they are our allies! Traders keep trading, but now they also can bribe the government of another city to turn them into an ally. Generals now can plan an ambush, but it is not possible to turn them into envoys. The last tab contains the statistics about our city.
Culture instead of science points
In the Marble Age, to learn new technologies, we needed science points. The culture we earned automatically turned into science points, and it allowed us to learn new technology.
In the new game, we got rid of these unnecessary complications. Now to learn new technology we only need enough culture.
Improved balance
In the original, the balance was far from perfect. Sparta was especially problematic - highly dependable on random, nearly impossible to beat at the normal difficulty. Athens was doing better, but still not perfect.
In Marble Age: Remastered, we got rid of most of the balance problems, and the gameplay became smoother. For Athens, gameplay became better adjusted to diplomacy. For Sparta, even though the gameplay was still difficult, it is now easier to plan your strategy and win.
This is not the full list of all improvements we made. To name a few, we didn't mention the new soundtrack, city statistics, improved performance, and the list could go on. If we can say so ourselves, it's a decent remaster! You can test it on your own, the game is already available on Steam, and it has a free demo version. The full version has a 10% release discount, and for the owners of the original game, the discount will be 29% when buying the game through the bandle. We'll look forward to your reviews!
Follow us for more news: