---
--This DEVlog has become outdated and not the representation of the current state of the game--
---
DEVLOG// HUGE UPDATE AHEAD!! | This devlog will be a proper introduction into the more gameplay and visual.I did spend time crunching over to figuring out the format of how the game will be. (mostly I was too over-thinking about the visuals) initially MANE are planned to be made as small scale as a visual novel with many branching choices and low strategic aspect. Inspired by the anime game called 'long live the queen' which some acclaim to be 'the dark soul of visual novel'! which is.. fitting.

Overtime, I just can't making game with so little to work with. as i feel lacking and gasping for more to work on. So,The Core narrative story is still about authentic lion life and choices that are devastating hard to celebrating the fragility of life in wild. But, now with a more playful approach in the UI design aspect and exaggerating visual and gameworld to allow more gameplay features which now I'm become quite satisfied with.
---
DEVLOG : LION TALES : A Lion Stageplay, Wild beast A.I. and playing your tarot fate cards right!
"Until the lion learns how to write, every story will glorify the hunter" - African Proverbs


MANE Gameplay and Narrative are presented in Documentary style; A third person cold distant text
with a mockery of observation high-technology gadgets and paper documents as the game UI.

The Player is to following your named lion with only observation view and descriptions.
While still making choices for your lion in a documenting matters.this also come from the idea of how we human are usually feel relatedtoward animal which our human empathy can be misplace by our inability to fathom the mind of wild creature. So the animistic behavior of your lion will be performing regardless as a result from your guided action ;such as a fight , cruel kill or conflict between lion dominance traits.
---
GAME INTERFACE FEATURES


"I am completely operational, and all my circuits are functioning perfectly."
Aside of the narrated description,Player will be presented and guided using the interactive UI documentary gadget-looking to navigate in following your lion cub action and information. with help from an in-game AI operative system named 'MANIE' take you through.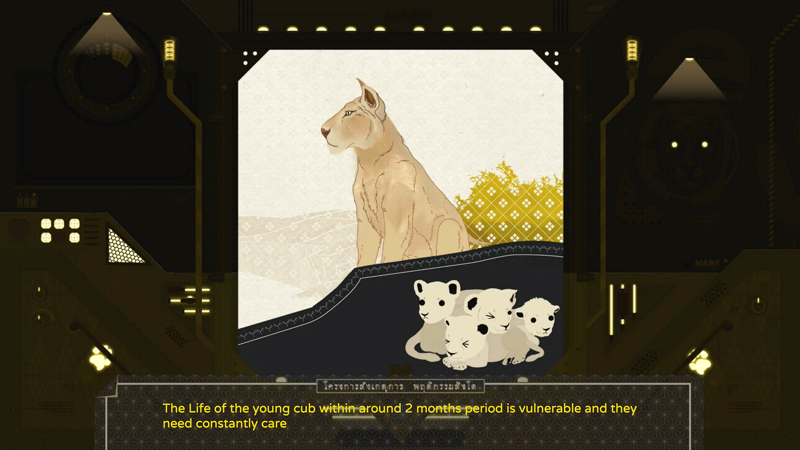 ---
Visual and Gameworld


MANE visual visual are inspired and based on the concept of how lion life is a tragedy that keep going on naturally in every cycle of new generation born in the wild to the next. Until only to be captured through the lens of documentary to our human interpretation; That the lion way of life is framed to become meaningful. Telling a glorious tale as we are being narrated into. The Game tries to translate that concept poetically with exaggerated visual a stageplay/storybook -like presentation.
The stage platform will represent the gameworld space for the player to navigate around and interact.
The stage platform is also operated in grid system pieces connecting together with different height
and some hexagon pathways to piecing inbetween. This pieces way of assembling allows the platform to be likea template which make it convenient to create different iteration of scene in the same type of area.
It is also provide a playful choreographed platform assembling style like SuperGiant's Bastion (which is such a cool game).

Before when I came up with the design of the stage-like. I was initially planned to make just a layering backdrop scene like a curtain opening up after one another.But then it gives a little space for possibility to explore or become anything other than being a background.
---

Making choices, Consequence and Roleplay.
PHASES, PERIODS and CYCLES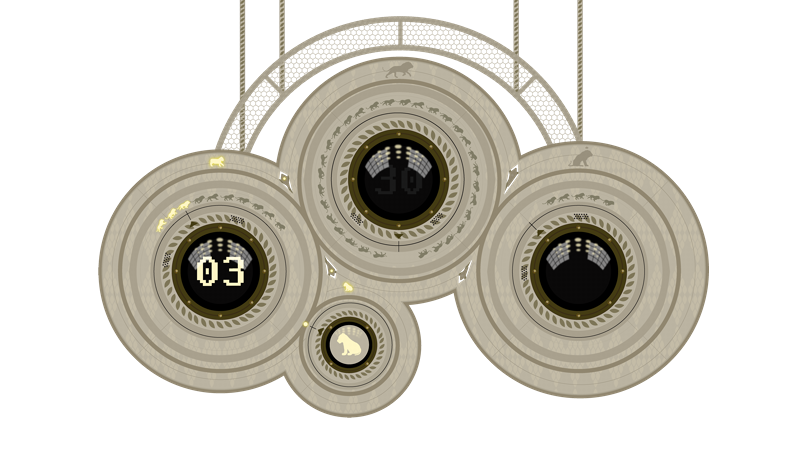 MANE Narrative are moved by periods of player's lion 3 phases; youth ,coalition and ruling periods.
Each Phase will presented in limited cycles and Every cycle presented with a list of possible actions to take.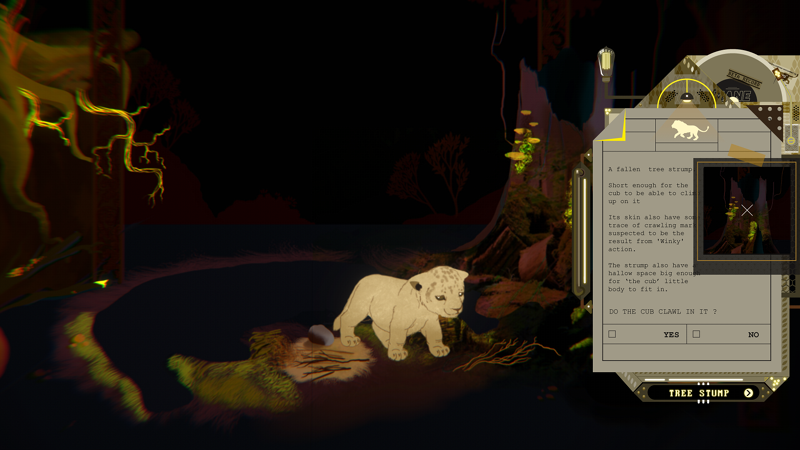 MANE have the Point-and-click style gameworld style. The scene will be full of interaction.
Each Cycle player can roaming around the area engaging with the interactable objects and NPCs provided the choicesthat can result in shifting and shaping the cub skills and relationship or event consequence in long-run.

Aside from the interactives in the area, Major choices happen in the event card.
Event Interface will prompt when drawn such one.

In Youth periods. the narrative will be linear. in 10 cycles play will begin each one
with 'a event card of the cycle'. Then, player are free to choose action to take in that cycle
; doing brother quest, roaming the area or draw an more event card.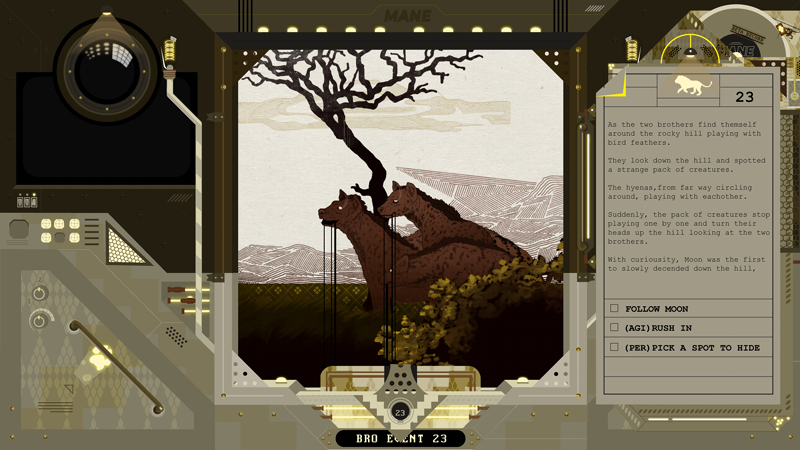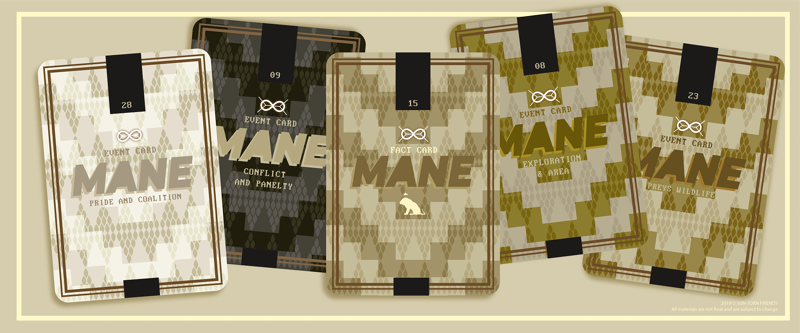 In Coalition periods, The player will be introduced to 'MAP' that the player is free to travelling around outside the are in youth periods.Travelling is at the cost of using cycles. Coalition consist of 30 cycles. so The player must to plan their move strategically .With also 'Food resource' variable introduced, Each cycle is required. And If the food resource ran out,The player was to draw a penalty card that challenge skill or relationship and will have dire consequence. 'Food resource' can be gain either by hunting prey or draw a prey event card up.Within 30 Cycles,The player was to train their lion skill ,dominance ranking and maintaining a relationship between brothers. If the player is ready and to choose to conquer other territory and gain pride for own. then player will be have another source of food resource by the female pride.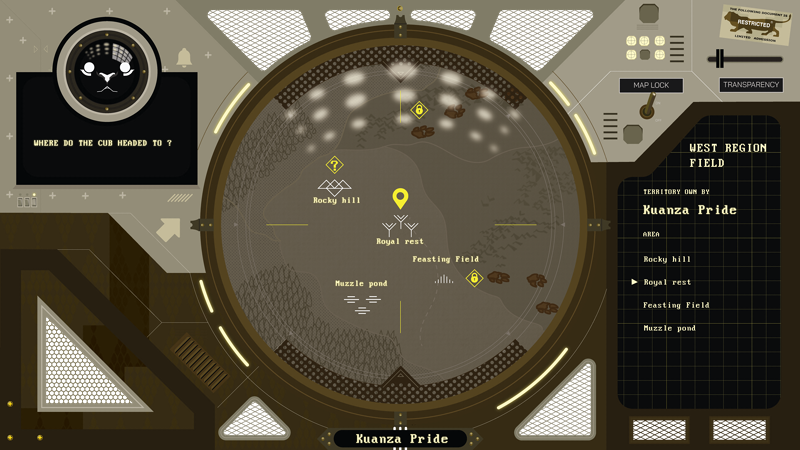 Then Come Ruling periods Assuming player survive the wild in 30 cycles.
5 cycles will be periods representing the conclusion of player achievement.whether the territories player owned or none. Your lion fate and offspring, Your brother Fate and How your legacy will come to an end.

FACTS!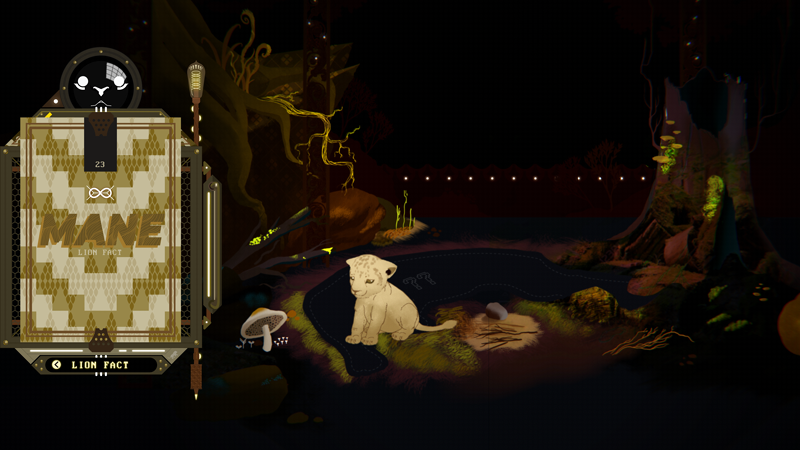 'MANIE' also will be bringing up 'Fact cards' providing a real fact and information
about lion behavior and details throughout the narrative and many more!
MANIE will be notifying player of any new information/an help available on her left panel UI.
---
BROTHERS!


With a tale focusing on Brothers, player cub interaction with brother is essential.

Black Beard : Older who show sign of ferocity and sign of dominance.
Moon : Hyper-active lion cub with a taste for curiosity
Winky : The closest brother born from the same mother womb.
Mholophe: An White lion cub that appear to be timid and weak

Every brother have their full narrative quest helping on determining player cub relationship
or dominance over one another. as each cycle player can choose who would the cub will spending time to.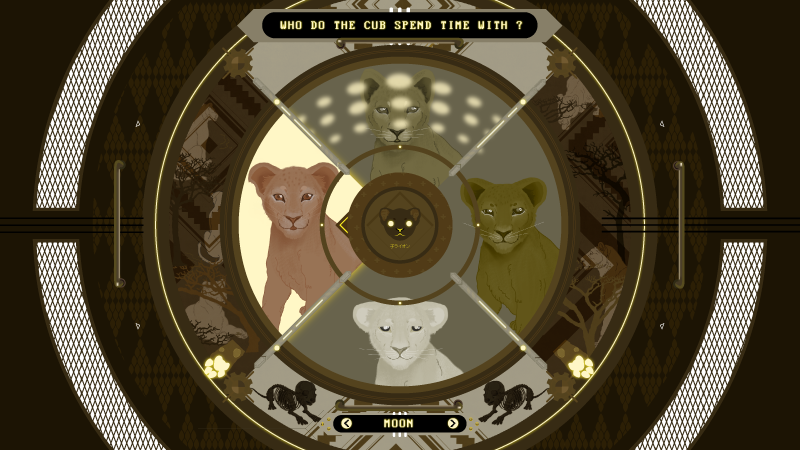 ---
PS
//Another thing left to cover is Lion stats variables and how the Hunting gameplay UI functioning.
which either i will update the same devlog or put it in the another devlog with some juicy art of wearable for customize your lion!.

A tiny DEMO Teaser is expected really soon. It is a short introduction and prologue of the full game.
---
Thank you so much for reading! alets end this long devpost with MANE GAMEART i made.
Hopefully throughout the developing of the game. i will eventually have a full deck of tarot cards! that will be absolutely awesome!