Hello Robocrafters!

MAJOR PHYSICS OVERHAUL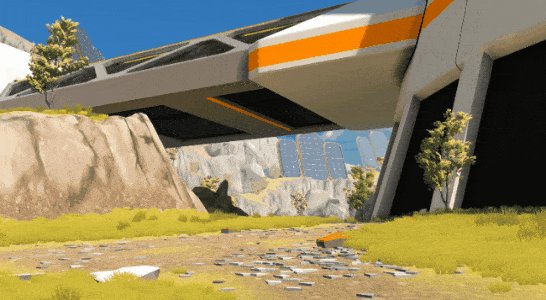 This massive update includes big changes to the way robots feel. Gifs, screenshots and text don't do it justice, you HAVE to play it in order to really experience the types of changes that F=ma has on all existing and new robots! So what are you waiting for?! Play it now, install the game if you haven't done so already and then let us know how the new robots FEEL when controlling them.

For those of you who aren't able to access a PC to play Robocraft RIGHT NOW, read on for further details on the changes in this major update.

AGILITY OVERHAUL
Heavy robots feel heavier, lighter robots are much more nimble. Robots will also rotate at different speeds to factor in these new changes, meaning if you have created a completely fearsome robot with Weapons attached to one side, you should be even more cautious of being flanked if you haven't factored in your rotation speed! We expect players will create new strategies, playstyles and even builds to consider for this major change to movement.

Sprinter Legs have also had a particularly nice adjustment made to them which removes the delay in movement after landing from a jump. They are now more agile than ever before, and will be able to jump in and out of battle quickly.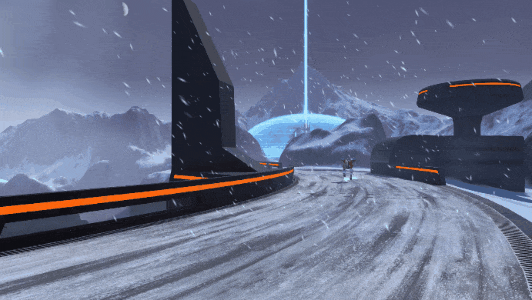 The movement parts that have received the F=ma physics overhaul include
Sprinters
Mechs
Hovers
Rotors
Thrusters
Propellers
Other movement parts are already being worked on and will release very soon! Let us know what you think of these new changes after spending some time with them.

CPU ProgressionAnother system that we introduced last week was CPU progression. This system gives new players a greater sense of progression and adds greater value to Robits.. We understand that building massive robots from scratch can be pretty intimidating, so new players will start with a garage bay of 750CPU. From there they will spend Robits to upgrade their bay at a reasonable pace, while learning more about the building systems. There's a lot of complexity during the later tiers of Robocraft and it can be quite challenging for new players. Of course, as we see new players interacting with these changes, we will adjust to improve everyone's play experience.

Players who have already created various garage bays will not have to worry about these changes for any robots that were attached to a bay BEFORE this update went live. Your robots garage bays are automatically upgraded to store your robot without spending additional CPU. however when purchasing any new garage bays, you will need to upgrade them via Robits.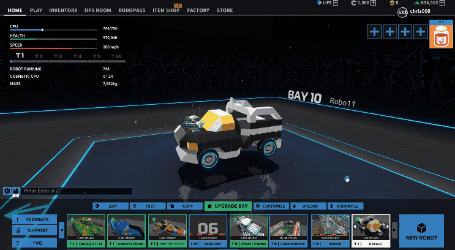 There will be other forms of usage for Robits which will affect ALL players. We understand many veterans have amassed a massive number of Robits and have also MAXED out all their garage bays, so the CPU progression system won't affect you. BUT the next feature we will implement will give everyone a reason to use Robits

New Starter bots!In order to provide players with robots that meet the 750CPU limit, we have had to create a few new starter robots for players. Check them out below!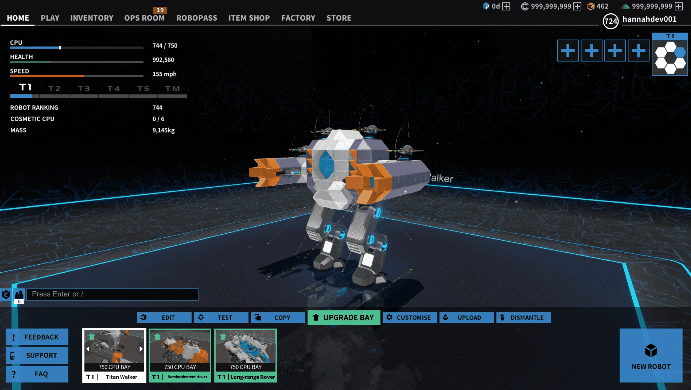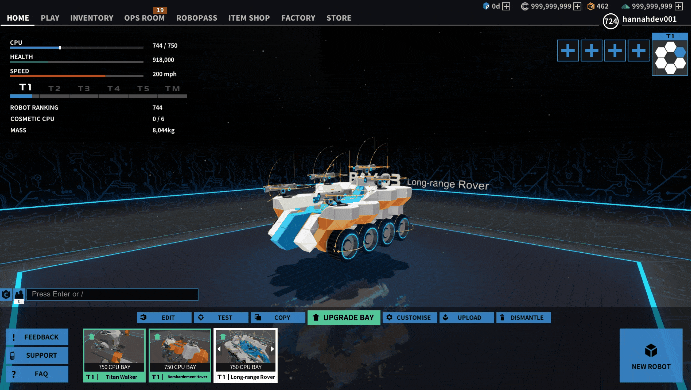 Adjusted Body Builder TemplatesThe Body builder templates have been adjusted so that they are well below 750CPU AND still allow you to place movement parts and weapons onto the robot.

AI have taken to the skies!The AI robots have obtained their pilots license and are now able to use robots installed with wings and rudders! As seen in last night dev stream, they are tenacious!

Cosmetic Credits are now Cosmic CreditsWe have rebranded Cosmetic credits into Cosmic credits, you'll still be able to purchase Cosmetic items with these credits and they'll continue to function as originally intended. However they will have the added functionality to exchange them for Robits as we make Robits more valuable.

Weapon Balance Feedback ChangesAround 1,000 players were involved in our last big weapon balance feedback form! We'd like to thank everyone who took the time to answer a few questions and even submit a couple of suggestions on how you feel we should improve Robocraft. We are currently talking internally about some of the most requested features and will update you once we have more concrete plans.

This update included a variety of weapon changes based on community feedback and we wanted to share the results so that you know why we are making certain changes. Of course, balancing is an ongoing development as we continue to improve Robocraft. So a few days from now we'll be opening up the weapon balance feedback thread once more.

Below are the results from the feedback form and on the furthest right hand side is a column of changes we're making.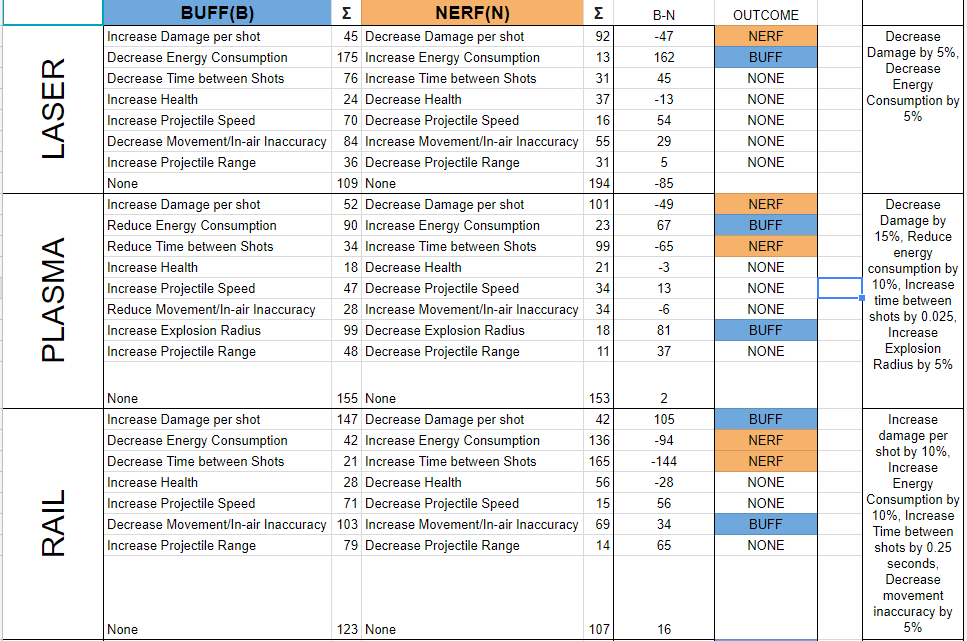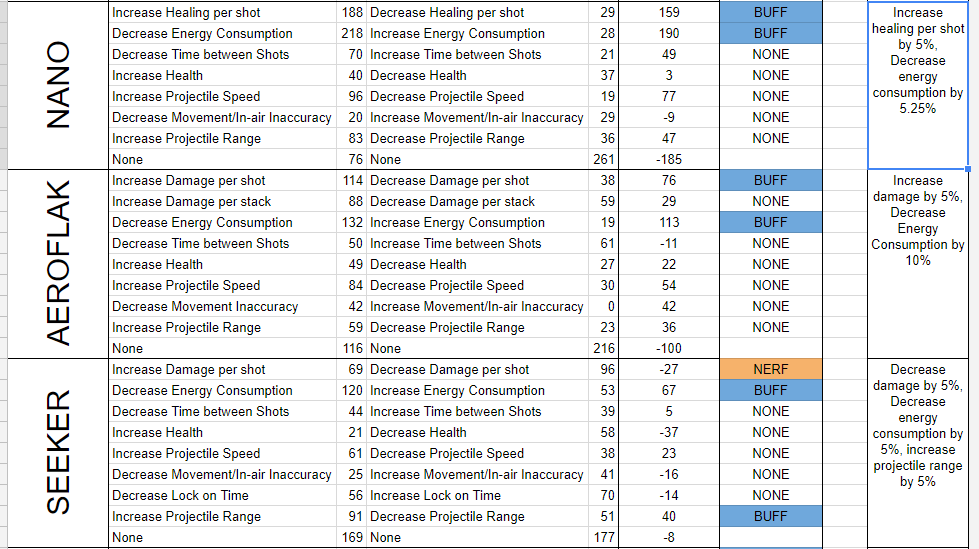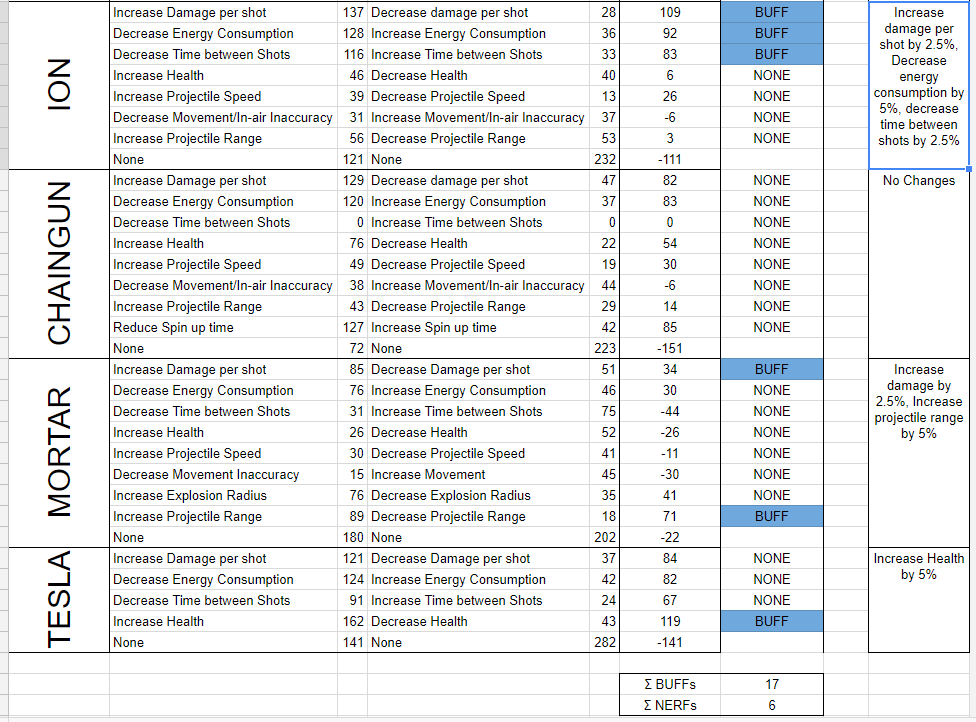 In addition, below is a list of changes in text form in case it is difficult to read the images above:

Laser
Decrease Damage by 5%
Decrease Energy consumption by 5%
Plasma
Decreased Damage by 15%
Reduced Energy consumption by 10%
Increased time between shots by 0.025
Increased explosion radius by 5%
Rail
Increased damage per shot by 10%
Increased energy consumption by 10%
Increased time between shots by 0.25
Decreased movement inacuracy by 5%
Nano
Increased healing per shot by 5%
Decreased energy consumption by 5.25%
Aeroflak
Increased damage by 5%
Decreased energy consumption by 10%
Seeker
Decreased damage by 5%
Decreased energy consumption by 5%
Increased projectile range by 5%
Ion
Increased damage per shot by 2.5%
Decreased energy consumption by 5%
Decreased time between shots by 2.5%
Chaingun
Mortar
Increased damage by 2.5%
Increased projectile range by 5%
Tesla
We hope that you enjoy these changes, we'll wait a few days until we open up the official feedback thread again. Additionally, if you do use the feedback thread, know that the additional suggestions (which aren't related to weapon balance) are also being looked into! We are doing our very best to create a game for our players, and seeing this data and the most requested features in this form when there are hundreds of thousands of players every month is really useful. If you and your friends who play Robocraft didn't send any feedback for the last form, Make sure you do it next time and we'll have even more data to work with!

RoboPass Ends on February 18th



Our first season of RoboPass ends this Monday on February 18th! Players were able to progress through 30 grades to unlock cosmetic items and cosmetic credits. Some of these items included a firework seeker, new spawn and death animations and Neon cubes! Those who progressed through the free version of Robopass unlocked several items, but those who purchased RoboPass plus unlocked additional items at the cost of $9.99 (or $4.99 for owners of Lifetime premium)

If you have played the free version of RoboPass, you can purchase RoboPass plus to unlock all items up to your current grade! These items in total (including CC) would be worth around $100 if purchased individually.

We'll reveal more news on Season 2 of RoboPass soon!

UPDATE IS NOW LIVE! GO PLAY IT
What are you doing reading this still!? Go play Robocraft right now and experience the MAJOR changes to agility that we have been working on! If you still need more reading material, patch notes will be posted below, but in order to really understand the new changes we have made, you NEED to play it!

Patch notes are below, but seriously, go play Robocraft right after reading them!

Features:
Agility Physics for Sprinters, Mechs, Hovers, Rotors, Thrusters and Propellers
New Garage Bays now have a 750 CPU limit and can be upgraded using Robits
Changed Starter Robots and Body Builder parts to fit within the 750 CPU limit
Rebalanced Tier brackets to give an effective CPU limit for each tier
Weapon balance changes based on player survey feedback
The AI can now use flying robots with Wings and Rudders
Reverted intro video trailer
Extra Robits can now be bought in the Store using CC
CC renamed from Cosmetic Credits to Cosmic Credits
Improvements:
Mortar VFX improved
Single gun fire rate for Plasma didn't match the stats shown on the weapon info tooltip
Neon cubes no longer have a darker border
Clicking 'back to the game' after a successful purchase in a non-Steam client now closes the store instead of going to another 'thank-you' page
Further Improvements to lobby queue time accuracy
Balance
The base speed of the rotor has been increased from 160 MPH to 200 MPH
Bugs:
Weapon inaccuracy is lost after pausing in single player
CoM orb now displays when entering edit mode if it is enabled in the settings menu.
Centre of Mass orb is no longer visible on the home screen
Fixed a bug that caused weapons to stop firing if one of them ended up pointing into the terrain while the others were valid
Fixed an issue with players who were forced to quit due to a daily quest error (if you experienced this issue before, please let us know if this has resolved the issue)
Fixed an issue where certain users end up unable to accept or send party invites due to bad redis data
AI robots with Tesla can no longer deal damage to their own reactor
Fixed a bug that caused the 'sideways driving' checkbox setting to be visually incorrect in certain situations
Rail crosshair no longer pulsates when idle
The camera is now centred on the Supernova if you are shooting and moving your camera as the match ends
Known issues:
Players are unable to use the "Skip Tutorial" button
Single leg builds will not work properly until they respawn.
See you in game!

Build, Drive, Fight!
ReelBigKris