One of the main features in Hello Space is the combination of website based pseudo-MMO gameplay and full-3D client-side action. After 2 months of development, we have now finished a very important part which is changing your ship's equipped weapons, engines and components through the website. Changing a component will take effect immediately when you enter a mission in the 3D client.
After logging in to the website you can now choose "Workshop" in the menu. This is the main area for managing your ship and equipment, showing your hull, components and stats: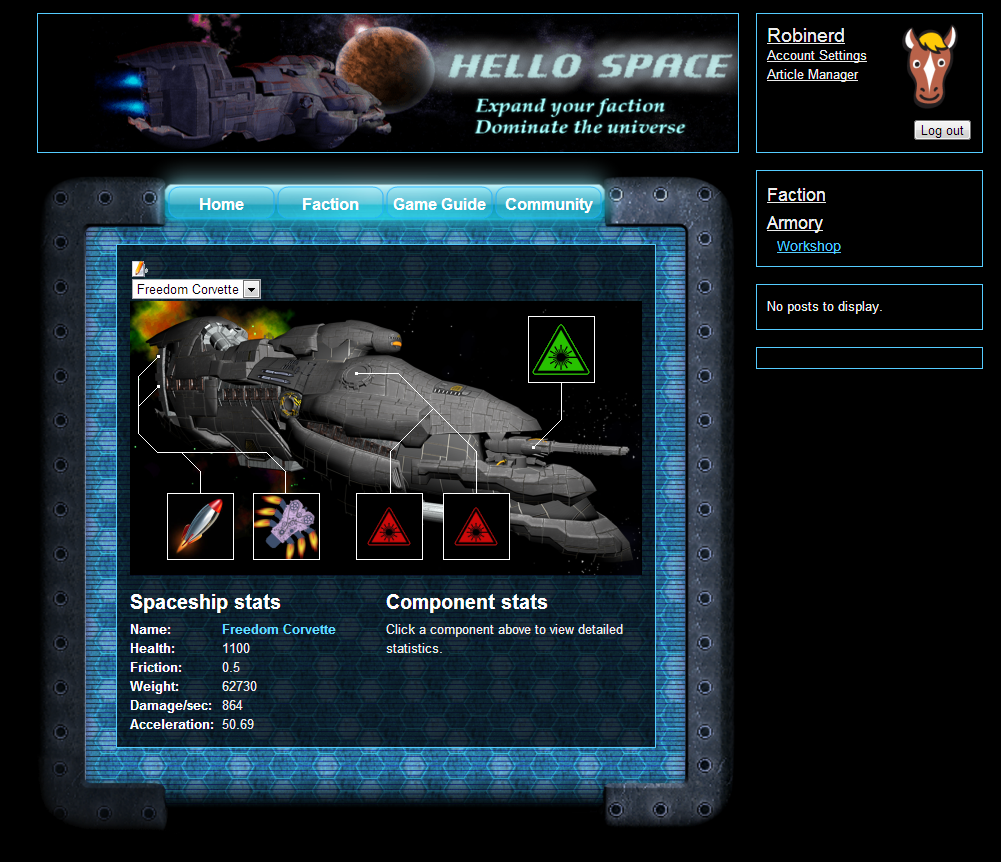 Different ships have different number of engines and weapons. There will also be several other item types such as auto turrets and usable abilities. This ship has two different engines equipped, and also two medium red lasers and one big green laser.
To change a component, we need to click it. Selecting a component will show its stats and a button to change it: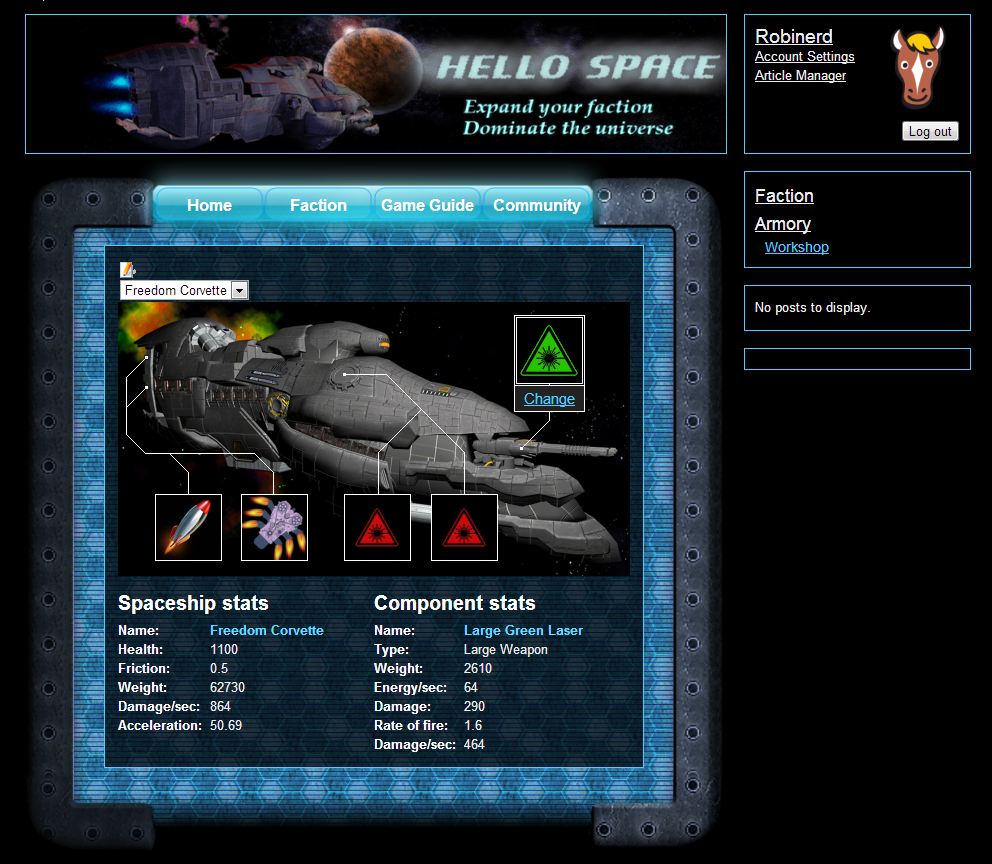 Let's change this green laser to a red one. We simply click "Change" and will now see a page with details about the current component's stat and our overall ship stats. By choosing the component we want to equip, we can preview its stats before making any changes: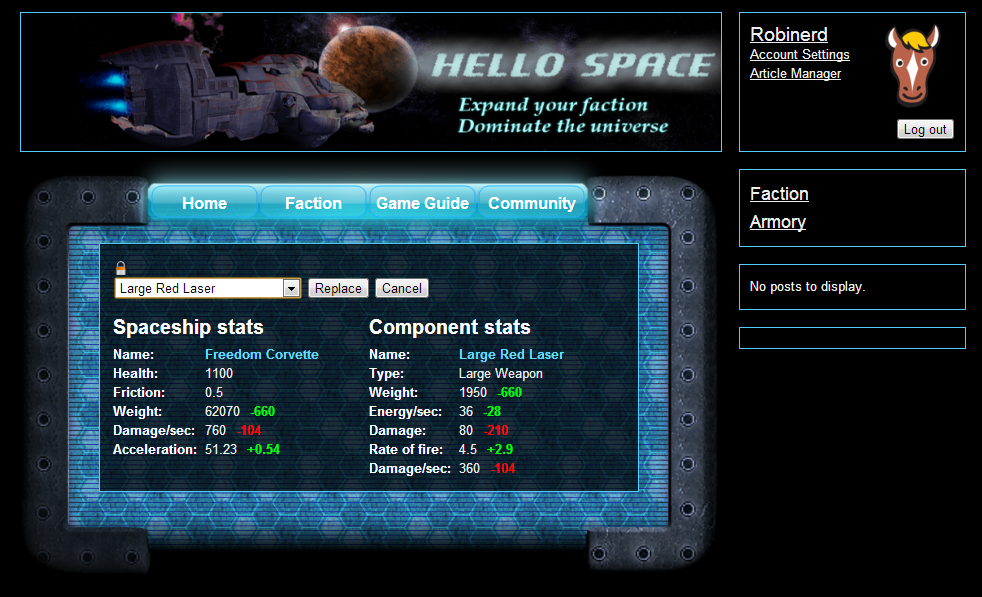 Let's have a closer look at the stats. This new laser consumes less energy but deals less overall damage. The damage per hit is much lower, but compensates by a much higher rate of fire. Although having a lower potential damage per second, we might actually end up doing more damage since it will be easier to adjust our aim when we have more laser bolts to follow. We can also see that the weight decreases a bit giving us a slight boost to acceleration.
By clicking "replace" the changes will be saved, and the next mission you enter will have your new cannon. You can also make the changes directly in the client of course, but through the website you can do it everywhere, anytime.
In a similar way it is also possible to unequip components. By using the change button, let's see the impact of unequipping one of the engines.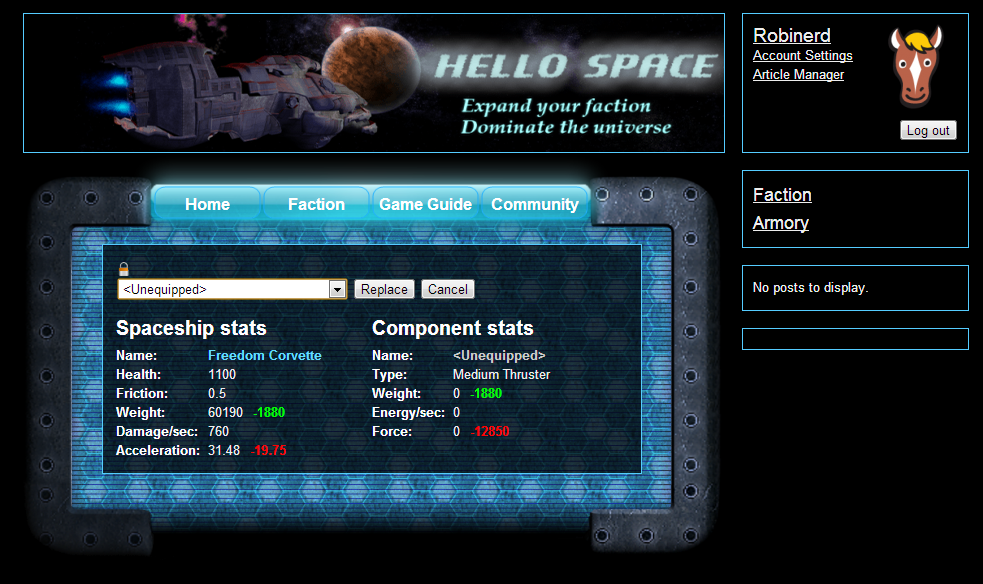 As you see this is a terrible idea since the acceleration is reduced by 40%. However, in a more realistic example: you might for example want to unequip some weapons to lower your weight on a mission where speed is important.
To conclude, one of the main features is finished, but stay tuned for upcoming work including tech tree research, item shop and Faction vs Faction warfare. Thanks for reading!