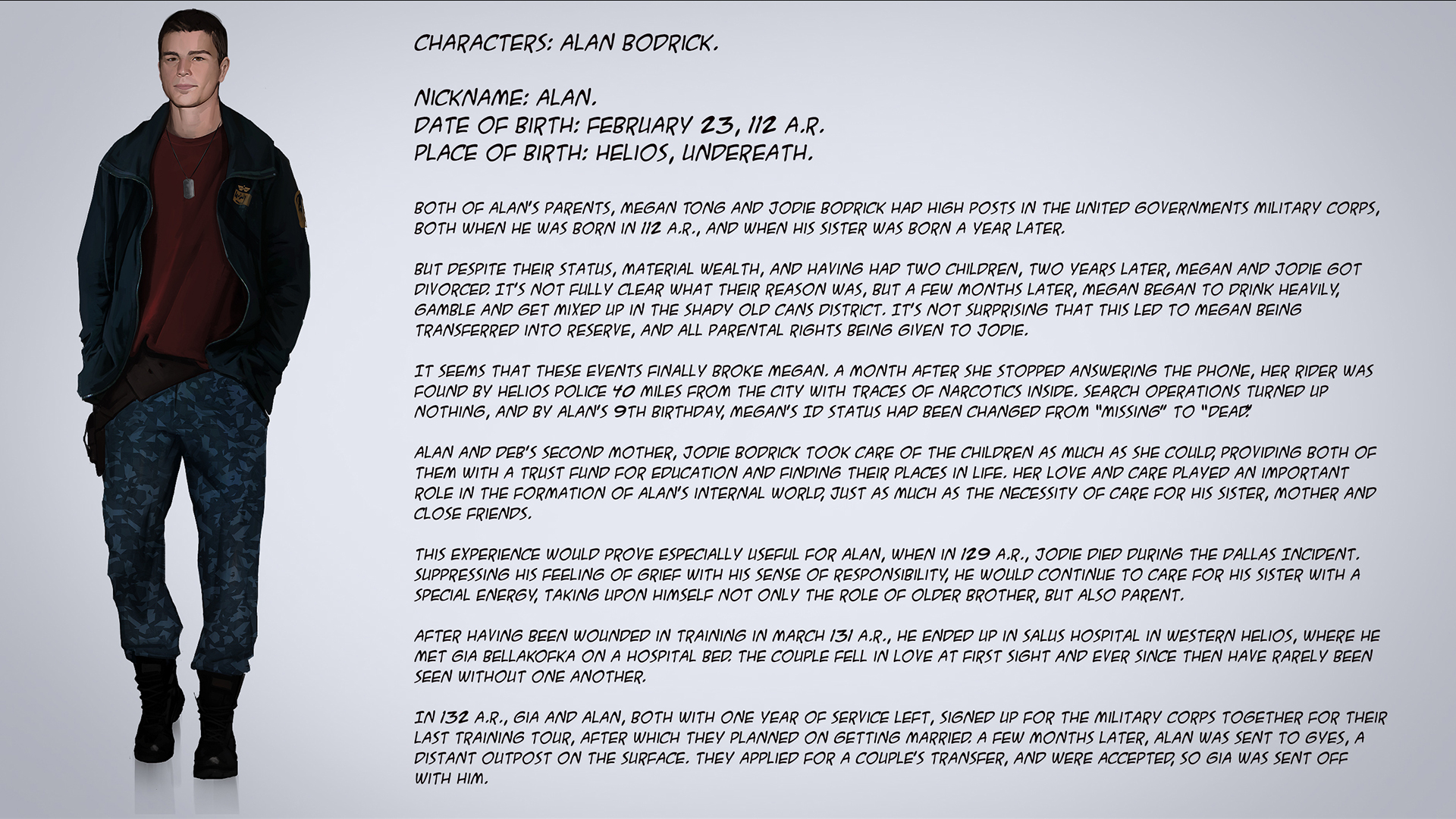 Name: Alan Bodrick.
Nickname: Alan.
Race: Pastager.
Date of birth: February 23, 112 A.R.
Place of birth: Helios, Undereath.

Both of Alan's parents, Megan Tong and Jodie Bodrick had high posts in the United Governments Military Corps, both when he was born in 112 A.R., and when his sister was born a year later.

But despite their status, material wealth, and having had two children, two years later, Megan and Jodie got divorced. It's not fully clear what their reason was, but a few months later, Megan began to drink heavily, gamble and get mixed up in the shady Old Cans District. It's not surprising that this led to Megan being transferred into reserve, and all parental rights being given to Jodie.

It seems that these events finally broke Megan. A month after she stopped answering the phone, her rider was found by Helios police 40 miles from the city with traces of narcotics inside. Search operations turned up nothing, and by Alan's 9th birthday, Megan's ID status had been changed from "missing" to "dead."

Alan and Deb's second mother, Jodie Bodrick took care of the children as much as she could, providing both of them with a trust fund for education and finding their places in life. Her love and care played an important role in the formation of Alan's internal world, just as much as the necessity of care for his sister, mother and close friends.

This experience would prove especially useful for Alan, when in 129 A.R., Jodie died during the Dallas Incident. Suppressing his feeling of grief with his sense of responsibility, he would continue to care for his sister with a special energy, taking upon himself not only the role of older brother, but also parent.

After having been wounded in training in March 131 A.R., he ended up in Salus Hospital in western Helios, where he met Gia Bellakofka on a hospital bed. The couple fell in love at first sight and ever since then have rarely been seen without one another.

In 132 A.R., Gia and Alan, both with one year of service left, signed up for the Military Corps together for their last training tour, after which they planned on getting married. A few months later, Alan was sent to Gyes, a distant outpost on the surface. They applied for a couple's transfer, and were accepted, so Gia was sent off with him...