Magicite is all about survival. You generate your character with unique statistics and traits before venturing out into the harsh randomly generated land. You must explore, hunt, and craft to survive and make it through each instance before arriving upon a town.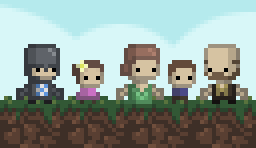 Towns will have a number of NPCs based on your level. The further your progress through the game, the higher the chance towns will spawn certain NPCs.
Blacksmith - Allows players to smelt their ores into bars.
Merchant - Offers randomly generated goods that players can purchase. Also buys any unwanted goods from players in exchange for gold.
Inn Keeper - Players can eat, drink, and sleep to acquire stat bonuses and recover hp and mana.
Enchanters - Using Magicite, players can add enchantments to their weapons and gear.
Tailors & Leatherworkers - They sell cloth and leather that are vital to crafting new gear for adventuring!
Brothel Owner - Players can pay a fee to get intimate with other citizens before heading out in the environment. There is a chance you will receive minor or major stat increases, but also a chance you could catch something and get temporary debuffs!
Citizens - Whether it be men, women, or children, towns are bounding with activity. People will run around about their daily lives and it is up to you to be friendly or slaughter the entire town! Players can kill any NPC in a town.
Guards - These guys will attack you if you try anything funky. Even if you accidentally hurl a fireball at the townspeople.