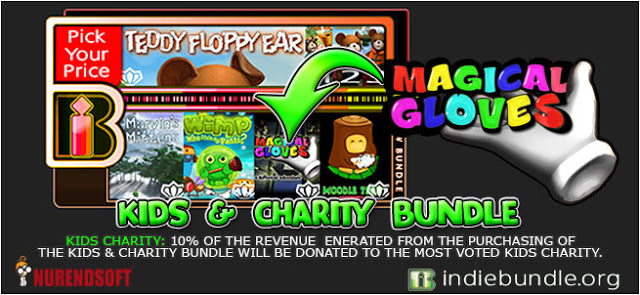 NURENDSOFT collaborates with Indiebundle.org in a great bundle with a solidary purpose.
KIDS & CHARITY BUNDLE indludes 7 awesome games for PC, 1 of them is MAGICAL GLOVES.

You can choose the price to pay for this bundle and the

10% of the revenue generated from the purchasing of the Kids & Charity Bundle will be donated to the most voted kids charity, that you can choose at the bottom of the page of this bundle at
Indiebundle.org.
Pay $1-$4
-Teddy Floppy Ear: The Race
-Teddy Floppy Ear: Mountain Adventure
-Teddy Floppy Ear: Kayaking
Pay $5-$7
-Teddy Floppy Ear Pack
-Marvin's Mittens
-Wimp: Who Stole My Pants?
-Magical Gloves
-Woodle Tree
Pay $8 or more
Get everything + Bonus Materials
-Wimp: Who Stole My Pants? Original Sound Track (OST)
-Woodle Tree OST & art
-Magical Gloves OST
You can download the games included in this pack from your DESURA profile.