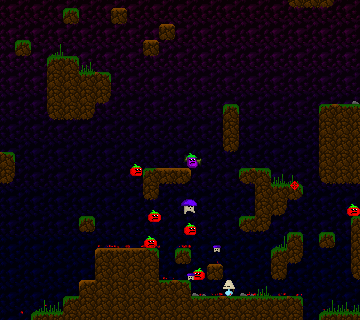 Hi friends, it's time to let you know what Greyproductions is doing:
firstly, we are proud to announce that we are working on a Multiplayer mode of the game featuring online deathmatches and a sort of co-op, probably it will be cool to see players kill themselves with every single weapon of the game! (you don't need to buy them, don't worry).
We are also restyling the game's tileset, as you can see in the picture, by adding grass and dirt tiles, various decorations and some rocky tiles to give a cave look to the lower part of the game's level (we haven't added them yet).
Lastly, we are working also on Bosses (the first you will see will be a Tomato boss, obviously :D) and helpers. Helpers will be available by growing them in Garden Mode and they will have different abilities, limited life (this means that you have to plant them again if they die) and they will be able to get exp and become stronger.
Another important thing: as you know there are the Indie Of The Year Awards here on IndieDB,

so why don't you vote us?
at least do it as birthday present for me... the 3 December is my birthday, yay!
Don't forget to follow me on Twitter


Visit our site!

_Grey