The Mac version of Last Train to Timbuktu will be available next Saturday, March 23. It will be the same price as the Windows version: $3 for a few weeks after launch, then $4.
I've also been working on an Android version! It's shaping up well, as you can see.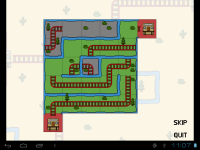 I only have one Android device. Before releasing the game for such a fragmented platform, I'd like to test it on as many different devices as possible. So if you have an Android phone or tablet, and you're interested in beta testing Last Train to Timbuktu in return for free copies of the completed game, please email me at scott@greeneyedgames.ca.