Introduction
We are Ricochet games, a small group of people working on a game called: Lumber-Jacques. A game we've been working on for quite some time now. It all started during our intership, we were making a small little game. People who played it, during testing or events were really excited about this little game. This gave us the dedication to continue after we finished school.
So what is this so called Lumber-Jacques? you ask? Lumber-Jacques is a 4-player fighting platformer game. You're main objective is to defeat the other players, by throwing your axe to kill them or use punches to stun or knock them into deadly traps.
Characters
Well.. What would be a better way to introduce a game than to show of the playable characters.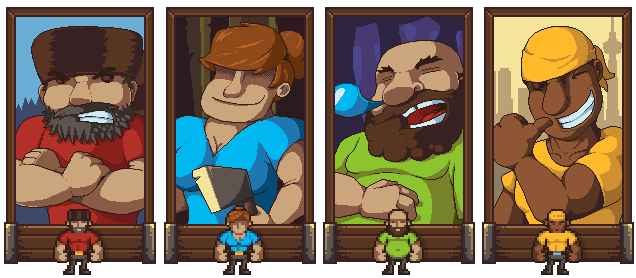 These are the 4 playable characters you'll be able to pick in the game. Depending on which player you are, the colors will change. Player 1 = Red, Player 2 = Blue, Ect.
This is all for now, hopefully you enjoy what you're seeing. We'll be continuously update this page during development of the game. Thank you so much for your time, we can't wait to share more of our game in the future.