Lost Astronaut's Empire in the Sky is a space shooter like none before. Combing aspects of building, exploration, roleplay and combat, we've got an engine that takes retro to a whole new level.
Keeping with our theme of "lava lamp", the game has some great new animations created to enhance the space combat engine, as well as a polished procedural planet engine that has never been seen before in 2D / 2.5D games.
In space combat, beam weapons now deflect off enemy shields. This is a key aspect to beam weapons, which effect only enemies after their shields have been brought down by other means. Additionally, the beams from your starship will soon effect planets as well -- great way to subjugate those annoying protesting galactic citizens.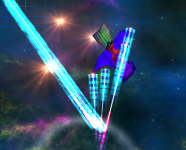 We tried several methods of generating planets about two years ago including tile maps, a cheap texture wrapper, and a wide area map with some pretty lame looking trees. Flash forward to the present, we've got a great engine being built that encompasses many features not seen since K-D Labs' Perimeter.
Using over 400 textures as source material, our game now has a wide array of unique looking planetary landscapes, which we are using to generate procedural landscapes in a way that has never been tried before. This ended up being lighter weight than the previously attempted methods, and with great results which you can see in this article.
Our lead designer wants us to mention that the game really needs to be experienced to be understood. Recent experiences on Steam Greenlight have proven to us that people may not really be that impressed by the game at first glance. Screen shots don't do this one justice at all -- it really has to be seen to be appreciated.
At the bottom of this article you'll see several screenshots of planetary surfaces. Make sure to head over to our Images page on Desura and click the "HD" button to see the tremendous detail in these terrains.
We're busily working on an advanced weather system that matches AAA expectations, complete with lightning, snow, ice, rain, acid rain, ash, static discharges, wildfires, tornadoes, hurricanes, clouds and wind. We're going to add rocks, crystals, alien life forms (plants and animals), civilizations and places of interest. Some of these places of interest will lead to a 2D platformer engine, mentioned in previous posts, which will host some 2D side-scrolling mayhem, or end up in an overhead engine for a dungeon-crawling experience.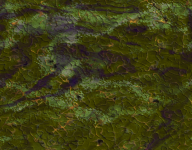 This game is becoming an epic Frankenstein, but when it's done we hope everyone enjoys it and makes it their own. Download the alpha support demo today to find out more about this game's core engine.