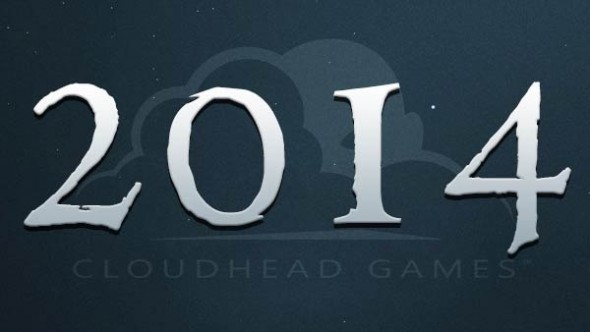 This has been an amazing year for us here at Cloudhead Games. As we engaged theMTBS forums in 2011, talking to Palmer and fellow VR enthusiasts, we never in our wildest dreams thought we would be developing a commercial game, made for a commercial VR headset in 2013!
When we talk about what this experience means to us, it is very nearly impossible not to feel a great sense of privilege. Privileged to live through a period of time that marks VR's tipping point, when all the required technologies needed to make it work finally began to align. Privileged to be in a rare position to jump into the fire with both feet before the masses even knew what was happening. Privileged to tackle problems that have no play book, that haven't even been imagined yet in video game history. This is a rare and tremendously exciting time to be an independent developer with a foot in the door of what we can confidently say will become a worldwide phenomenon in less than 2 years time.
Our good fortune at Kickstarter helped us get under way and fueled the dreams of a small but dedicated team of 3. Since that time we've had the tremendous good fortune of attracting world renown talent from Bioware (Joel Green & Heather Rabatich) and Blizzard Entertainment (Reo Prendergast). We've had the opportunity to work closely with cutting edge hardware makers like Oculus VR, Sixense Entertainment, Razer and Maingear Computers. And as we move into 2014 we're attacking The Gallery: Six Elements 8 people strong, with a very focused mission to deliver the best Virtual Reality & Motion Control experience possible.
We're here thanks to you, your support and a shared dream of where this brave new frontier might take us! So from all of us here at Cloudhead Games, happy New Year and we can't wait to share 2014 with all of you!
Exploration School V2.0 Download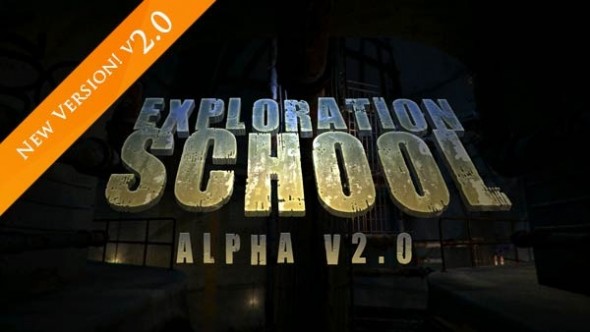 Thanks to the incredible support and the invaluable feedback of our supporters, we're happy to announce our first update to the Exploration School Alpha! If you purchased thepre-order package on our website or if you backed to the Exploration School level on ourKickstarter, you should receive a fresh download notice in your e-mail (subject "The Gallery: Six Elements All-Access Pre-Order – Update" check those junkmail filters!)
If you don't receive access for any reason please contact Dan so that he can set you up personally at dan@cloudheadgames.com
Update Log
We sincerely appreciate everyone's input on our recent release and we've been working hard to further enhance the Alpha as well as resolve a number of bugs that came up during testing. Your invaluable input has improved the Alpha in several important ways and we will continue to improve the experience as we roll out planned features (to replace placeholder mechanics) and other new developments. Please keep the feedback coming!

Clarified crane puzzle flow in the warehouse with additional hints and cues. (Get to the sewer people! )
Added PDF instruction page dealing with proper pre-game setup and calibration prep.
Resolved raycasting issue with paintballs. No longer penetrate walls.
Fixed random tablet pop-up bug after returning from Dungeonman VR.
Fixed intermittent tablet spawning at feet issue.
Fixed theater soundtrack playing in areas outside of hangout room.
Added quick center calibration button to account for intermittent drift (please see Instruction PDF).
Resolved climbing wall intermittently throwing players backward.
Fixed intermittent arm freezing upon spawning in sewer.
Resolved multiple "in hand" pickups conflicts.
Increased tablet tip display times.
Pickaxe can be picked up after dropping.
Objects set ablaze faster.
Music cue tweaks in sewer.
Fixed lightbake in sewer.
Resolved collision issue on pipe crossing.
Added drainpipe sounds to bathroom.
Added missing lockdoor sounds to sewer.

Gamepad & Keyboard Support January!
This January we will be rolling out our long planned gamepad and keyboard support for the Exploration School Alpha. To bring the experience in line with full motion control we've had to think outside the box and we're excited to share the work we've been doing on that front!Game Manual & Tutorial Videos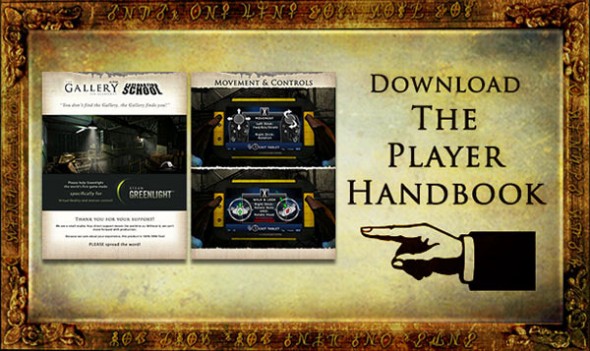 We've updated our game manual to include some helpful tips on pre-game setup and calibration. For the best possible experience please view the guide AND check out these short videos to help you get a solid start!
Oculus Share
Oculus VR was kind enough to launch our Exploration School Alpha holding page on the Oculus Share storefront. Big thanks to Phil Greenspan for the support and exposure!

Our Success Relies on Greenlight Support!
A unique challenge for us is simply getting the word out about our game. Targeting hardware that isn't even technically on market yet has some extreme downsides, especially when it comes to garnering support via Steam Greenlight and the gaming press at large.If you haven't yet voted for us on Steam Greenlight please consider doing so. Not only will this help us get the word out but it will help you by allowing us to maintain a one-stop location for updates and an always secure download portal for your investment into this game. Please help us spread the word and vote today!