Playtesting Olvand with Desura has been incredibly useful; I think over 60% of the features I've added in the latest updates would not have been there or would have looked different without input from the community. When you're working on a project for so long, at some point you lose the ability to zoom out and look at it from the perspective of a new, fresh player, and it's good that I have lots of other players who want to do this for me.
However, I feel lately I focussed a little too much on these new players. While the early game has been tested and improved a lot, the proportion of feedback I get on things later in the game is relatively small. Or, to put it differently, say I upload an update which changes how duels work and invite a group of new players to test it, most feedback I will get will be on the early game experience instead of on these recent changes.
The solution to this, of course, is that I should try to direct the playtesting a little bit. I'd like to combine this idea with using playtesters who have played the game before (instead of using newbies everytime). The result is what I'll call 'hardcore' playtesters.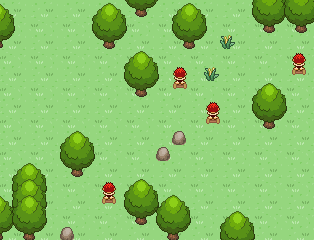 What is a hardcore playtester?
Besides the new wave of invites I do every time a new update is released, I'd like to test the new features in more detail with a small group of 7-8 enthousiastic people. After a new update is out, and more than 1 of the hardcore testers is online at Steam, I'll talk to them over the chat and invite them to my personal server. With a group of roughly 3-4 people, including me, we'll test the various new features thoroughly. I'll do this at various times during the day, so testers from all timezones are welcome.
Why should you become a hardcore playtester?
Doing something you are enthousiastic about together with people who are also enthousiastic about it is fun. I imagine the hardcore playtesters will really get to know each other, because they'll meet every few weeks in game.
You get to play with the new stuff before most others see it, comment on it, and help me improve it directly.
You'll be an Olvand expert ;). In my mind (not in-game!) Olvand experts look like this:

You'll get that well-deserved fuzzy feeling for bringing me closer to making this dream real.
There are no obligations. If you don't have the time (or the desire) to help testing every single time, no problem. And you can of course always quit.
Why shouldn't you become a hardcore playtester?
It will be boring and repetitive at times - test servers will be resetted often, which means you'll have to start all over again every now and then. And don't get me started on all the bugs ;).
There will be a stranger from the internet (me) talking to you on Steam, asking you to do stuff.
How to become a hardcore playtester
Send an email to olvandgame@gmail.com. Please tell me something about yourself (hobbies, favorite games, etc.). Already having an invite for Olvand is not necessary, but if you do not have one be prepared to spend some time with the game so you'll know what we're talking about. There will be a list of reserves if I get more than 8 offers.
If you're interested in Olvand's development, follow this website, [twitter] or [facebook]. If you want to be a tester, but not a 'hardcore' one, you can subscribe on [olvand.com].