Hello there again! Another week full of cool updates!
This week we´ve been working on NPC Schedules. Simple and quick tool to use, and you will be able to bring that dull NPC to life, finally!
Now you can set a list of tasks for a NPC, keeping him or her busy for the whole day! The schedule list determines how the npc will interact with every object in the world.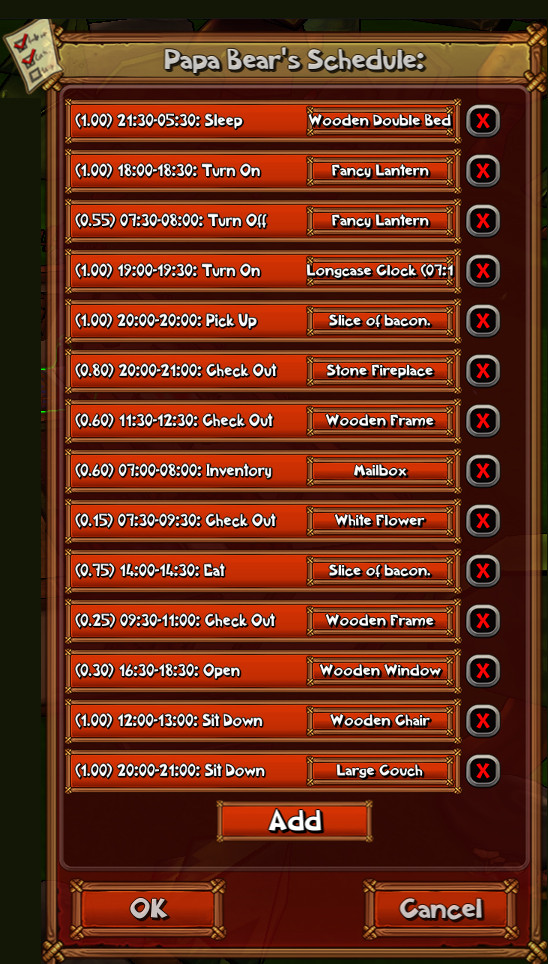 Let's say you want PapaBear to sleep on a bed from 10 pm to 6 am, then he will sit on a chair from 7 am to 9 am, and so on. You can also set 2 tasks at the same time and then set the ''weight'' of each task. If the weight is set to 1, he will always do the same task at that time, but if it is set to .5 then he have 50% chance of doing one or another task, as you would figure it out for yourself.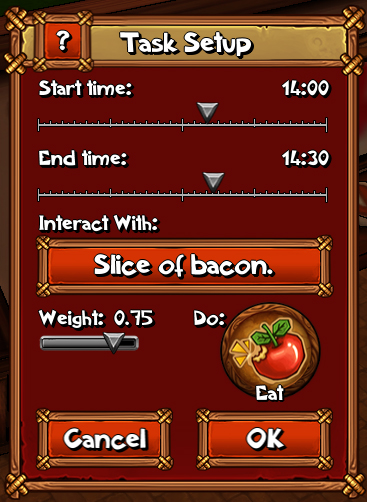 A 75% chnce of eating that slice of bacon? Better change to 100%. More realism.
With this features we can start to add some nice puzzles to the levels and also expect random and bizarre behaviour from our NPCs, I can't wait! =]
Also, we are almost finishing the last adjustments on the animation system, we´ve migrated the whole system to use unity's mecanim, with that we can mix and match a lot of animations for our characters, they can sit down, drink and eat while make some push ups! Kidding but seriously, we will have a lot of cool mixed animations to bring the characters to life.
Check out this videos that I did for testing some of the animations.

It's time for a DTR. Story of my life.
Last but not least, the female character is good to go. It doesnt have the same amount of stuff to customize as the male character does, yet. But we are working on to delivery all of the characters first and then we can work on customizable parts!
Thank you very much for your attention, we from Pigasus wishes a merry xmas and a nice new year! We hope to delivery all of the Adventurezator goodies in 2014
!
See you next week!