This release brings again a lot of improvements to the game. Especially sound effects and overall audio has gotten much better. There is some new content too: One new weapon, new enemy type and three new levels.
I uploaded some new gameplay video footage from one of the new single player levels:
And a screenshot from the new multiplayer level: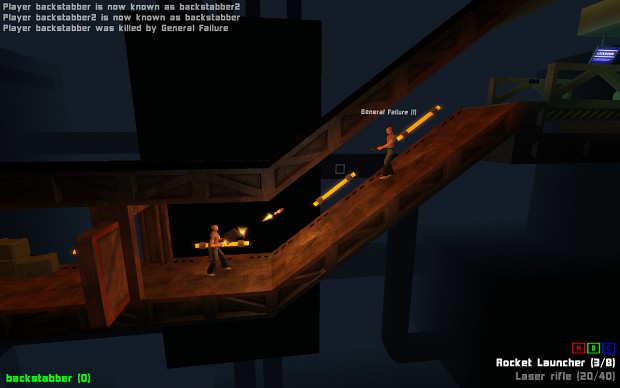 Here is a full list of changes since 0.15.0 alpha release:
Added alternative aim/shoot animation for heavy weapons.
Added level completion music.
Added laser rifle.
Added two more single player levels.
Added new multiplayer level called Armory (new demo multiplayer level).
Added dynamic audio filters (reverb).
Fixed music stopping in case of decode buffer underrun.
Added laser sight to zapper.
Guard speech bubbles replaced with actual voices.
Added security announcement voices.
Tweaked some of the first levels based on game play tests.
New skin texture for security guards.
Added new guard type armed with pulse rifle.
Made laser/zapper beams fade out at range limit.
Minor tweaking to human walk animation.
Made jellyfish collision body a bit larger to make it easier to hit.
Fixed temporary corrupted electric weapon beam pattern when fired for the first time.
Fixed beam weapon particle effects stopping too early.
Optimized particle rendering for lower batch count.
Fixed reconfigure.exe launcher not working with Wine.
Fixed annoying delay in platform/elevator interaction on multiplayer client.
Removed lowest lighting quality option (fixed function).
Show score at end of player name instead of kill count in single player games.
Fixed missing player name change notifications on server in multiplayer matches.
Fixed guard AI unintentionally shooting during "stun delay" after getting shot.
In order to simplify things the lowest lighting quality (fixed function) option has been removed. I finally made some sort of guess on minimum hardware requirements:
1.6Ghz processor
1GB RAM
DirectX 9.0c or OpenGL 2.1 compatible 3D graphics card with 128MB of memory. Intel's HD2000 and later integrated GPUs should work too.
100Mb of disk space available.