Have you ever played local multiplayer with more than 8 players?
Neither have I. That's the reason why I started developing the party game collection Crowded two years ago. Crowded really is a new way of local multiplayer. Since words are always a tough matter - how about a video to explain you why:
Steam Greenlight: Steamcommunity.com
So phones as a controller and the PC as the game platform? Does that even work?
Yes it does. Although phones don't seem to be great controllers at a first glance, they really have their (big) advantages. The biggest one is that everybody has a phone - that means everybody has a controller when playing Crowded. No more waiting for controllers or fighting about who's next. And phones really are a bunch of high-tech sensors. How about making your controls adapt to the game? With a touchscreen it's possible:
When I developed Crowded I really wanted to get everybody into the game. Crowded supports Android, iOS, WindowsPhone - you can even play on a smartwatch if you intent to ;D
The game can be started on Windows, Mac and Linux. That's what I call freedom.
The games
The games of the collection are simple, fast paced, but nonthelesss challenging. They are inspired by classic game concepts: Play games like Pong, Astroids, Tanks, Super Cobra and many more in a new for any number of players suitable version. Have an idea for a game that needs party game multiplayer? Leave it in the comment section.
Who am I?
I'm working on the project on my own so far. It's quite tough sometimes to not give up and keep going. Currently I'm trying to raise some money on Kickstarter to get a graphic designer and a composer on board (Kickstarter.com). But way more important:
I'm trying to get the game collection on Steam. There are no words for my gratefullness if you support the project in any kind of way: Steamcommunity.com
For all those of you who still struggle with the concept, here's the intro screen of the game collection - maybe it can make some things clear ;)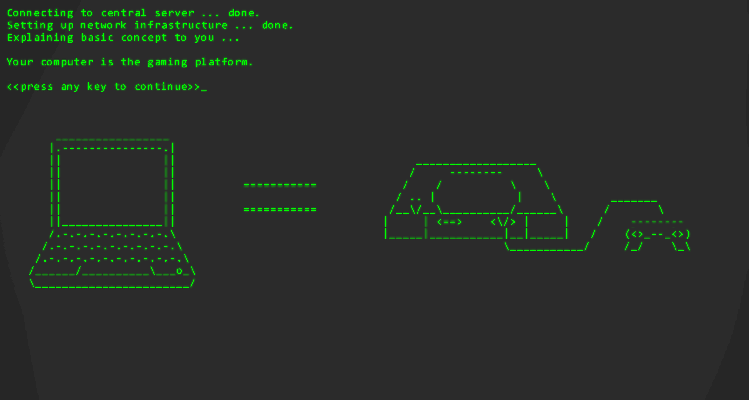 Thanks for reading and have a nice day ;)