LINUX SUPPORT
The linux version of Rolling Survival is now live and working, unfortunately the resolution is locked at 720p, which was something that I was intending to but seems unlikely now (read second half of article). But the game works, and pretty well apart from a CPU spike during the tutorial level (that goes away if you shoot a few of the drones). Apart from that though it seems to be working splendidly in 32 and 64bit :).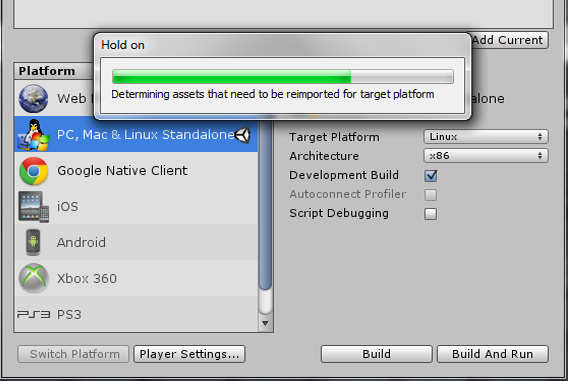 ---
The Corruption and RS's future
So last night my game file corrupted, and I have no idea how to fix it, let me get more specific.... After building my Linux version of the game I shut down to launch my Ubuntu partition, anyway... as unity was saving during shutdown my laptop died. I think it may have been my faulty battery. Anyway when I relaunched the windows it said there was a disk error and it needed checking so I let it and it cleared away some corrupt parts of the disk.
When I next launched unity (the engine I use to make RS) I was given an error that guidmapper (a file within the system of unity) was broken and I should delete it and relaunch unity, I didn't delete the file but i moved it to my desktop and relaunched unity. The folder than contained all my resources was empty (even though in the file system the files were still there).
Turns out this same thing has happened to all of my unity files. Nothing has been assigned so nothing has textures, models and all the script roots are marked as null.
So I use dropbox to back up my files, the bitch of this being that when my guidmapper got corrupted it synced the corrupted file meaning my backup is mashed as well.
I had one version on an external drive from back in November but i honestly cant bring myself to do the last 2 months again. This brings me to a summary, seeing as I have a good build out that seems to work and could act as a complete game that is what I am going to call it.
I cant bring myself to start from 3 months ago. The whole thing is still a bit raw but i am so angry with myself for using a sync to back up my game.
So angry at myself