After a long absence due to exams and a lot of other work the Project Epsylon is back with a lot of news. The main work went into reworking the rendering engine to use a technique which is commonly dubbed Deferred Shading. One of the main benefits of this technique is that you can have much more lights than using conventional rendering and therefore you have much better control over the mood of your game. To take full control of this the Drag[en]gine has received a sophisticated Lighting system giving the game designer a lot of precise controls. One of the new parameters is ( besides others ) the Attenuation Exponent. This little fella allows you to shape your lights in a way not many game engines allow you to. Here just an collection of examples playing with this parameter ( all four detail images can be found here: Exp 2, Exp 1, Exp 10, Exp 20 ).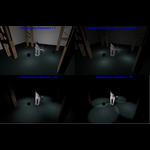 Furthermore the Effect Stack has been reworked. This facility allows the game designed to stack together post processing effects as well as geometry effects to alter the outcome of the rendering. Anything from simple blurring over to complex post processing can be done using this system. The world editor contains an own Effect Stack Window so you can test your Effect Stacks right away in a WYSIWYG fashion. There are a couple of example screenshots of effects in the gallery ( blur, desaturate, night vision ) including this screenshot of the editor in action.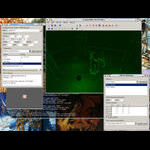 As you can see, the Dra[en]gine is destined to provide lots of power for creative minds out there, no matter what budget class you work for. Besides those changes the Terrain System is heavily worked on by our terrain master. The results so far are very promising but we will not disclose more at this time. Just be assured that good stuff is coming along nicely.
Don't forget to click the full size links to see the images at their full resolution.
Until the next time for more updates.