Lift News 21


Lift is alive! Perhaps even kicking? We have a good deal of new media and some interesting bits of news to report this month. Find out where we've been and what we've been doing for the past few months.
That's right Lift is back and we have been working, your probably wondering where we have been. Like clock work we had been putting out news posts every month and then we stop. Why?! Well lets give a quick explanation.
As always we were having trouble finding a coder, and once we did we were having trouble getting him to work. At this point The team was a bit scattered, school, life, other projects all sorts of things keeping us away from Lift. It seemed like a good time to try and get the team together.
The "Team Building Exercise" was created. Long story short, it didn't work out (long story on the news post in the forums)
From there we all kind of took a break. Doug manged to spark some major interest in the Gmod community, but it was short lived.
Then around the beginning of this month, we all started working again. For no apparent reason, the team came together and started working again. I'm not sure why but we did and now were back. There's a few new positions open and I will be prowling the internet for new recruits, but that's for later now onto our recent progress

Music
5AM hit me with two tracks this month, they were both great and I was thinking of releasing both of them, but hey that wouldn't be like me now would it? "Theme" is a nice change of pace from our usual music. Its a shoe in for menu music and has a nice breezy feeling to it, kind of like flying.
3D Modeling
Every modeler on the team managed to build a new model for Lift this month
Doug came in first and finished his Scud Bike LFO that he began back when we would broadcast our 3D shenanigans on Mogulus. I (PlinkoTink) managed to build the Type 808. Cerebrate also built us our very own Nirvash Type The End. That's right people, some very important additions to our ever growing roster of customizable LFOs. Look for more images of them on our news thread in the forums.
Mapping
Its been a long road for our mapping department, or as we call it G3NJ0. Hes still here, but is very busy with school and other projects. However he has been working together with Torchling to bring our next map into existence. It will feature mostly tight quarters, inside of a cave environment. Not much to show as of yet, but fans of the show will know what we are talking about.

Coding
At the moment we have a coder, however he is new to the source engine and it will take some time to do some of the more difficult task, so we will be looking for another more experienced coder. There are many methods to building a video game, it seems that for the time being, we have adopted one that we did not intend to. It looks like we will be building everything that is needed for this game, and then moving on to coding. From what I hear having everything done ahead of time, makes for a very impressive presentation.

A Pocket Full Of Rainbows.
Due to the amazing fan base and the overall popularity of Eureka Seven, Studio bones has finally given us the Eureka Seven movie "Pocket Full Of Rainbows"
Some Eureka Seven fans don't know about it, and we thought we would do our best to share in the knowledge of the Eureka Seven movie. That's right its out. It came out today on DVD and Blue-Ray. It promises a great experience, and a must see for any E7 fan. Finding it is your own problem, you can bet I will get my hands on it asap.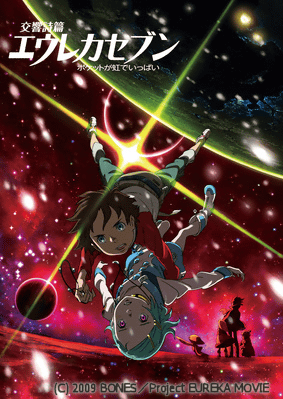 HELP WANTED


ModDB has a new help wanted feature (well not all that new) I will edit this news as soon as the job postings are approved, you can always keep an eye out for the postings in the job section of ModDB. We are currently looking for a mapper and a coder.
Coder applicants click here: Moddb.com
Well that's it for June folks, I am sorry for the recent lack of information. If anything, just be happy that we are still trying, its really all we can do.