Before I started this game I had never heard of a Letter of Marque so I thought I would give you
all some insight as to why we named this game Letters of Marque.
In the beginning we were calling this project Crimson Tides, but decided later that it was too
close to the Alabama football team, Crimson Tide. We brainstormed about every piratey noun we could think of until we came across the term 'Letter of Marque.' After reading the definition, it was clear that this perfectly described our game.
A Letter of Marque (used in Europe from the 1200s through the 1800s) was essentially a license from the government giving authorization for someone to capture and attack enemy ships and bring them back to port. These enemy vessels were then raided for goods and put up for sale. The people given this license were known as privateers. Receiving a Letter of Marque was considered an honor and those who received it were viewed as great patriots. Accepting a call as a privateer meant almost certain wealth. The privateer vessels were fast, had a large crew, and were equipped for heavy battle.
Each time you get to a new level in Letters of Marque, you will see your new quest on a 'scroll;' essentially your own Letter of Marque. Take this summons with pride and enthusiasm and go after
some pirates!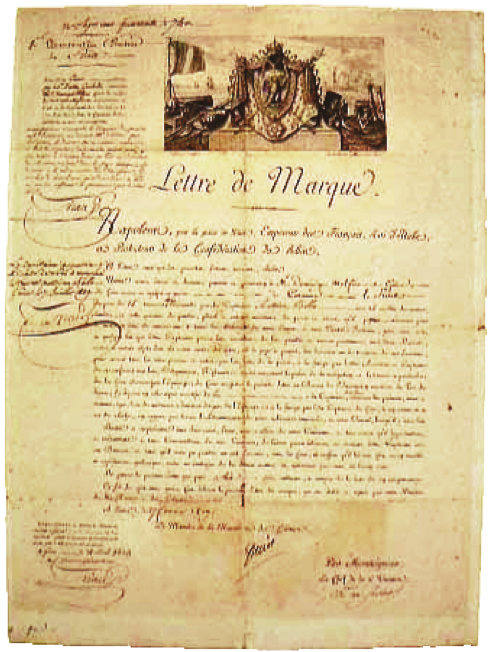 Letter of Marque given to Captain Antoine Bollo via the shipowner Dominique Malfino from Genoa, owner of the Furet, a 15-tonne privateer, 27 February 1809.
This file has been identified as being free of known restrictions under copyright law, including all related and neighboring rights.