Hello everybody! Today I will tell you about the main problems of project management!
I know that the topic might seem trivial or boring, but it is necessary to know how to organize complex projects.
Let's start by saying that, when WS Team was formed, we had a lot of ideas about how we wanted our game to be.
Unfortunately, we stopped dreaming all of a sudden; in fact the first months of development have been actually wasted (I mean the period between the opening of this webpage and the first article).
With the duty to have a working alpha by the end of 2012, we had to organize our work to be able to fit with the traditional daily routine and to get maximum performance at the same time.
I'm warning you that I never followed classes of management or processes (except for metallurgical, but here it is useless) so what I'm telling you is my PERSONAL vision about organization of my duties.
---
Development of a Workflow
The current stage of development requires an immense amount of content creation that can be 3d models (characters, props, etc..), Sound (music, effects, etc..), Animations, etc.. So nothing new...
Having to estimate the MINIMUM amount of work required to get to the fateful alpha, I had to create first an "archetype" of character: a character that contains every kind of possible work.
It was not easy and required not jus a lot of working hours but also material research and study of several techniques. Let's say that the character Male0 took about 90 hours of work.
Therefore I have outlined the steps taken and I gave each phase a value in terms of hours...nothing complicated.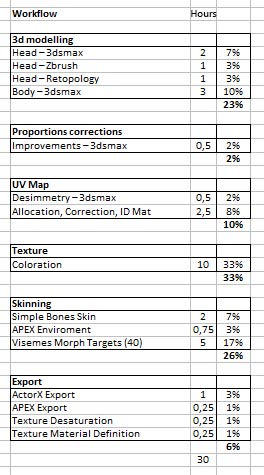 My workflow if you want we can talk about this in another article
The workflow is divided into steps and microsteps: each section requires a certain skill that you can assign the work to different people.
---
Distribution of Work
At this point, I created a simple list of tasks to be performed with a simple percentage calculation. This way I always know the extent of the work I reached.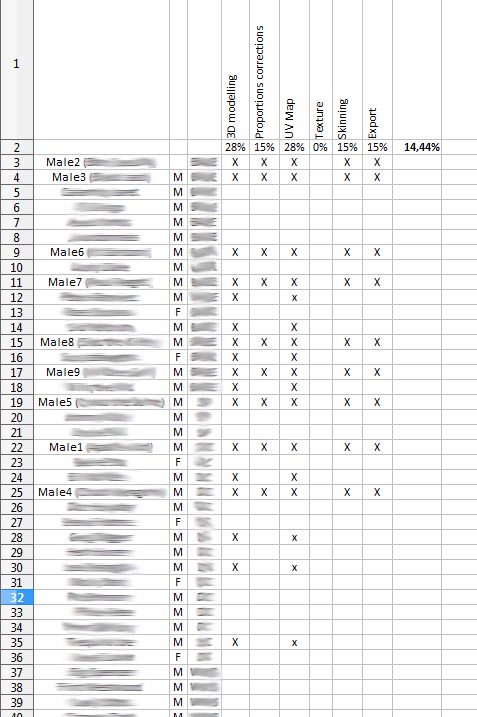 Something you can notice...
As you can see it is nothing but fiction. However with these small steps I am currently at 15% of my work despite of having started about two months ago. The work estimate is 1800 hours.
---
I hope this article will be useful!
P.S. In the last picture there are some clues about next news!