Etherium: Dark Storm has found its way to ModDB! Etherium is a 3D Multiplayer Online RPG in-progress, featuring a huge persistent online world and real time strategy elements, among other things.
Now, on to the news. Etherium development is moving right along, and today I've got a nice screenshot for you. It shows off the particles (rain and spark tests), vertex shading on md3 models, the terrain, and the newly implemented lightmapping.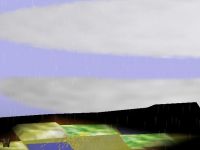 We hope to see you around the forums and at our mod profile, as we have a lot of... interesting, devilish, creative (take your pick) plans in the works, so keep your eyes peeled.