Hi guys!

We want to share with you our latest creation, Legend of Hand! It's a quirky point and click adventure game with RPG elements set in a Far-East/Martial-arts inspired world, influenced by adventure classics and martial arts beat 'em up games of the 80's and 90's. We've just released a demo of the first section of the game, as well as a Steam Greenlight campaign, you can find the links below. We're a two man team and have been working hard on this game since April 2014 - it's well on it's way! We are aiming to release the full game in early 2017.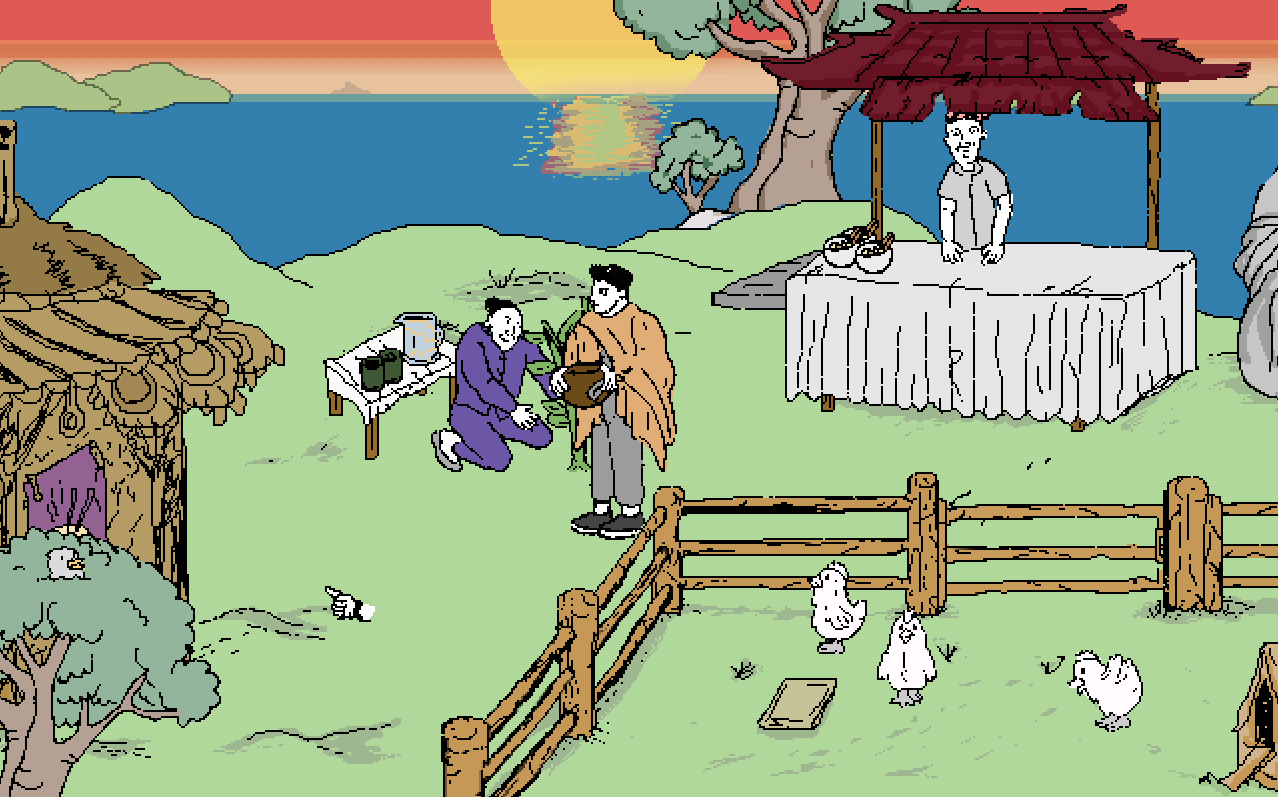 The Story
When your wise old crony masters send you on a quest to find a missing messiah known as Grandmaster Hand it's best not to ask too many questions – though it's safe to say the fate of the world depends upon finding him. Four mysterious, tight-lipped martial arts masters are said to hold the clues to his location and each is shacked up on their own island, stretching out across vast oceans, claiming to be his successors. But are they really what they claim to be? Maybe, if you can beat them in a fight they'll talk - but that's okay, you've trained your whole life and you're an absolute badass! The only problem is you aren't too good at saying no to people... You're supposed to be a fighter, so what are you are doing in the kitchen? Why are you running around doing errands for old ladies and solving relationship woes? Yep, there's a lot to do on your adventures - travel across the unique islands and see what traditions they have on offer. There's gambling, banquets, fishing and all sorts of fun ways to spend your time- just don't forget to find Grandmaster Hand!

Features
- An epic quest and unfolding storyline spanning many years and unique lands.
- A massive cast of intriguing , mysterious, bizarre, amusing and crazy characters (some utterly useless).
- Unique and retro drawn graphics and huge catalogue of animations including costume changes, disguises and drunk dancing.
- Learn new moves, increase your HP and fight using a turn based RPG-style fighting system that's easy to learn and fun to play!
- Expect to meet companions who will aid and follow you in your adventures!
- Get sick, fall in love, fight for the innocent, gamble, make grub for Gran - the world of Legend of Hand is varied and detailed.
- Typical adventure game elements such as puzzles and dialogue interactions. Expect the difficulty to increase as your quest progresses, things may seem easy to begin with, but that won't always be the case!
- Mini games galore, including cricket fighting and fish tickling!
- Full screen animated drawn cut scenes.
- Hidden secrets for keen explorers! Mind your trousers…
- Unique and engaging original soundtrack.
- The odd real world cameo here and there.
- Optional scanlines to enhance the retro vibes.
If you enjoy the demo or look the look of the game, please consider giving us your vote on Steam Greenlight, all votes much appreciated!
Stay tuned to our IndieDB page for further developments. You can check out the trailer and some more screenshots below.

Many thanks,
Shaun
Cloak and Dagger Games