Welcome to LawLawLand! It is a country where everybody follows the law, no matter how absurd it may be at times. You are an ordinary factory worker, who accidentally becomes a member of parliament — now it's your turn to decide where this country is headed. There are two parties at the Parliament: one always votes "yea" and the other "nay". The votes are divided exactly in half and the final decision is always up to the player. Will you earn the love of the whole nation or will it be hatred instead? This depends solely on you!

So, basically, Law Law Land is an open world adventure game focused on story, exploration and player decisions, featuring dozens of characters to meet and things to do.
Your decisions shape the city and change its appearence. For example you can choose to be a good guy and repair roads and buildings. Or you can cause an economical or ecological crisis — it's up to you whether you build your dream city or trash-littered dystopia.
Different fractions in Law Law Land have different objectives in mind and it's up to the player who to support. Some of the characters will even try to bribe you in order to get what they want.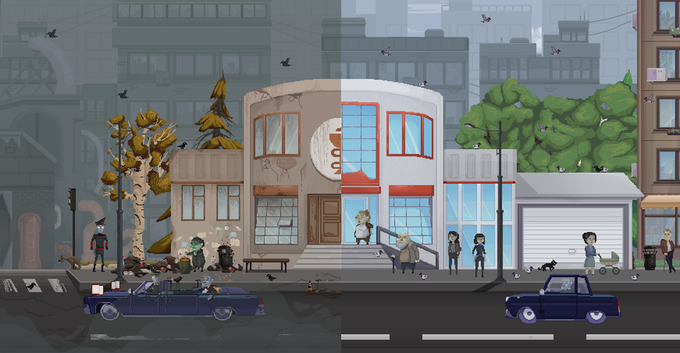 Money is one the most important resources in the game: it can make your life easier. Tired of using public transport? Buy a fancy car! But you also need to feed your family and money can help with that, too. Your wealth defines your social status: many quests will be unavailable if you are poor (and vice versa). In addition other characters will treat you differently, depending on your social status.
We try to make gameplay as diverse as possible: there are a lot of unique minigames in LawLawLand. From moving crates on a factory to investigating the crime scene — every major quest comes with unique gameplay mechanics.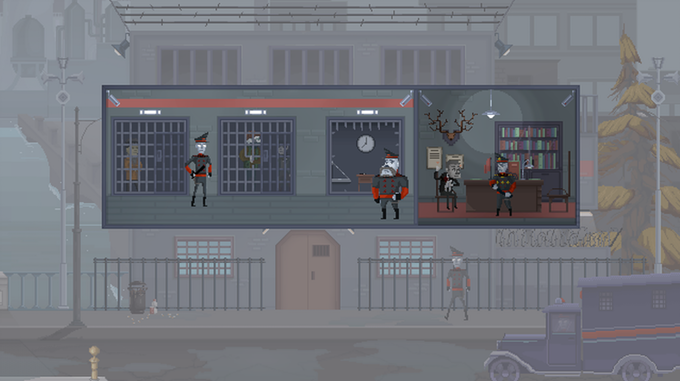 The core gameplay element is lawmaking. In LawLawLand there are two parties at the Parliament: one always votes "yea" and the other "nay". The votes are divided exactly in half and the final decision is always up to the player. Sometimes the laws that pass can actually help people, and sometimes they can help you make some money. There are many factions that will try to manipulate the main character or seduce him with money. In LawLawLand money always comes first. Well, right after your decisions, of course.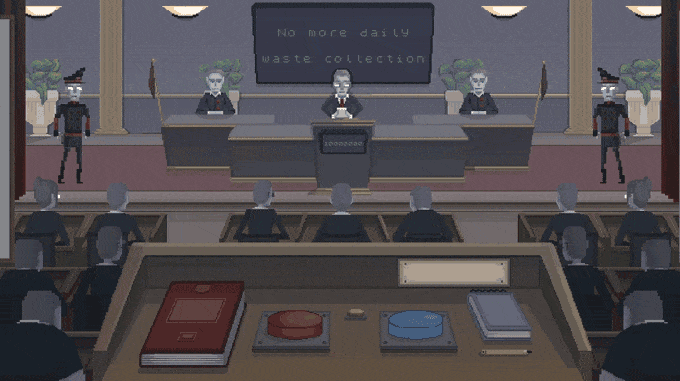 We have a talented development team that wants to engage in the game full time. But now there is no such opportunity, so we need your help. We have relatively small requests: we work from home from different countries. We don't need to rent an expensive office or pay big salaries: we just want to be able to calmly develop Law Law Land without worrying about tomorrow. If we exceed the required amount, we can hire extra and make Law Law Land even better (we have ideas that we cannot implement in the current budget). We plan to complete the game in a year and release Law Law Land in fall 2020.

We have a complete vertical slice of the game on our hands: all key mechanics work. A script has been written, we have a big living city, and all the characters are ready - all that remains is to complete Law Law Law Land. Approximately 1/3 of the game is ready. Many quests and mini-games are ready. Almost all graphic assets are rendered. The mechanics of making laws and changing the city works. And we also have an artificial intelligence system that controls every resident of Law Law Law Land: they go to work, shop in grocery stores, eat and sleep, depending on the time of day.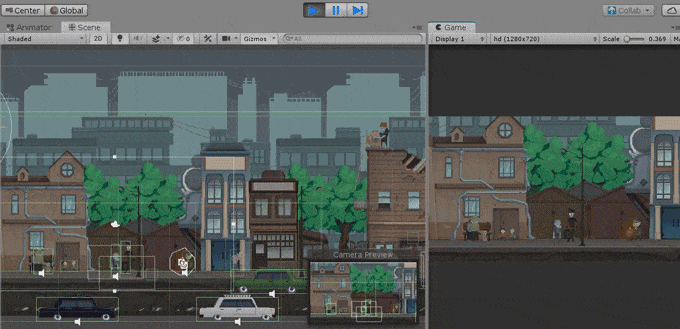 You can also check out our stretch goals here: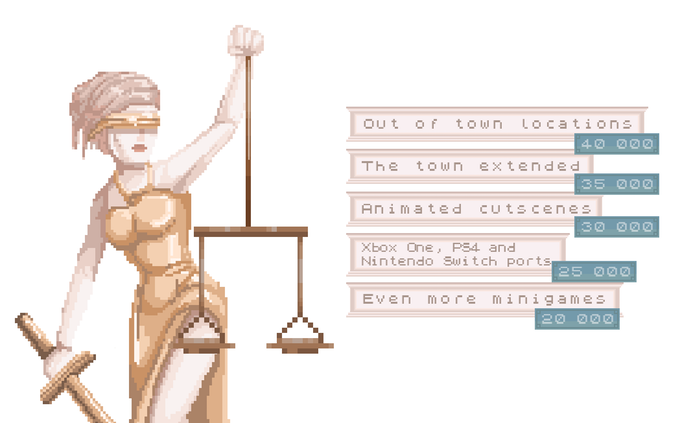 Even more minigames: even more minigames and activities! Minigames will be even more diverse and use more unique mechanics.
Console ports: additional finance would help us expand list of platforms. We love consoles and dream to bring Law Law Law Land to PS4, Xbox One and Nintendo Switch.
Hand-drawn animated cutscenes: we will add hand-drawn cutsecenes made by our animators
The town extended: to reduce the amount of work, so far we decided to not include some additional storylines. But if we get more resources for development, the city will become even larger, new buildings and new side quests associated with them will appear.
Out of town locations: We have many ideas for gaming events related to locations outside the city, for example, a business trip to another country. But without additional financial support, we will not have enough time to deliver this on release.
Risks and challenges
Our project is pretty big at scope. We will have to make a lot of effort to bring it to life. In any case, we will finish the game, but the extra money will give us the necessary flexibility and comfort in work.