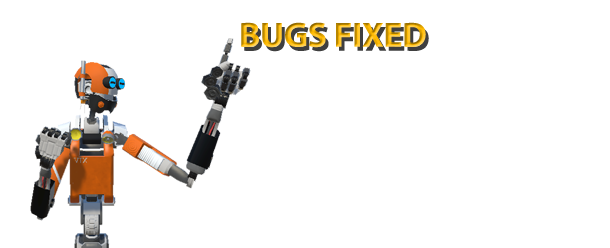 With the multiplayer being added to HB14 we've been having a ton of fun meeting players online and trying out their creations. This has allowed us to gather a lot of feedback on what has to be polished and improved with the upcoming patches. Therefore we've taken some time to focus on streamlining the builder UI a bit more. Now let's take a look at what the latest patches brought along:
Opening a workshop project automatically creates a clone; this fixes the bug where edited workshop vehicles wouldn't be loaded in the builder after the initial workshop project was deleted.
In the tutorial the player will be reset if something goes wrong between starter's nest and lost island objective.
Decreased cpu intensity for calculating centre of gravity, this won't be noticeable on smaller vehicles but when you have more than 10 cog points the code will kick in and spread these calculations over time.
Increased server time-out; hopefully this will solve the disconnect/reconnect bug.
Decreased lag in the tuner screen by about 20%
Saving an assembly as global works again.
Workshop downloader checks for changes and removes folders when files aren't found.
X15 wing blade angle has been fixed.
Uber spoiler flap angle has been fixed.
Updated default vehicles.
Vehicles could be controlled with keyboard even when while in chat.
Binding mouse controls works.
Rocket engine burn sound kept playing after the fuel was depleted.
Changed cube spawn delay for free roam and free roam optimized modes.
Mouse icon replaced by default mouse.
Updated properties panel UI.

To ensure a more pleasant building experience we've made some additional changes to the following builder UI elements:
Tool buttons


Spawn button


Fixed bug where part names weren't displayed in the properties panel
Grouped the inputs/outputs in the property panel


Tool shortcuts work for pipe builder
What's next?
Right now our main focus is fixing as many bugs as possible. To make sure that we can solve your issue as fast as possible please follow these guidelines:
See if you can replicate the bug.
Be as specific as possible about the issue, the more information the better. Preferably attach your output_log.txt file which can be located in: installed directory / HB146_Data folder (right click on Homebrew in your game library, select properties and then browse local files).
Notify us on Steam or Discord (faster response time).
Cheers!
Copybugpaste Team