Hello all!

We are Last Man Interactive, an innovative team of young talented developers from around the world. (Check out our website: lastmaninteractive.com) We are working together to create fantastic games and have a good time doing so.

We are currently in the middle of producing two games: "Last Man: Arena" and "John Cupboard (Temporary Title)."

Last Man: Arena (LMA) is an upcoming first-person Multiplayer Online Battle Arena. In this gruesome fight to the death, players will be placed in detailed arenas and forced to do whatever it takes to survive, and be the last man standing. With complete freedom as to your path to victory, you can truly create your own strategy. The choice is yours! (See an example of a few weapons designed for the game below.)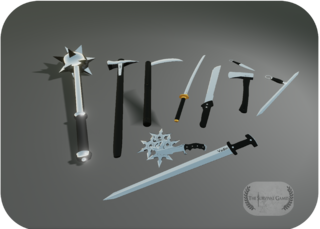 John Cupboard (Temporary Name) is a unique indie puzzle-platformer. It is story based, about a child growing up with not-so-great (hinted at being abusive) parents. He is bullied at school a lot, and in order to escape his hard life, often wanders off in his imagination. His favorite thing to imagine, as kids often have a go-to, is that he is a 1940's style noir detective. The player in the game can switch between his imagination and real life in order to solve puzzles, escape the horrors of his life (including icky vegitables), and muster through the intueging, meaningful storyline. (No screenshots yet, game is still in early development.)

Let's get right to the point: we're looking for some team members as we still have a few slots to fill. Here are the currently occupied positions (alphabetical by name):
Alexander Wonnacott - Marketing/PR Manager, Writer
Leo Houts - Assistant Designer, PR Manager, Writer
Jochem Van Diepen - 3D Artist
Joram Millenaar - Animator
Julian M. I. - Composer, Lead Designer
Peter De Klerk - Animator, Graphic Designer
Tobias Nyholm Maneschijn - Lead Programmer
Tyler Burd - Founder, Producer
As you can see, we have an established team but some holes that definitely need to be filled. Keep in mind this is an unpaid hobbyist project, any compensation received will be a small amount of rev-share and will be based on amount of work put into the project. So, on that note, here are the jobs that need to be placed and are open for applicants:
Concept Artist
Assistant Programmer
2D Animator
2D Character Artist
Here are some jobs that we either already have filled but could use more of, or aren't filled but also aren't vital as of right now and :
3D Animator
3D Modeler
Writer
Sound Effect Designer (NOT COMPOSER)
If you'd like to apply, either send me a pm, message me on skype (alphawolfjmi), or email me at alphawolfjmi@gmail.com. I'm super excited to work with all of you, and I'm sure everyone on here is super talented! I hope you're as excited as I am to see these projects come to fruition.



-Julian M.I.