The game is now finally released for PC and Mac since last week! Here on Desura and also over the website: www.lastknightthegame.com (coming soon to Green Man Gaming and Amazon.com)
I would like to thank everyone who has already bought the game and especially everyone that is supporting it with a rating and or review! It's awesome to see this very high rating here! :) If you like to support it more there is of course the Greenlight Page and you can also rate or review it on Metacritic no matter what store you bought it on: Metacritic.com
I tried to spread the word of it but as a unknown Indie it is really hard to get any press coverage. However, there has been some coverage:
- The fine folks at Indie Statik gave it a play and wrote a Impressions Article on it: Indiestatik.com
If you heard about Indie Statik for the first time now, its a great website that focuses on the smaller indie games and they are currently running a Kickstarter to keep things rolling: Kickstarter.com
- IndieGameHQ did a great long Stream on the launch day, it will also go up later on Youtube. I will update this with a link as soon as it is online.
- There is also a nice quick Lets Play on Youtube by TheIndieGamePromoter: Youtube.com
- A really great Lets Play here by FreshFriendz: Youtube.com
He had also streamed it earlier. Its unfortunately in German. (No problem to understand for me though as I am from Germany)
- Another nice German video here by Trolltest.de: Youtube.com This goes really in details and is explaining a lot of the game.
The game is currently also on the Indium Game Contest playable! Its a part of the Fantastique Festival in Strasbourg France: Strasbourgfestival.com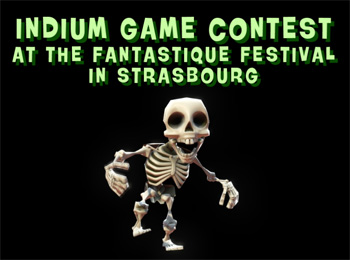 If anyone here is around Strasbourg you should definitely consider checking it out! Lots of cool indie games and there is also a retro gaming exhibition with the weird theme: games made to movies and vice versa. (not the best games and movies spawned out of that) There are also tons of cool movies shown!
There is now also a FAQ up on the website: www.lastknightthegame.com
A question I was asked several times now is if you get a Steam key when it makes it through the Greenlight system. I can say now that I will do this, it works with Desura, Itch.io over the website and Green Man Gaming. I still need to confirm if I will be able to send out keys for people who purchase it on Amazon.com
If you have more questions you can also ask me here in the comments.