Last Day For Steam 20% Discount Immunity!
Get Immunity now to save 20%!
This offer ends December 7th, 2019. After that, the deal is gone.


SPECIAL PROMOTION! Offer ends December 7th
Immunity Is Available With 20% Off On The Steam Store!
Today is the last day players can purchase Immunity for a reduced price. After that, prices will go up! Players can purchase Immunity for a reduced price in Early Access to continue to journey with Immunity's development, compete in Immunity In-Game contests, and more!

Once Immunity leaves Early Access, prices will change.


---

Here's what we added for the release of Immunity:

Full controller support - Current supported controllers (XInput controllers, Xbox One, Mouse and Keyboard)
Navigation - Players can explore the area, and avoid the incoming waves.
New Disease (Gingivalis) - Fight this resilient foe that needs to be eradicated as fast as possible.
---
Screenshots:
---
Bug fixes
Button Clicking Audio Fix - Players witnessed buttons being clicked multiple times. This is fixed.
That's all for now.
---

"What can I expect in the future if I purchase
Immunity Early Access?"
- Many more diseases and areas to fight in.
- Custom Banners, and titles.
- Dozens of Steam Achievements!
- Multiplayer support: Fight as the diseases or the white blood-cells. Who will emerge victorious?
- White blood-cell upgrades: Speed, Power, Rate of Fire, etc.
- And so much more!
Here's a sneak peak for what's to come in the future: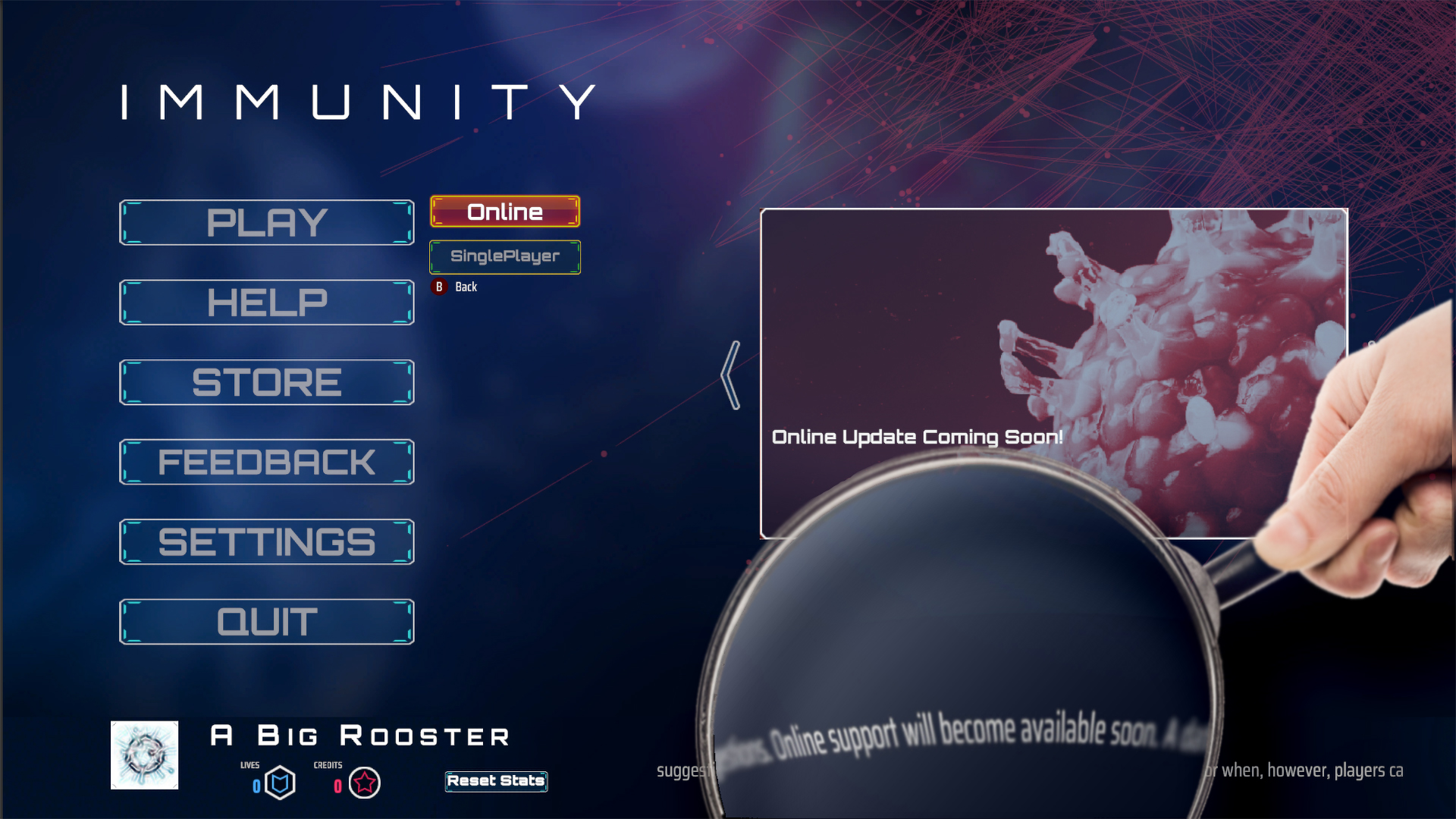 Buy Immunity
SPECIAL PROMOTION! Offer ends December 7
Get Immunity On Steam
---
Join our DIscord to be the first to know of any updates, comepete in competitions and more!