Hey there, before I get into this week's dev log I'd just like to send a big 'thank you' to everyone whose been giving us feedback on the game. Also want to send a thank you to those of you who've been keeping up with our dev logs up to this point. It's because of you guys that we're able to do these consistently.I also want to thank MrStonedOne for his lag prevention method, that of which we've been able to gain significant improvements in the game's performance.
Any who, this week has been a fairly productive one. With the highly anticipated release of 510, more specifically planes and now the big icon fixes(Lummox jr you're a god!), we've started to explore a different means of crafting the world. For the most part these led us to investigate hand drawn maps vs tiled maps.

Our first experience with this was shown in last weeks dev log; the parallax background which are entirely drawn, pixel by pixel. Now we're hoping to try doing the exact same thing with the rest of the world. It's pretty obvious at this point that we're trying to achieve a very unique look for the game.

Here's a really early iteration of the dark forest area-where 90% of our tutorial is planned to take place.




Here's another example of a different area;




We've also made progress towards our tutorial in general Here's some shots that hopefully doesn't spoil too much...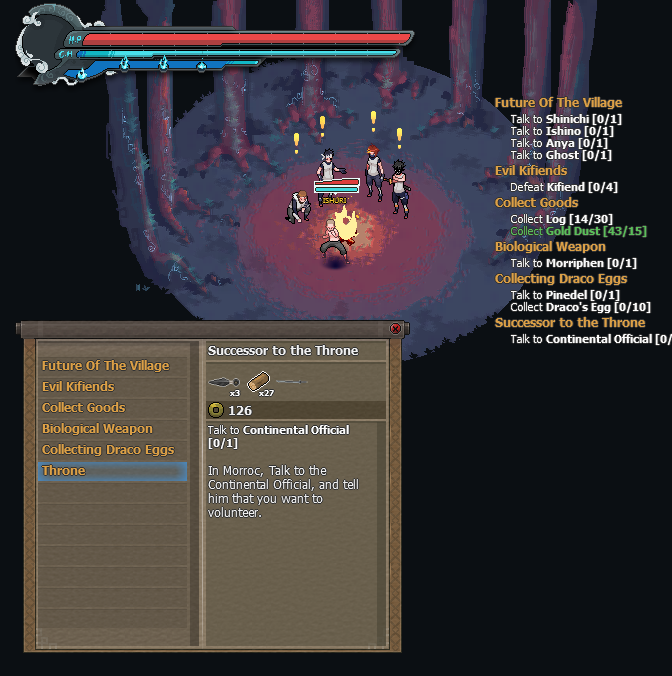 Here's a video!



Here's a look into how one of the battles are going to play early on.
(recording reduced the fps a lot)
In other areas of development we've commissioned a composer to help create the game's soundtrack! Here's what we've gotten so far.
Puu.sh
Puu.sh

Here's a link to his soundcloud: Soundcloud.com

We post daily updates to our social media sites. If you like what you're seeing please don't hesitate to drop by!