This going the be the first article about the game KEY features, that helps you to understand the game.
As the first time you start the game you are be able to pick a Rebel- or Empire- Spacecraft or Turret. Also the allows you to, to just spectate the battle.
Basic HUD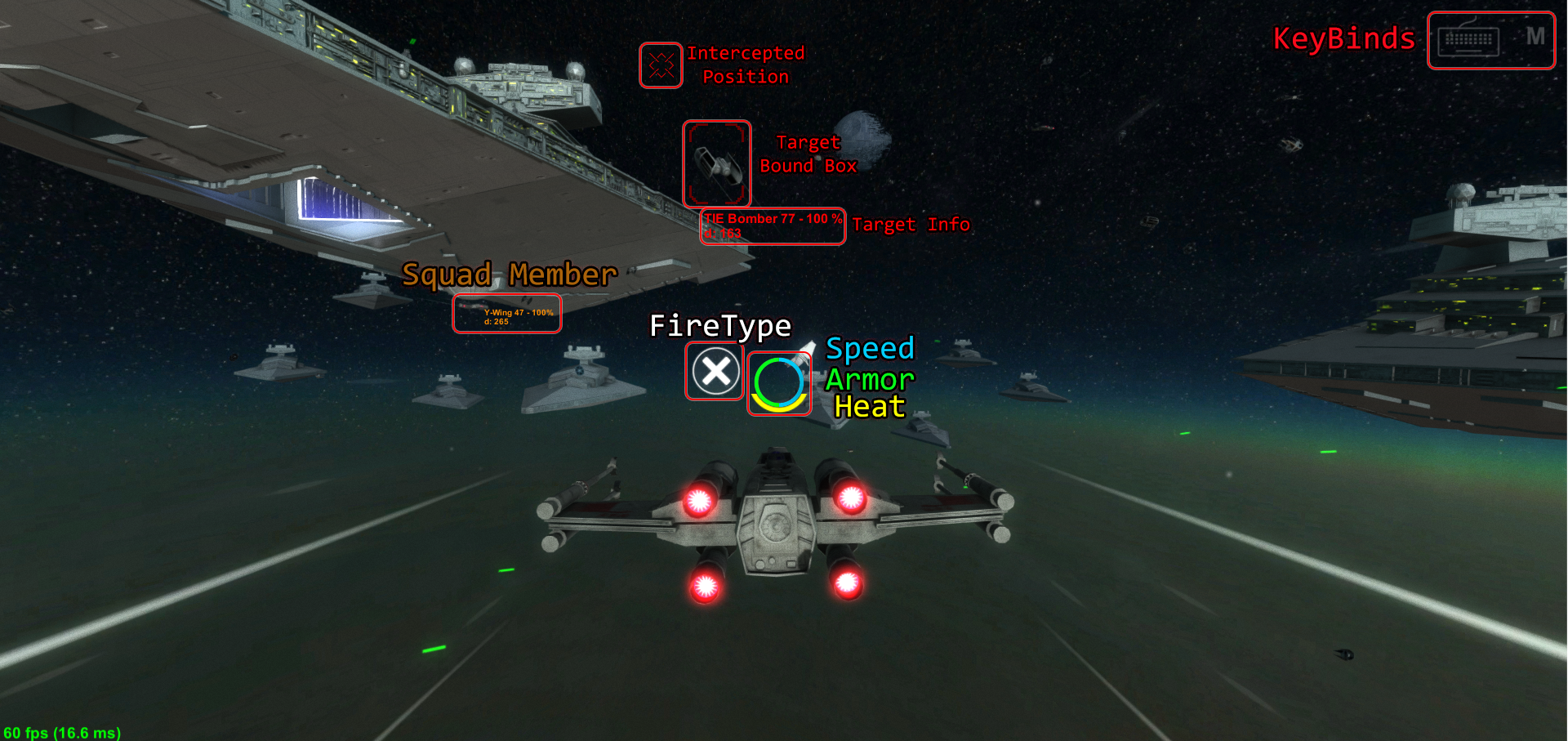 Key Features
As you can see in the image above the interface is ment to be minimalist and there is every information what should you care about. However some of the elements may change, i mean by color and size.

The most important thing is your Armor, if you lose all of them your controlled unit is gonna explode. However you could repair your spaceship by going back to your base, then, in the hangar you ship going to be repaired automatically.
In space you have the ability to control your movement. Speed determine your maneuverability, as more faster you go, as longer curve you could do.
In that group of the middle of the screen, you can see the Heat, every shot you fired will heat up your system Weapon, so be patient, and wait for the clear moment to strike. If you over heat the laser firing system you have to wait until its fully cool down.
You are be able to choose how may lasers would like to fire in the moment. There are three FireType, Single, Cross, All. The more lasers fire at once, more Heat will be generated.

That three(Armor,Speed,Heat) element, will create a nice and simple Crosshair. If these elements may fade out, that means you pick up a Chaser.
Chaser
Because you are middle in a battle, the other fraction members are working on to destroy your ships. One of them will tries to follow your trail. In the image below you can see how looks the Chaser Cam. After time you could get rid of him or Call Help from your team mates by pressing the 'T' key. However it takes time...