Hey I'm back!
So, what happened?
Well a lot actually, we've been busy and working hard on the game day and night non-stop, in-fact, we are going into Beta phase soon, and after that is releasing the demo for everyone to try out! (Coming to PC, Mac, and Linux, sorry consoles, you'll have to wait a little bit longer)
But you may be wondering why we stopped updating? Well the truth is that between development getting quite tough and requiring a lot of our time, along with not getting any engagement on these posts, then I decided the best thing would be to axe-them for the time being while until things settle down, and well here I am!
Hey if you're reading and enjoying this, commenting every once in a while (doesn't have to be anything, hell, it can be just a letter) would help me a lot to keep doing this, knowing that people are actually reading these does make it worthwhile doing all this work.
So, what's next?
Keep working on the game of course, silly! But jokes aside, I'm currently giving another pass through the game, and by that I mean playing it myself and spotting parts where the gameplay and plot doesn't flow correctly, as well as making details more clear to the player so that they know what to do (or at least to make them have nothing but themselves to blame if they get lost, yes, I'm looking at you, you know who I'm talking about).
One of the things I added onto the game was the Task section in the Notebook menu, if you don't know what the notebook is, it's basically helps you keep track of important details that you will need to know to solve puzzles and progress through the story, the Task sections specifically focuses on telling you (broadly) what you should be doing right now, it's mostly useful if you haven't played in a while or if you need a refresher on where you're at.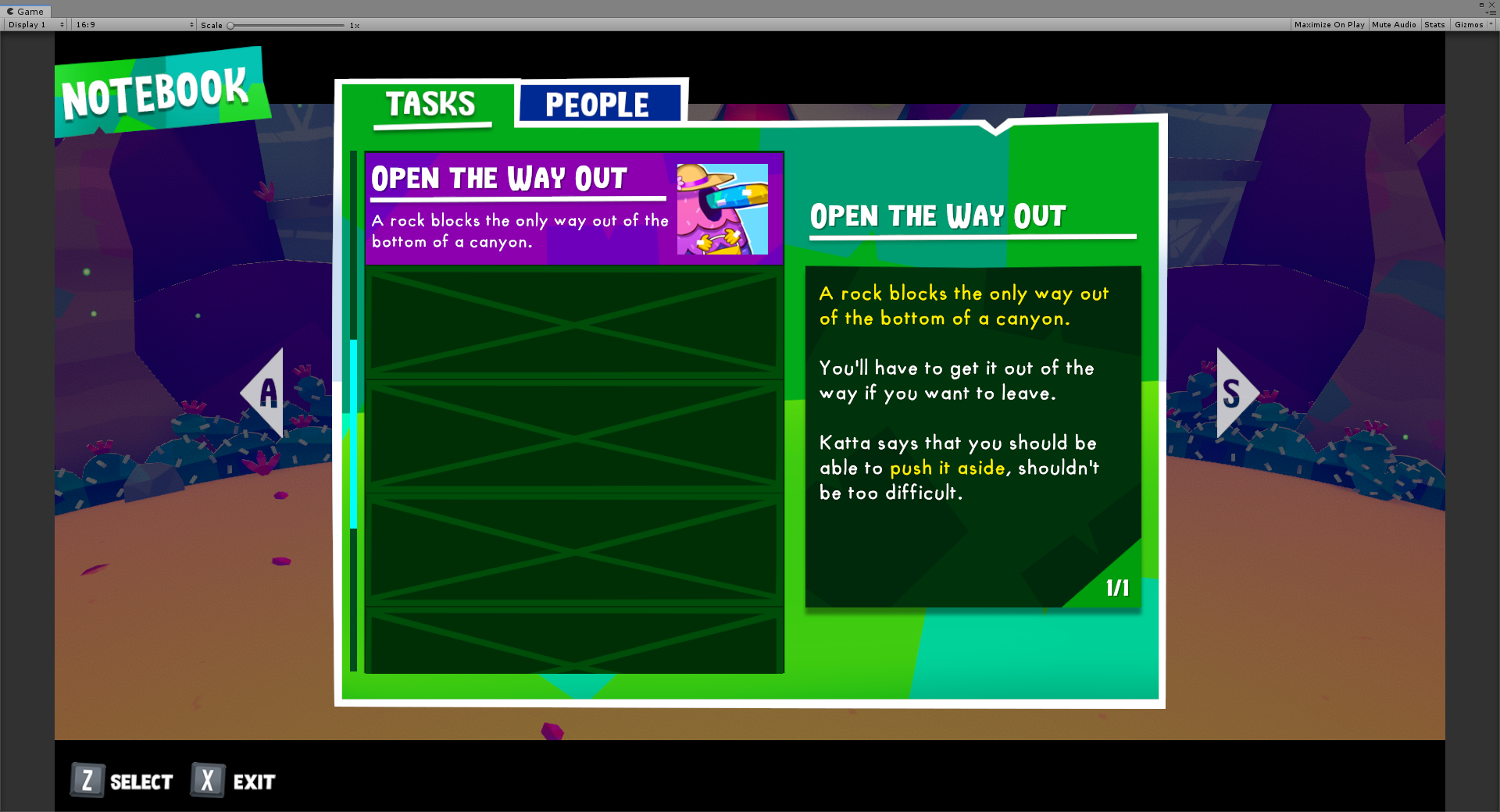 More are coming!
More posts are coming, I'll be reporting on the other stuff I've worked on but didn't get the chance to talk about before like the time-loop reset animation, the bench to quickly pass time, and more!
My goal is to do these posts at a consistent rate, but it's difficult to juggle between getting the game ready on time and doing these posts, to save myself some time I'm just writing this post on the fly without much preparation or reevaluation, so if everything seems to be all over the place, sorry for that and for the future posts that will be doing that too.
Well, that's enough rambling, I'll be seeing you for the next post, and again, if you are reading these, just leave a comment, literally anything, it does help to keep me motivated.
Until next time, bye!