In Kroniax you have to navigate through a level without touching any walls (see more information on the project page). This version includes a lot of new features, such as a new scriptsystem, 9 brand new unique arcade levels and an online ladder. See the full details in the Descirption.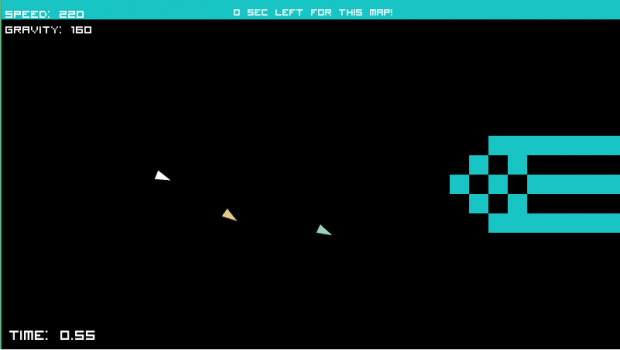 Important hotkeys
T: open chat
Tab : show scoreboard
Full list of new features
Whole new script system. For example the ship will now accerlerate over time and not instantly!
New scripts affecting the camera (Zoom, rotation, shaking, offset)
9Unique brand new Arcade-Levels (Because of the new script system)
HUD: now you can see your speed and the gravity
Now the game supports more Multiplayer-rooms. At the moment there are 2, easy Maps and medium Maps (You'll be able to create your own rooms soon)
A global highscore list on every map to compare your time with the best players even when they aren't playing
Now you can see in the room(aka server)-browser which map is currently active and how many players are playing in this room.
Players now have different colors in multipayer to seperate them, (press Tab to see the names and colors)
A lot of bugfixes...
Have fun with it! Will appreciate your constructive comments and feedback. Thank you!