The first part of the summer update is finished and ready to be played! (and tested... there are some bugs and probably a few balance issues that need to be found)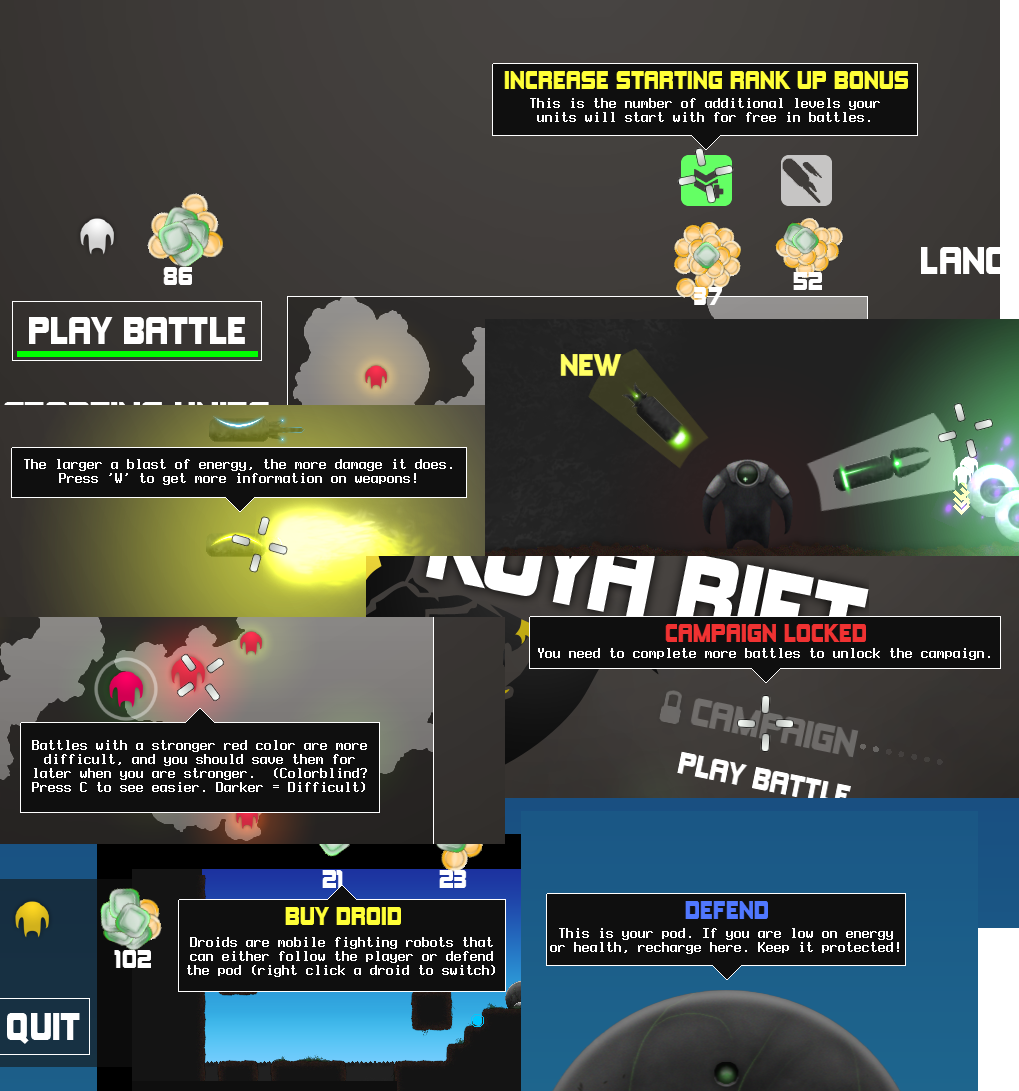 This is me trying to mashup as many of the new features as I can into a single image.
The update has been uploaded to the BMT servers, so re-visiting your download link should allow you to download version 1.05. Make sure the file that you're downloading says KOYA_RIFT_1_05. If you have any problems, email me at sunnykatt [at] live.com and we can fix whatever went wrong.
The update is now out on Desura!
IUP purchasers should be getting an email with a new copy of the game.
To find out what is new check out the uppermost section of this post: Sunnykatt.com
Everything under the section titled "Old Summer Update (Part 1) checklist" is what is included in this update, plus non-major things I didn't end up listing.
Here's a mediocre video explaining some of what is new, if you're really interested.I would like feedback on the update! So if you have time, please shoot me an email or otherwise get in contact with me on your thoughts. Is there anything you want added? Do more tooltips need to be added in any areas? Is there a balance change that should be made?In other news:
/r/koyarift is now live! This is a reddit community where users can discuss and give me feedback on the game. Hopefully people actually use it and it doesn't die out - the Koya Rift community does need a place to try and congregate!
I'll be checking the subreddit for feedback and news on a regular basis, so it's a great way to get in touch with me and the community. Subscribe and use it!
New review from Buy, Rent, Avoid it (Koya Rift got a "buy"!)Remember to subscribe to this website via email in the top right corner so you can stay updated. And if you're a redditor, join the Koya Rift subreddit!
Also: I forgot to update the INSTRUCTIONS.txt file that came with the game. So that has no new info in it. I'll get it for the next part.
Thanks for the support as usual everyone,-Zach