Hey there, we have some new features for you! Kopanito got cool leaderboards, match challenges, achievements and more. Now playing tournament matches (alone or in co-op) will give you fame points. Completing match challenges will give you even more fame. The more fame you have, the higher you will be in the global ranking. Read more below...
225 Trophies to collect
The Trophies screen is now available (previously disabled). On this screen you can admire cups and medals you have won and see other stuff you achieved so far.

Note, that number of Steam achievements is pretty high: 225, but also note, that most of the achievements are quadruple (bronze, silver, gold and platinum). So for example winning Oceania Cup on the Legend difficulty level gives you 4 achievements (one per difficulty level). There are 70 unique achievements.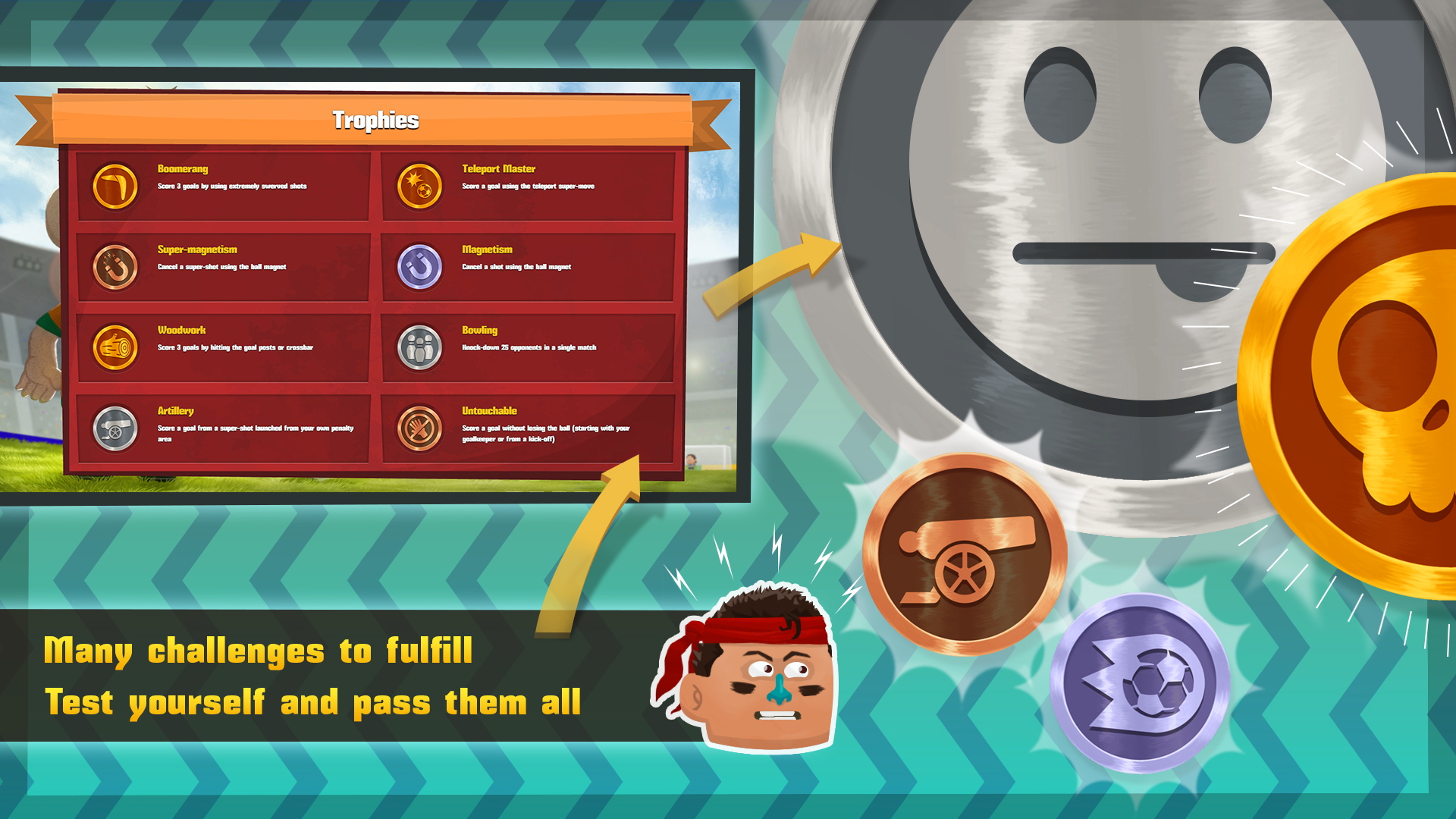 Leaderboards
We've integrated Steam Leaderboards with the game, but not as a single big table, but as 4 leagues. You start in the Bronze League and by winning tournament matches (alone or in co-op) you gain fame points. Advancing to a higher league requires to accumulate given amount of fame shown on the leaderboards screen, different for each league.
Note: friendly matches won't give you any fame points right now, but this may change in the future.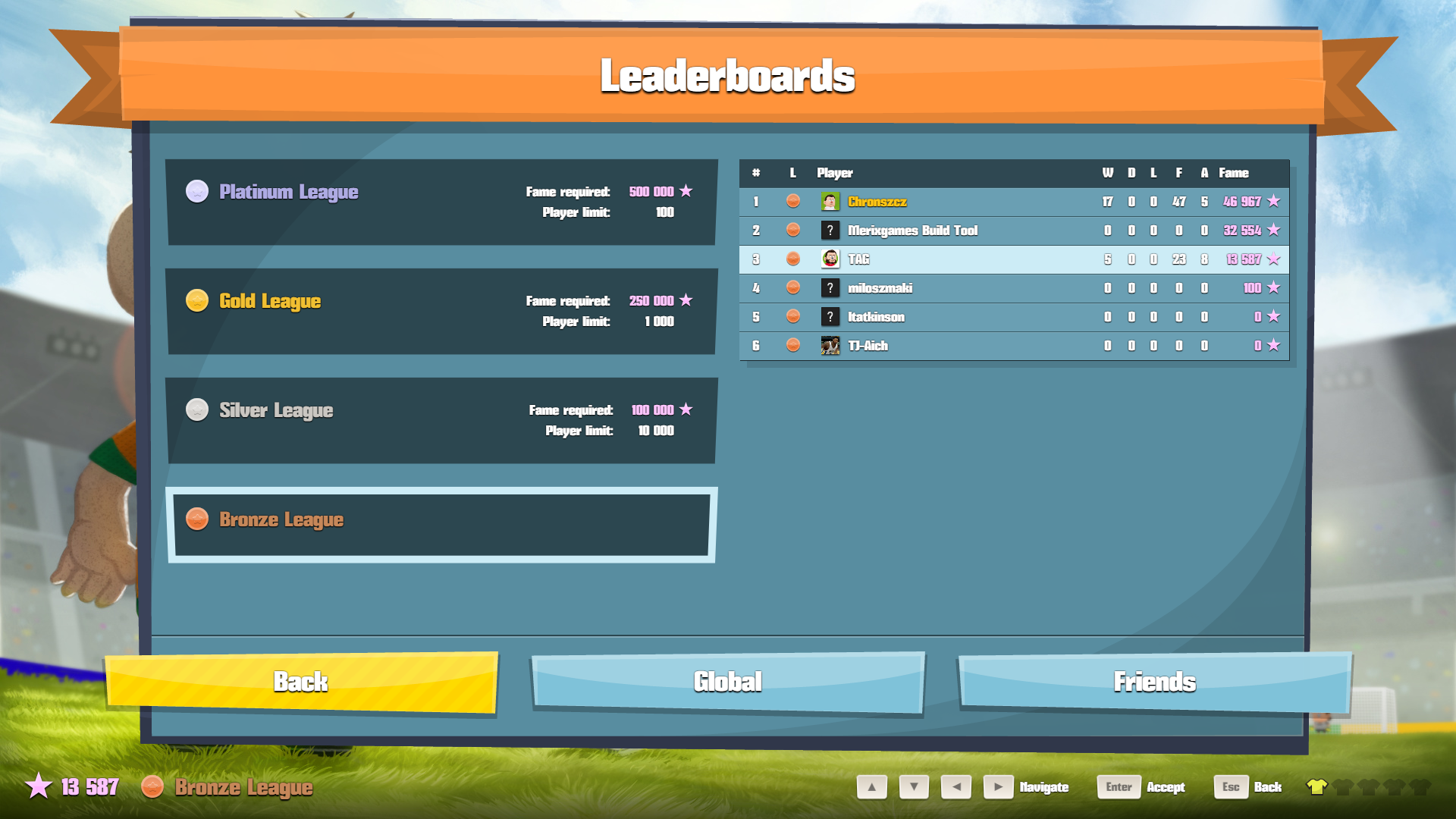 Party Mode On!
This is a perfect thing for parties with friends. Each friend controls one national team and you organize a cup for them, eg. World Cup, European Cup or Champions League. This is basic, but you can also do more crazy stuff, as there may be more than one human per team.

Custom Tournament can be started in one of the three formats:
league (round-robin) with 4-16 teams,
knock-out stage only with 4, 8 or 16 teams,
group stage with knock-out stage with 12-32 teams.
You can specify number of human and AI teams participating and decide how well AI will play. Progress of the competition will be saved, so you can also make longer session or more parties!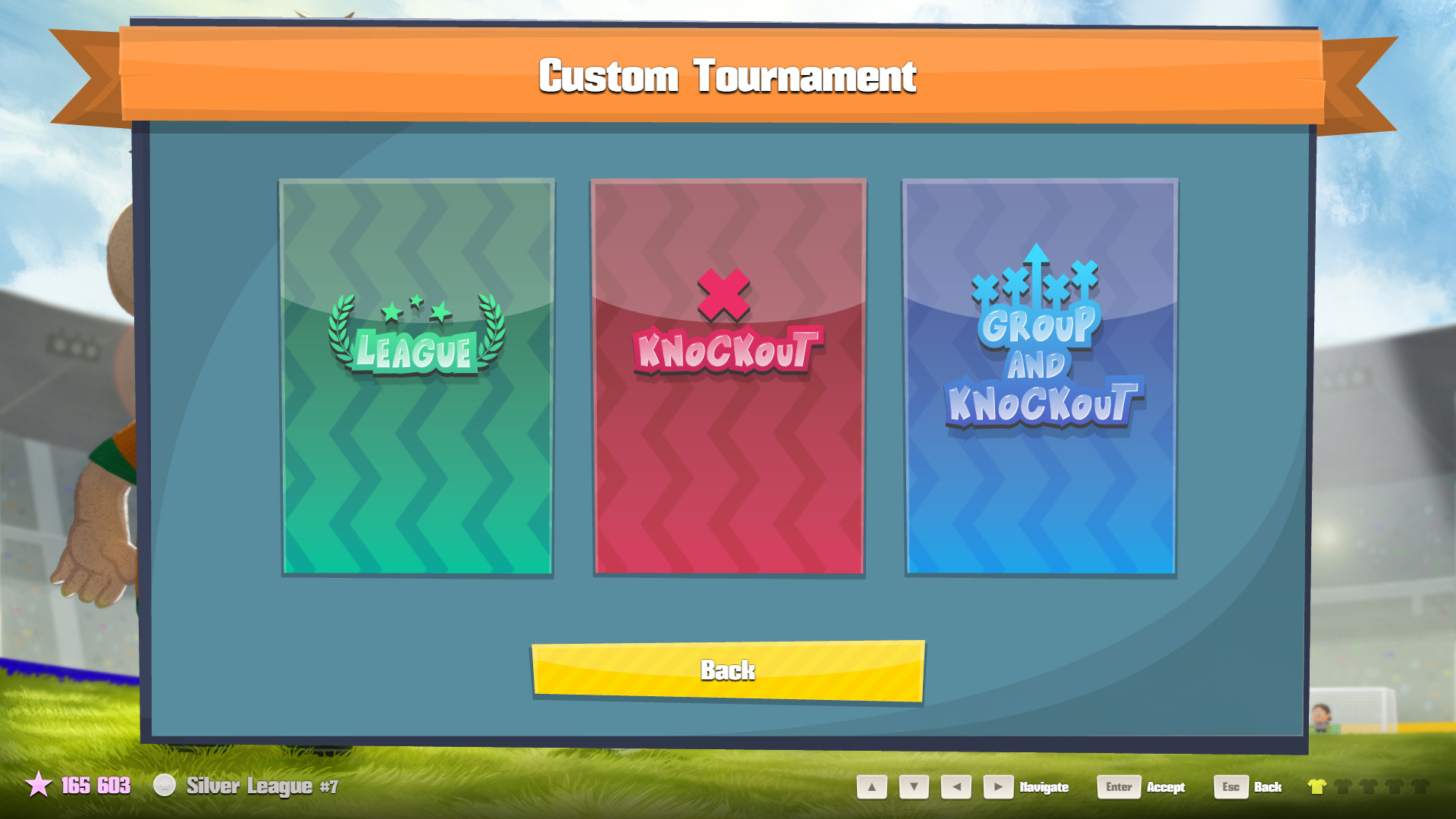 Match Challenges
These are optional objectives than can be fulfilled during a tournament match. There are many challenges with varying difficulty levels, e.g. score a hat-trick or knock-out two opponents with a single slide tackle. Some harder challenges will appear only on higher difficulty levels, so playing on Beginner will show you only the easiest challenges. More challenges may come in future, along with achievements.
Note: challenges don't appear during friendly matches, but that may change in the future.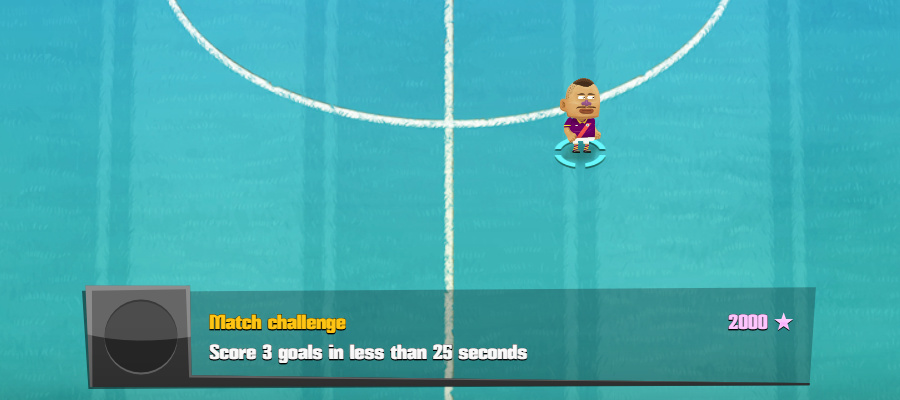 AI gets circled
When you control a player, there is a color circle underneath him. When you play a local multi-player match, there are other circles of other players too. Pretty obvious thing! We decided to try something not so obvious, to give AI similar circles to:
indicate AI level by color of the circle (white = beginner, black = legend, like in karate :)),
let you forget that you're playing with an AI and pretend that it's more human-like.
Let us know if you like or don't like this feature, does it help or disturb you during play.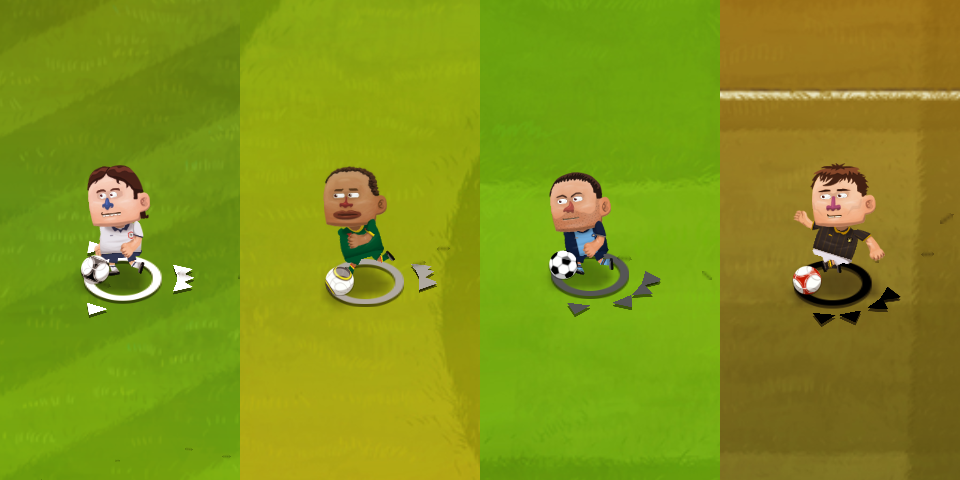 Future plans
We have a long list of features to implement, small and big ones, some of them suggested by players, but there is one most important feature still missing: online multi-player. This is a big thing for us and we'll need at least a few months to complete it. During this time you may see less frequent updates of the game regarding other features.

Full list of changes
Added scored goals info to match avatars, including icons for hat-tricks and top scorer (visible on the above image)
Made the AI on Professional and Legend a little faster and aggressive
Fixed controller mapping on Linux, if you've customized your mapping, you can now reset to the default one and it should work
Added marker for tournaments in progress
Added marker for recently unlocked items
Added Italian translation of the game
Corrected Russian translation (thanks Деня Селин)
Increased size of all menu screens in resolutions lower than full HD (1920x1080), so text is more readable
AI goalkeepers are now easier to beat on the Beginner and Amateur difficulty levels
AI teams adjusts its level when losing or winning (plays better or worse)
Added ability to perform super-shots with your goalkeeper
Changed Northern's Ireland flag (thanks MonkeyJug)
Improved AI passing and shooting. Previously AI didn't use ground passes in many cases (e.g. goal kick), now it should
Reduced tournament default match time to 4 minutes
Ball's shadow fades out when the ball is mid-air
[OS X] Allowing to close the game with CMD+Q (thanks kusmierek)
Slightly improved game's startup time
Corrected Guyana name in russian (thanks PoDuHa-MaTb 3oBeT)
Fixed players celebrating own goals
Fixed AI not shooting in 100% situations (thanks kusmierek)
Fixed big hairs and face elements during a match
Fixed extended slow motion during a match
Fixed duplicate audio on startup
Displaying english string if a translation wasn't found
Fixed crash when multiple profiles are present in the "data/profiles" directory
Other minor fixes and improvements
Thank you and have fun! :)
---
Kopanito on: KopanitoSoccer.com | Steam | YouTube | Facebook | Twitter