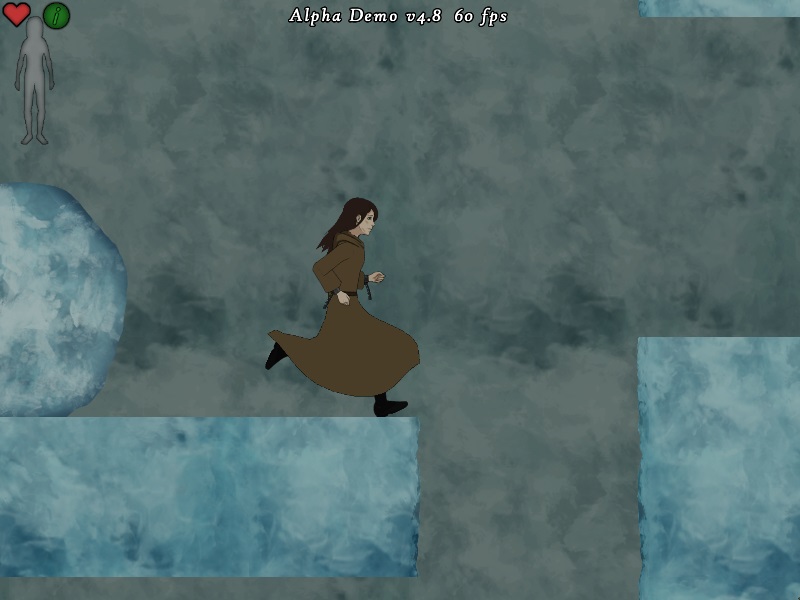 K.I.S.A Alpha 4.8 is now available! You can download it here. This build contains Chapter 3: "The Temple" and Chapter 4: "The Pass". Other changes and additions are listed below.
- YoYoCompiler: This is the first build of the game compiled with YoYoGames' relatively new product, the YoYoCompiler (YYC). It makes the game run much faster, but is also riddled with weird, random bugs. I think that I've coded around them all, but let me know if anything wigs out.
- Game Resolution: The game now automatically resizes to fit any resolution between 3:4 and 16:9 without letterboxing or pillarboxing the game window.
- Intro and Menus: The intro screen and menus have been redesigned. The 'Chapters' and 'Bookmarks' menu options are also now functional.
- Icon: I only just realized that Game Maker: Studio accepts .ico files larger than 32 x 32. A new 128 x 128 icon has been created.
- Camera Zoom: The in-game camera has been modified to zoom in and out during cutscenes and during gameplay. (This is my favorite new feature).
- Skirts: Skirts have been modified - yet again - to make them more dynamic during actions such as rolling, falling, and kicking.
- Message System: Messages now inform you when the game is saved or loaded, and provide feedback about when your inventory is full or you use the incorrect key on a door.
- Checkpoints: In addition to bookmarks and quicksaves, a checkpoint system saves at key points in each level and reloads from those points upon death.
- Ladder AI: Enemies and allies shouldn't get stuck at the bottom of ladders anymore.
- Hiding: Kisa now makes an effort to stop behind objects she should be hiding behind, instead of sliding past them.
- Controller Support: Some Xbox-360 controllers had their vertical axis flipped. This should be fixed.