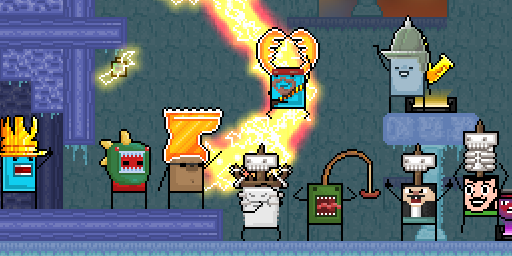 Some of what is new in this release:

Added a basic friend system and made various changes to the game lobby.
Added the ability to freeze owned projectiles and grenades. (drains Awesome Sauce, default key = SPACE)
Added the ability to bind chat messages or commands to the F-keys (F1 is reserved for toggling the console, see Settings/ClientSettings.cfg)
Added player emote: /greet (bound to F2 by default)
Added player emote: /cheer (bound to F3 by default)
Added player emote: /dance (bound to F4 by default)
Added player emote: /thefinger (bound to F5 by default)
Added hat: Duck Face
Added hat: Broken Top Hat
Added hat: Golden Boot
Added hat: Bratwurst
Added hat: Pointy Helmet
Added hat: Skull Pole
Added hat: Skeleton Pole
Added hat: Crown of Murderous Deeds
Added hat: Dino Head
Added hat: King of the Forest
Added hat: Alpha Hat
Added command line argument for the server application: -c [path to custom config file]
Changed the max length of chat messages sent from game servers to clients to avoid things like long /maplist responses being cut off.
Changed so that the KFY patcher and launcher applications will try alternate servers for downloads if the main one is not reachable.
Fixed so that the Fiva Hat is not flipped when facing left.
Fixed so that certain grenades does not move around when lying on the ground.