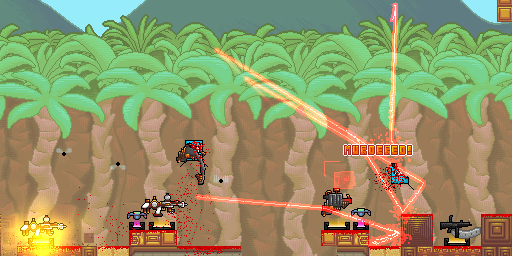 Some of what is new in this release:
Added weapon: Der Rüssel (a railgun)
Added ability to use arbitrary ports for game servers.
Added options to automatically take screenshots on certain events. (see Settings/ClientSettings.cfg)
Added saving of last Direct Connect address.
Added support for connecting to hostnames through Direct Connect.
Added splash effect in CTF for when joining the game and changing team.
Added CTF objects to the scoreboard as well as indication of whether they are taken or not.
Changed so that player spawn sound is not played for spawning of the local player.
Changed texture filtering for some menu textures for a smoother look.
Changed so that entire scoreboard is opaque.
Fixed a bug that made the editor crash when loading maps with spaces in the filename.
Fixed a bug where players would not be drawn when partially outside of map.
Fixed so that Señor Bombus is rolling as intended when thrown while crouching.
Fixed so that the player look direction is not changed by moving around.
Fixed a connection related bug involving returning to lobby and getting an "incorrect password" message.
Fixed so that player wings will not flap to other players while climbing ceilings.
Fixed a bug where both "Deathmatch" and "Capture the F" would be displayed when starting a DM round.