Version 1.1 adds local hotseat multiplayer allowing up to six players in a game. When starting a new game, you can choose either a single player or hotseat multiplayer game. Selecting the hotseat multiplayer option takes you to the "Build Your Party" screen where you choose the characters and their order. You can also opt to let the game randomize the order.
Items, gold, and arrows can be traded with other players from the inventory window. Items are traded by dragging them to other players. Gold and arrows are traded by clicking the appropriate button on the other player's information box on the right and entering an amount. Trading can take place no matter where the players are, even if they are on opposite corners of the map.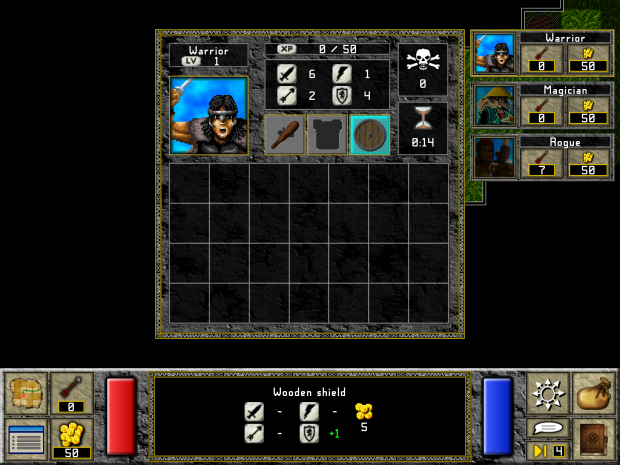 Magicians were also given the ability to cast the accuracy, speed, and shield spells on other players, but the success of casting on other players is not guaranteed.
Experience points are only awarded to the player who kills the monster, not the entire team. This also applies to experience points given by killing bosses.
The "rest" command is no longer an explicit command like it was in version 1.0. It has become an implicit action and in order to invoke it, you simply end your character's turn without performing any actions. Your character will gain HP and MP according to their level. You can now rest while monsters are visible on the screen and also while poisoned although the latter is not recommended.
The game keeps one single player save game and one hotseat save game so you don't have to worry about losing your single player progress to try out a hotseat game.
The game's difficulty has been adjusted to make it a little bit easier and you can now use the mouse to open doors by clicking on the other side of them.