In today's update I wanted to talk a little about the role weapon customisation will have in the game.
Here in the UK we don't have access to a lot of weaponry. We don't have AK47's and M1911's lying around the place so the ones you do find will be quite precious. Adapting them and improving them will be quite important. Adding scopes for example will increase your accuracy at various distances as well as the speed you can acquire a target. You'll be able to attach flash lights and laser targeting either by standard means or just by using some tape you once scavenged. Some of the attachments will be able to be transferred too as long as it wasn't a permanent fixture.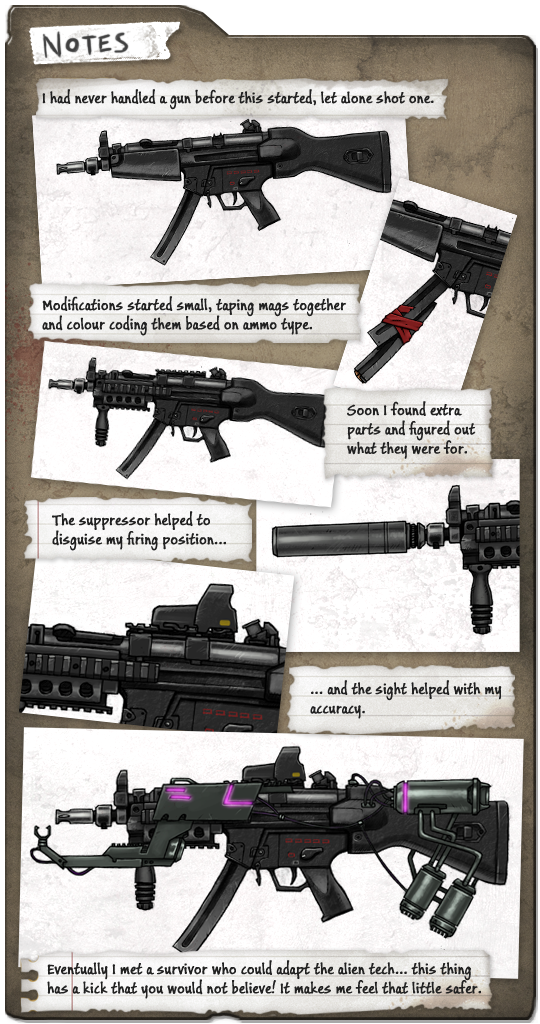 Possibly the most important feature will be the ability to adapt some of the alien tech. You may find the ability to do this yourself or failing that find a helpful survivor willing to trade you something in return for his expertise in the matter. As enemies get bigger, you'll need something more powerful than that .22 rifle of yours!
At the end of the day Will needs as much help as possible, as time goes on the threat grows stronger and ammunition will be harder to find. Gather what you can and adapt to the ever changing world around you.

Kickstarter
The kickstarter still has 25 days to go, if you can pledge that would be great but sharing is also important. Let's get the word out there! Also if we can get this green lit then anybody receiving the game as part of a reward tier will automatically receive a free steam key.

Kickstarter.com
In The Press
The game and campaign has been featured on a few more sites too, why not check them out.

GameZebo Kickstarter Picks
PCGamesN
EGamer
KaboomShark

Thank You For Your Support!
Again I would just like to end with a thank you for your continued support. Be sure to share, tweet and spread the word to help us reach the funding goal and get green lit.
Cheers,
Alex