Our Demo & Kickstarter campaign go live next week!
(If all goes to plan, that is!)
This week has consisted of Connor fixing a multitude of bugs and also finalising the build for release next week. We HOPE to have it out Monday, but we still have a lot of preparation to do over the weekend. This includes playtesting the demo and making any final additions that we want to be included.
Matt, our resident pixel pusher, has also been working hard on finishing off artwork for the game. He has also started on the mockups of the visual styles that we plan to have in the completed game. Throughout BiT: Evolution, the visual style changes as BiT jumps between games, following the early history of gaming. The demo will feature our Atari 2600-inspired visuals, but we also plan to show off others in our Kickstarter. Here is a mockup of the Commodore 64-inspired visual aesthetic: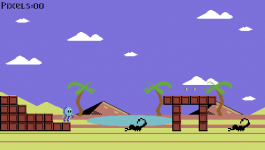 (We will be showing off the NES and SNES-inspired visuals in the Kickstarter next week)
Stay tuned for next week, it's going to be a big one for everyone here working on BiT!