Hello guys, we are so grateful for your support and happy to announce that we are coming into the home stretch with over $62K thanks to your support! As a treat, we thought you might enjoy learning a bit more about the alien life of Exoplanet we have planned for our next big stretch goal.

For the first chapter of Exoplanet our initial plan was to introduce the players to the world by releasing Jack into the rocky desert of the Red Erg, a terrain that is very similar to certain areas on Earth, and remains consistent with the Western theme. About 60% of the objects in this desert biome had to be easy for human brain to identify. They still had the Exoplanet visual flair, but it was important that the player could recognize and understand their function. The rest was going to be alien planet components to discover and learn about. But then we asked ourselves: is this "alien-looking" enough for us? Where is this wild, untamed K'Tharsis we are speaking of? The one untouched by terraforming and global climate change, the land that gave birth to the local sentient aborigine race as well as strange creatures like sand sharks? Soon we found an answer!
It is deep down below the surface that has been scorched by the double suns, in an underworld consisting of enormous caves caused by the spontaneous antigravium explosions that occurred when the planet was still young. The scientists call it a unique underground wetlands biome. It houses lots of prehistoric species of K'Tharsis. Locals call it The Great Mangrove Forest.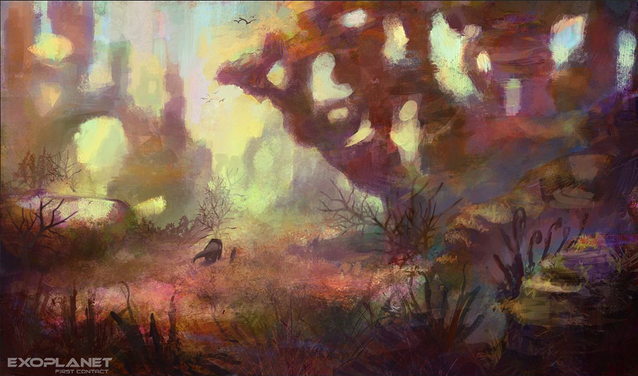 A new biome: alien, weird, dangerous!
Upon reaching the Alien Mangrove Forest Biome stretch goal we are going to include an entirely new area with new assets, enemies, and a global quest line into the first Chapter of Exoplanet. In this new area players will discover the mysteries of the aborigine race and find last remaining pieces of their ancient unique antigravium based technology. This biome is inspired by the Pellucidar setting created by Edgar Rice Burroughs, Indiana Jones movies, as well as Peter Jackson's version of King Kong. All of these along with the good old concept of an alien jungle planet, often seen in the classic sci-fi books.
The topology of the Great Underground Mangrove Forest is weird and twisted, this region could be described as a conjunction of huge (up to several kilometers in diameter) spherical caves connected by a labyrinth of smaller caverns. It has the structure of Swiss cheese as thick as the planet's continental crust. Unlike the surface, this enormous maze of caves is full of water and contains something that can be described as an "alien planet jungle": forests of huge, mushrooms as tall as trees and strange coral-like formations growing to gigantic proportions. This world without sun is lit up by glowing multicolored antigravium and numerous bioluminescent creatures.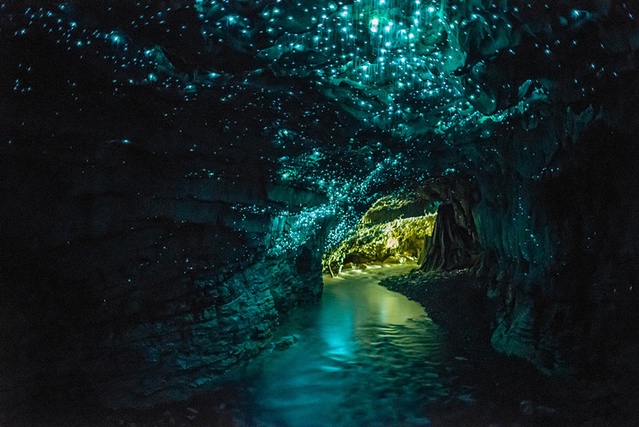 Real world prototype - bioluminescent worms in New Zealand's caves.
In The Great Forest you've got to learn new tricks to survive because local plants hunt animals and animals mimic plants. You've got to study them and use them to your advantage.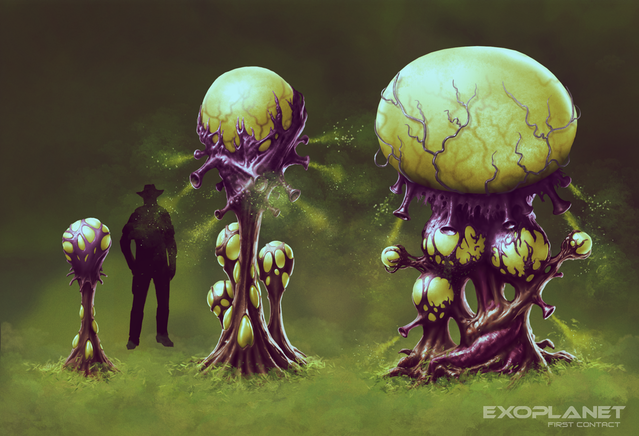 Exploding mushrooms: young ones can be used as food or medicine, the ripe ones will make deadly explosive traps.
The original dwellers of the Forest are the savage aborigine tribes, almost untouched by civilization. Cannibals and relentless headhunters - they are the last pitiful descendants of the ancient aborigine empire that was destroyed by an unknown cataclysm. Now they protect the relics of the past, the real meaning of which they forgot centuries ago: great temples, now crumbling and overgrown by mushroom jungles and strange mechanisms powered by antigravium. These amazing mechanisms now lie nonfunctional and waiting for someone to repair them and probably make use of them. Exploring The Great Forest you must learn the language of these savage tribes and understand their customs and traditions in order to become their friend or to hunt them down and slay the cannibals for cash.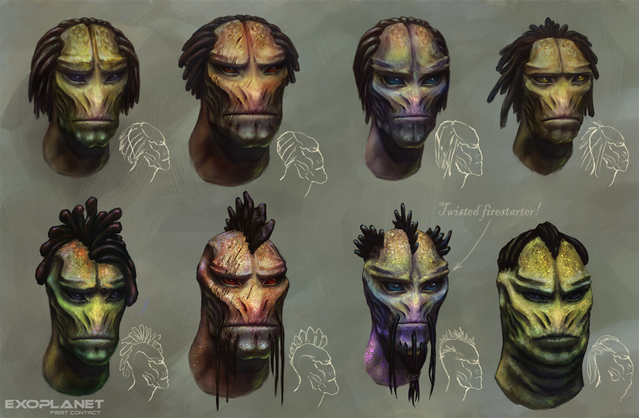 Early studies of the aborigine heads. WIP.
Humans entered this secret realm in search of ancient treasures and precious crystals and claimed a part of it for themselves - the mobile part. The Raft City ruled by the iron hand of the Blackthorn Mercenaries is roaming the swamps of the Great Forest, moving from one deposit of antigravium sand to the other. The dredges never stop, they work at the brink of overload to cope with Devil's Throat mine, but there is never enough antigravium sand for the ambitious mercenary leader. A bold plan is being prepared to surprize the Terraform corporate dogs and you might become a part of it. Just make sure to pick the right side in this conflict (the winning one, as Jack always does).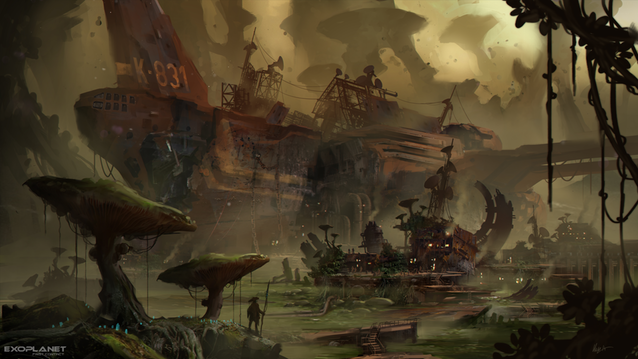 Raft City never rests: tomorrow it might be unmooring to move to another dredging spot.
In this new place you will find weapons, armor and gadgets based on the strange ancient technology involving pure antigravium. How could the aborigines who don't even know about electricity make huge rocks fly? Can an anti gravium-powered sledgehammer stop a running arphant? What does the antigravity grenade actually do? Will you be able to levitate using atigravium armor? Find out for yourself. If you manage to obtain and repair those items buried centuries ago in the secret spots of the Great Jungle.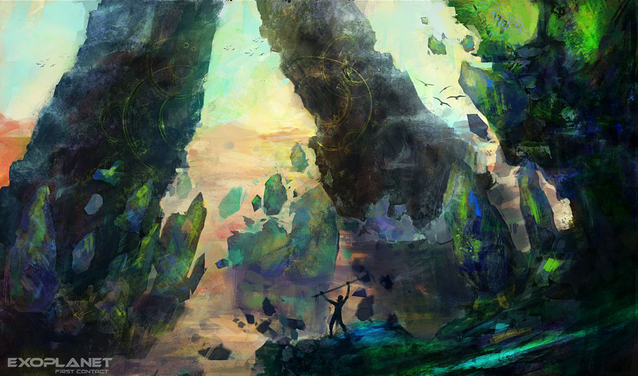 Ancient antigravium technology. Better watch out or you will be crushed by flying rocks!
We hope that this biome will satisfy those players who are seeking the true alien planet experience or just want to take a vacation from the desert surface of K'Tharsis. With your support, The Alien Mangrove Forest will become a great addition to the first Chapter of Exoplanet.
Dear Exoplanet's backers and other players, our Kickstarter campaign is almost over and this is the right time to summarize our experience and tell you about our plans for the near future.
This month was one of the hardest experiences we have gone through during the entire 3 years of Exoplanet's development, mostly because of the psychological aspects of having our game being exposed to the judgement of new people. This is the biggest audience we have shared our concept of an RPG with so far.
From the very beginning of the campaign we were surprised by how many people reacted positively to our pitch video (which was a bit experimental and contained mainly alpha gameplay footage) and description of our project, so we have put a lot of effort into our updates, trying to tell you as much about the game as we can in this relatively short period of time. We have not released all of the information about Exoplanet's world, planet K'Tharsis, our characters, or the numerous aspects of the gameplay (e.g. our skill system, crafting and hardcore mode elements), so we will continue to share our vision of the game, insight into the development process, and the results of our work in the upcoming updates here on Kickstarter and on our website.
Unfortunately, our campaign didn't get coverage from the biggest game-related internet magazines and websites, but despite this fact we have reached two major stretch goals thanks to the support and active position of our backers and several smaller internet resources. We send our heartfelt thanks and feel deepest gratitude to those journalists and authors who interviewed us, and backers who have spread the word about Exoplanet across the Internet.
It is simply astounding that the content we are producing, our concept of an action/RPG game we started to develop as our hobby and then made it our professional field, has found such a large resonance within the community of PC players. For us as developers, the feedback and the ideas our growing community gives us is more valuable than money. Our goal has always been to make Exoplanet a game that is interesting for ourselves as simple players, not to follow the trends or pursuing a mere commercial profit. It seems that we have found a lot of like-minded people on Kickstarter and that feels great!
Exoplanet fans, those who believe in our dream, who fought for the media coverage alongside us to this day and defended our views despite all hardships - you gave us more than the funds to finish the development. You have given our small team of 8 a huge boost of motivation and creative energy for long time to come. Together we're going to make Exoplanet even better!