KÜB:
To show more movement in the main character (KÜB), I have added a tail which is dragged behind him when he moves. At once, I was able to see the improvement in KÜB's "liveliness" when moving throughout the levels.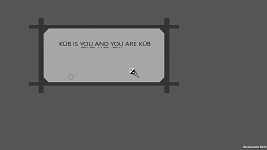 Game:
I had extreme problems and bugs with game serialization, when trying to save to .json and .xml files. Although it did seem convenient at the time, I realized it is too tedious and hard for me to bother with it. So, I rewrote my saving system to save data to the registry. Now, even if a different version of the game was run, it will still resume from where one left off (if the location in the game still exists).
Furthermore, the exit portal textures now have thicker rims to be more noticeable.