New engine
KarBOOM now uses Unity! This has a lot of implications for the game. First, it will be cross-platform - KarBOOM will be on Windows, Mac and Linux, instead of just Windows. Second, it means I can put up small playable demos that you can play in your browser relatively easy - check it out on Kongregate!
Other changes are not dependent on the engine - these changes could still have been done with Gamestudio - but the process of porting the game over from one engine to another has allowed me to look at these aspects of the game with fresh eyes, and with my vision for the final product in mind.
What's in the demo?
Play the demo in your browser here if you have the Unity webplayer plugin. This is currently the only way to play the demo, but I'll be seeking testers on different OSes soon for standalone Windows, Mac & Linux versions later on.
The level
Play with the keyboard or up to eight gamepads on the Sandstorm Showdown - an ever-shrinking level where every kar has one life only to try and knock out or destroy everyone else. Showdowns are intended to act as tiebreakers in the final game, but are also a lot of fun on their own, as the level changes to force kars to their destruction, keeping all players on their toes.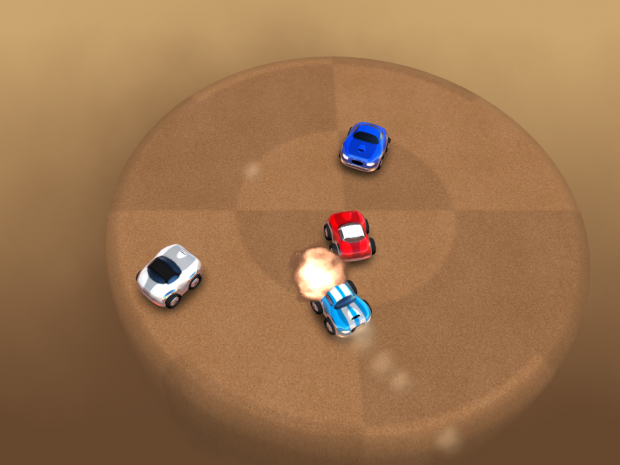 New kars
KarBOOM kars now come in three different weight-classes: heavy & sluggish, middleweight, and light & agile. The heavier kars pack quite a punch in a head-on collision, but have a hard time getting up to speed or maneuvering in a small area. The smaller kars tend to lose front-to-front (although a serious boost can turn the tables there), but are much better at dodging and finding another kar's weak spot. The middleweight, as I'm sure you've guessed, is a balance of the two and, in terms of size and shape, is the kar you're all familiar with from older versions of KarBOOM.

New boost
Boost has changed. First, it's no longer a mutator - it cannot be disabled. Secondly, pressing the boost button now charges your kar's wheels. A quick tap of the boost button gives a burst in speed comparable to that of older versions of the game. Hold it down for longer, however, and as you release the button you launch with fierce velocity across the level. Time it carefully, though. Hold onto the charged boost too long and your kar heats up and, eventually, explodes. Don't charge a boost you can't safely discharge!
If you time things really well, the new boost can get you some serious air-time. I mean, backflip off the side of a level and launch yourself back just in time. It's not easy, though: allowing your kar's rear to tip off the side of the level will cause your kar to point upwards as it tips back. If you begin charging your boost before you tip off the edge and release it at just the right time, you can get some insane air - great for getting out of tricky situations, if you're good/lucky, and always impressive to watch. Add to that another boost while you're in midair and bystanders would swear kars can fly.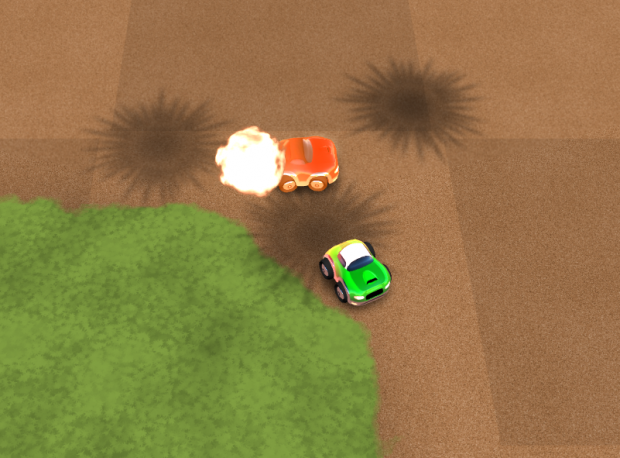 New mutators
While you may notice the absence of some familiar mutators such as hold the flag (don't worry, this is just a demo), you'll notice two new mutators.
First is slowmo. With slowmo activated, boosting will bring the game into slow motion. This looks really cool, but also gives kars more time to react when someone else boosts. Miss someone in this mode and you'll probably give them an opportunity to knock you off as you fly by or, with weak spot enabled, tap you in just the right place to blow you to bits.
Second is battle ball. The battle ball is a large and heavy ball that bestows extra mass and immunity to the weak spot mutator to the last player to touch it. Knock it out, however, and everyone else has that advantage against your kar until the ball returns. This will see much more strategic use, I imagine, in team modes in future versions of the game. For now, however, give it a go when you and your biggest rival find you need more to think about in your one-on-ones... or eight-player free-for-alls as the case may be.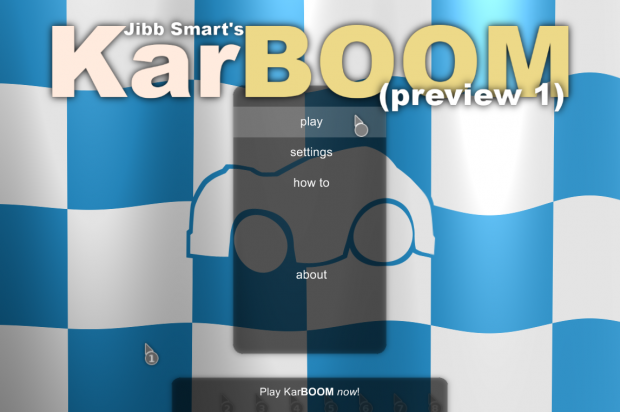 What else is new?
New kar colours.

A shiny new menu interface that can be navigated by all gamepad players at once as well as the mouse, and looks way better on a big screen than older versions of the game did.

More responsive controls.

Very quick and easy gamepad configuration.

More precise collision detection.

New sound effects.
And what is planned?
More levels of all sorts of shapes and sizes, designed to take full advantage of PhysX now that KarBOOM is no longer relying on my own hacked-together algorithms.

KarBall: a team-based ball game with a smaller, lighter ball than the battle ball. Kinda like soccer. Except kars can't handball, since they don't have hands.

Standalone versions for Windows, Mac and Linux.

More mutators and game modes.
What is taking so long?
I really wanted KarBOOM to be on Windows, Mac and Linux. KarBOOM was running on Gamestudio, but when asked, Gamestudio's chief engineer said they have no plans for Mac or Linux support. So I explored other options, but at the time Unity didn't support Linux.
I spent a while working on my own engine, which was coming along nicely when Unity finally did announce Linux support last year. Preferring to make games rather than game engines, I gave Unity a go and have really enjoyed working with it. Starting with a new engine, however, means redoing a lot of work from scratch, and that afforded me the opportunity to approach many aspects of KarBOOM in new, better ways.
Finally, the last year was slowed by my studies as I finished university and graduated in June. Now, here I am, pouring my Summer into KarBOOM.
Can I help?
Yes you can! Play the demo on Kongregate and give it a nice rating if you like it - the higher it is rated, the more exposure it gets. Tell your friends about KarBOOM. Get them to play the demo. Tell me what you think and what you'd like added or changed. Let me know about bugs or things that just irk you.
Much of the game has been shaped by feedback from players of earlier versions of KarBOOM. The change in engine means that while a lot of things are nicer now, but some things are missing - it's still unfinished. I hope to make the final version of KarBOOM the best of both worlds, and better.
Where can I give feedback?
Here - I check IndieDB regularly. You can also give me feedback in the comments section on Kongregate, or on KarBOOM's official forums.
How can I keep updated on KarBOOM's progress?
Track this game on IndieDB or follow @JibbSmart (that's me) on Twitter so you don't miss KarBOOM news.