For those of you who follow the Industrial Games blog (kaputgame.blogspot.co.uk) some of this will be no surprise to you but a lot of this has been pushed on since those blog posts. A while back we released our concept art for an agricultural side to the game on out blog and this is just an update about how it is going accompanied with some screenshots.
The concept art we released if you haven't seen it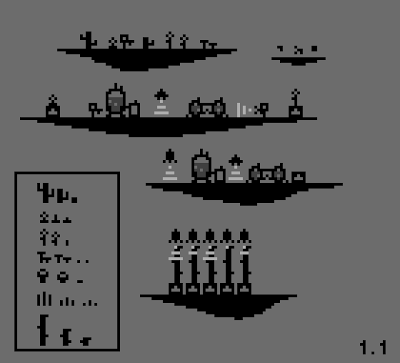 This art basically defined the different types of plant that would be seen in the game and what you would be able to do with them. In the game at the moment there are 5 types of plants with a designed purpose and 1 plant which we implemented for aesthetics (swaying grass). Each plant has some specific properties eg. growth rate, fuel content and scrap content.
All of this is designed to come together in the use of machines to do with the plants. The first is the seed gun. The seed gun has already been implemented partially and can be used to collect seeds with the same properties of an adjacent fully grown plant. These seeds are then placed in the seed inventory (accessible under the 'B' key). At the moment the player does not know the properties of the seeds he/she has collected and therefore they cannot be used.
This is where the next couple of machines come in. The large tank shown in the concept art is an identifier. This is used to probe plants for details on their healing capabilities, fuel content, growth rate etc. and therefore allows the user to identify which plants will be more useful. This comes in very handy when using the next machine. The next machine is a cross breeder. This takes seeds of two types of plant and fuses them to create new kinds of plant with higher grade properties and iron flaws in the plants.
The final machines are the cultivators. There are two types. Cultivators which grow plants to get seeds from them and cultivators which grow plants from seeds to get the actual content of the plant.
As you can see we have a lot of work to do so this update might not be out for a while. We have already fully implemented the save/load function on plants, but not the plan inventory.
If yo want to try Beta 1.0 of KAPUT it is available at: Mediafire.com
We have also decided to finally come into the social media! We now have a Facebook page which we encourage you to like for update news as soon as it happens. Head to Facebook.com to like the page.
Thanks
Doctor_N